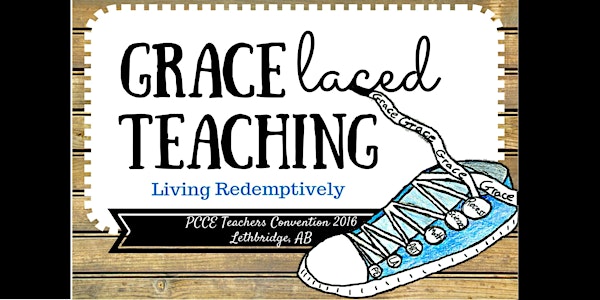 2016 PCCE Teachers' Convention
By The Prairie Centre for Christian Education
Date and time
Thu, Oct 20, 2016 8:00 AM - Fri, Oct 21, 2016 12:30 PM MDT
Location
Immanuel Christian High School 802 6 Avenue North Lethbridge, AB T1H Canada
Refund Policy
Contact the organizer to request a refund.
Description
This year's theme for our annual conference is Grace-Laced Teaching: Living Redemptively and we are excited to have two top-rated keynote speakers, Donovan Graham and Phil Callaway, as well as a wide spectrum of workshop presenters who will encourage and inspire you in your classroom work. We will also be having impactful times of worship and collaboration and trust that you will leave the conference with a renewed vision for your calling as a Christian educator.
To facilitate collaboration this year, the Friday schedule has been revised to include either a time of focused work around designing Formational Learning Experiences (FLEx), which will take two sessions, or to participate in Christian Education Conversations with fellow educators who teach similar subjects or grades. It is hoped that this story sharing time will nurture our desire to be a peculiar teacher. After this first session, individuals who participated in the Christian Education Conversations will be able to either attend other workshops to meet their learning needs or to continue the conversation by building FLEx for their classroom. For more specific information regarding these FLEx times, please contact Brian Doornenbal at bdoornenbal@pcce.ca.
To see FLEx in action, please watch this video: https://vimeo.com/177281391
FAQs
Why do I have to preselect my workshops?
Last year we piloted a program whereby Convention delegates preregistered for their workshops. We heard such great feedback from both presenters and delegates so we will be continuing this practice this year too. The good news is that this year, after completing your registration, you will receive a confirmation email that lists your workshop choices so that this will be accessible to you whenever you need. Your individual schedule will also be on the back of your nametag.
Where do I find out more information about the different workshops?
Workshop session descriptions and biographies of the different presenters can be found on the PCCE Convention website or by using this link: http://convention.tftshare.ca/convention-at-a-glance/sessions.
Do I have to use my credit card to complete my order?
No. We recognize that each of our school communities is unique and for some it will work best for teachers to individually pay for the conference on their personal credit cards. In this case, please feel free to pay through Eventbrite. For other schools where their school or society pays the Convention fees, you can select 'Pay by Cheque' and then the PCCE Office will invoice your school for your registration fees.
What is the refund policy?
A full refund will be granted for registrations cancelled on or before October 3, 2016. For cancellations received between October 3-10, 2016 a $25 administrative fee will be charged. After October 10, 2016, no refunds will be granted except under special circumstances. All cancellation requests must be made in writing to the PCCE Office at office@pcce.ca.
Where do I go if I need more information?
We will be regularly updating the PCCE Convention Website with the most current information on Convention details. The link to this is: http://convention.tftshare.ca/. You are also able to contact the PCCE Office directly be either emailing office@pcce.ca or by phoning (780) 465-8384. We are certainly happy to help in whatever way that we can.