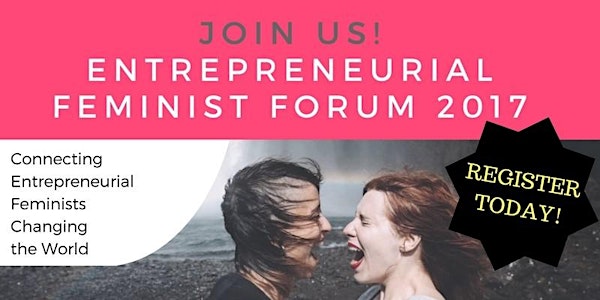 2017 Entrepreneurial Feminist Forum
When and where
Location
OCAD University 100 McCaul Street Toronto, ON M5T 1W1 Canada
Refund Policy
Refunds up to 1 day before event
Description
Why Attend the EFF?
Did you know that today's entrepreneurial feminists are in fact leading some of the most exciting changes in business, innovation, and the economy? Do you believe that enterprise and innovation can be a force for positive change? As you watch world events unfold and inequality grow, do you feel even more strongly that we urgently need new tools and ideas to get different results?
Then you are ready to sign up for the Entrepreneurial Feminist Forum.
What is the EFF?
The EFF is is a day-long gathering dedicated to learning about entrepreneurial feminism and feminist business practice. It will provide you with the opportunity to work with and experience new tools that help you and your enterprise grow. And for the first time, will to bring this fast-growing community together.

What Will You Learn?
At this forum, we'll be surfacing the growing enterprising feminist ecosystem, talking feminist business models, feminist leadership values, operational practices, strategy, product and service design, embodiment and more. In addition to learning together, we will also connect the feminist business practice community by practicing care, elevating conversations on equity and social justice, creating space for attendees' contributions and creativity, and making sure we have fun ways to interact and socialize throughout the day. Check back for updates weekly and learn more at
feministforums.com
.
Who Should You Attend?
Entrepreneurs (all genders, at any stage) who are interested in creating a more fair and generative economy and are focused on advancing gender equality and equity globally as part of the solution. Also incubator and accelerator leaders, educators, policymakers, and anyone interested in learning more about this space and its potential.
AGENDA
Stay tuned! More announcements will be posted in the coming weeks.
CONFIRMED FOUNDATIONAL TALKS:
Dr. Dori Tunstall, Dean of Design at the Ontario College of Art & Design University. In "Un-Designing Gender Inequality: Innovation through the Seven Principles of Design Anthropology," Dori will share her seven principles of Design Anthropology and its relationship to the Mandala of Cultures-Based Innovation developed by a global community of anthropologists, designers, strategists, and Indigenous activists/scholars. Dori will outline how these frameworks can be used to ethically approach the understanding of cultures, the design process, and the experience of innovation for Indigenous, migrant, and racialized communities so that innovation is not seen as Colonialism 2.0. Dori activates the frameworks by showing feminist/womanist projects that align with them.
Dr. Barbara Orser, Telfer School of Management, University of Ottawa
and
co-author of Feminine Capital. Unlocking the Power of Women Entrepreneurs. Dr. Orser will spotlight how Canadians are employing feminist values within their business practices. In doing so, entrepreneurs are creating new brands, building new business models and challenging public policies.
C. V. Harquail,
PhD, Feminists at Work & faculty at Stevens Institute of Technology. In "Feminism Foundations: Key Concepts and Points of Unity," CV will help us understand of concepts and values that connect different perspectives on feminism. We'll consider why feminism is more than "equality" between "men" and "women", and why it embraces anti-racism, anti-classism, and other movements for positive social change. With a lightning quick introduction to key concepts like gendering, essentialism, patriarchy, kyriarchy, standpoints, and intersectionality, we'll gain a working language for new conversations. Once we distinguish between critical and constructive feminism, we'll co-develop values that offer points of unity across our different paths towards a feminist future. The goal of this session is not to provide "the" definition of feminism, but to bring us to shared starting points so that we can connect our work.
WORKSHOPS (Still More to be Announced!):
Create Your Feminist Business Model Canvas - C.V. Harquail, Ph.D., Co-Founder Feminists at Work and faculty at Stevens Institute of Technology.
Beneath the Surface: The Challenges of Implementing a New Model - Vicki Saunders, Founder, SheEO in conversation with Dr. Golnaz Golnaraghi, Activator, TedX speaker,

Founder & President of Divity Group and Associate Faculty at Royal Roads University

.
Your One True Marketing Message - Kelly Diels, writer and feminist marketing consultant whose approach is based upon the marketing strategies of movements and revolutionaries.
How the Settlement Factor is Failing Newcomer Women: Where do we go from here and how can entrepreneurs play a role? - Rania Younes, Co-Founder, WelcomeHomeTO
Using Play As A Creative Force - Suzanne Stein, Associate Professor, Strategic Foresight & Innovation / Digital Futures Director, Super Ordinary Lab at OCAD U and Emma Westecott, Associate Professor, Game Design, OCAD U
Embodied Strength: Using the Life Force in Ferocity - Jane Clapp, Re-embodiment Coach and Trauma Recovery Specialist.
Find Your Unique (Co)Leadership Style - Celine Peterson, Founder of Social Legacy & Holly Nimmons, Founder of Opis
Team Practices for Getting in the Game of Gender Lens Entrepreneurship, Philanthropy, & Investing - Tuti Scott, Founder and President of Imagine Philanthropy and coach to high-achieving leaders.​
The Uses of the Erotic in Entrepreneurship: Moving from Problems to Solutions - Natalie Wood, Media & Visual Artist, Co-Founder of the Social Innovation Hub at George Brown College
Intuitive Strategic Planning: Using Your Instincts, Knowledge, & Values to Build Your Business - Anna Dewar Gully, Founder & Chief Strategist, WomenStrategy
---
HIGH-LEVEL AGENDA
​8:15 - 9:00 Registration, Coffee, Tea, Networking
9:00 - 9:20 Welcome & Land Acknowledgment
9:20 - 10:25 Foundational Talk #1 & #2
10:25 - 10:35 Break
10:35 - 12:05
SERIES A WORKSHOPS
12:05 - 12:45 LUNCH
12:45-1:15 Share Learning & Performance by
Renee the Voice
1:15 - 1:45 Foundational Talk #3
1:45 - 2:00 Break/Transition
2:00 - 3:30
SERIES B WORKSHOPS
3:30 - 3:45 Break
3:45 - 5:15
SERIES C WORKSHOPS
5:15 - 6:15 Performance by spoken word artist
Britta B.
, Closing Ritual, Thank You