Description
A meeting of Grace Walk leaders from around the world.
The purpose of this event:
• Meet & greet key leaders from around the world
• Connect with others growing in grace
• Hear first hand testimonies on what is happening in different countries
• Grow deeper by hearing amazing teaching messages
• Fellowship with others on a deeper level
• Enjoy the beauty of Waterloo Region & Niagara Falls
This amazing event is for anyone connected to, or who has benefited from Grace Walk over the years. We believe it will also be a major boost of encouragement for those who may feel isolated and alone in their journey of grace and need to make face to face connections. There is no other time where the Grace Walk family of friends can find time to just gel and 'be' with each other on a relational level. We hope you can all join us!
---
Hotel
Homewood Suites by Hilton Waterloo/St. Jacobs
Click here to book hotel
519-514-0088
Reservations must be made before the cut off date of: October 2, 2017



Special Room Rates:
1 King Studio Suite $139.00 CAD
2 Queen 1 Bedroom Suite $149.00 CAD
1 King 1 Bedroom Suite $149.00 CAD
---
Airport Shuttle
United Taxi - Pearson International Airport (Toronto)
$89.99 CAD flat rate
519-888-9999
Car Rental
*wisest choice
---
Passport Info
US citizens must have a valid US passport to cross the border into Canada.
---
Schedule
Key-Note Speaker: Steve McVey (Steve will be speaking at every session)
Others who'll be sharing: Craig Snyder, Mike Zenker, Gerardo Vazquez as well as other Grace Walk leaders.
Wednesday
Arrival
7:00pm Welcome (registrants only)
Thursday
9:30am Morning Huddle #1 (registrants only)
7:00pm Evening Session #1 (open to the public)
Friday
9:30am Morning Huddle #2 (registrants only)
12:00pm Group Lunch
7:00pm Evening Session #2 (open to the public)
Saturday
10:00am Morning Huddle #3 (registrants only)
7:00pm Evening Session #3 (open to the public)

---
Bonus Days
Sunday
10:30am Hope Fellowship Worship Service *Optional
1:00pm Travel to Niagara Falls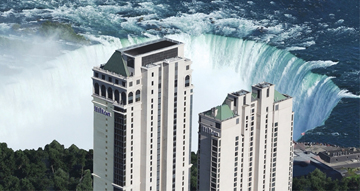 Hilton Niagara Falls/Fallsview Hotel & Suites
Special Room Rates:
2 Queen Beds, City View $109 CAD
Click here to book hotel
Reservations must be made before the cut off date of: October 2, 2017


Monday
Niagara Falls
Group Lunch
Departures