Description
EVENT IS SOLD OUT - please sign-up to our waiting list and we will inform you if any spots become available.
The Canadian Urban Institute (CUI) is convening the Ontario Excess Soils Symposium on December 6, 2017 in Caledon ON to support an exchange of information and lessons learned about managing fill on from source to receiving sites. In 2015, almost 26 million m3 of excess construction fill was generated across Ontario. Proper excess soil management supports the beneficial reuse of this soil while protecting human health and the environment.
Announcing featured speakers: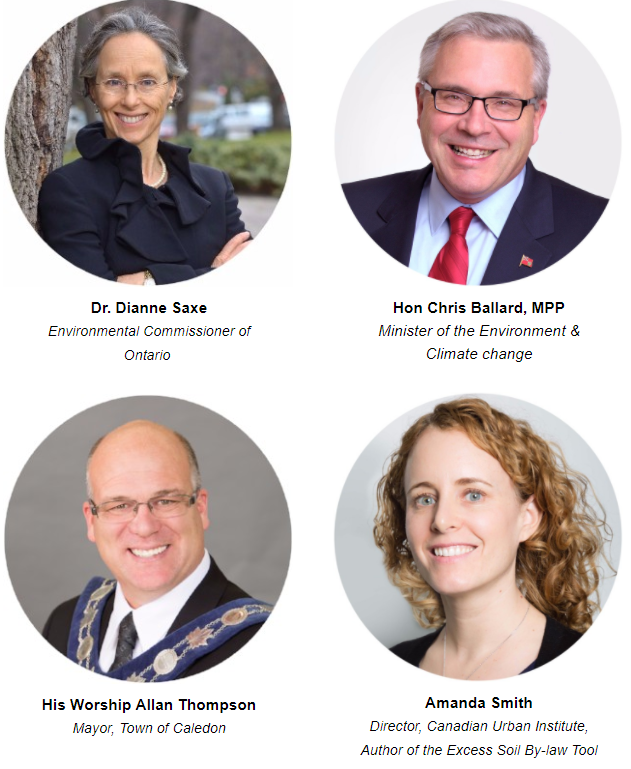 See full program HERE.
Additional speakers include:
Krista Barfoot, Brownfield Redevelopment Specialist, CH2M

Janet Bobechko, Senior Partner, Norton Rose Fulbright Canada LLP

Bradley Carew, Senior Geoenvironmental Advisor, City of Ottawa

Dave Carnegie, Partner/Senior Consultant, Malroz Engineering

Cary Clark, Manager of Development & Stormwater Engineering, City of Burlington

Sanjay Coelho, Senior Policy Analyst, Ministry of the Environment & Climate Change (MOECC)

Helen Collins, Manager of Municipal Programs & Outreach, Ministry of Municipal Affairs (MMA)

Alec Cloke, President, United Soils Management

Beth Goodger, General Manager of Public Works Commission, City of Brantford

Eric Hood, Asscoiate & Senior Engineer, Golder Associates

Dave Kenth, Manager of Engineering Services, Town of Whitchurch-Stouffville

Carmela Marshall, Director, Ontario Soil Regulation Task Force (OSRTF)

Monisha Nandi, Environmental Director, Kilmer Brownfield Management

Leslie Rich, Planning & Policy Officer, Conservation Ontario

Julia Risi, SCS Consulting Group

Jim Walls, Senior Geoscientist, R.J. Burnside

Grant Walsom, Partner, XCG Consulting

Frank Zechner, Residential & Civil Construction Alliance of Ontario (RCCAO)
---
CUI is aiming to make this event as accessible as possible and has set aside a number of complimentary tickets. If you are unwaged, underemployed or a student, please message us for more information.
---
Thank you to our symposium supporters: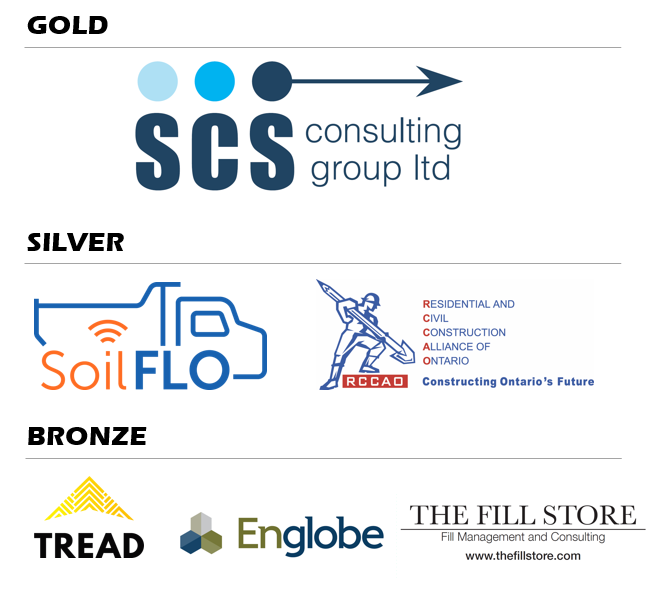 Event Partners:

---
Sponsorship opportunities still available, please contact Geneva Starr (gstarr@canurb.org) for more details.