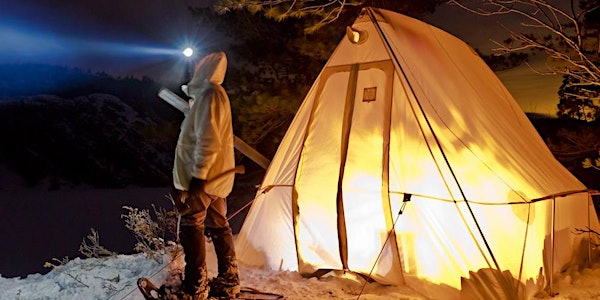 2017 Ontario Winter Camping Symposium
When and where
Location
Theatre of the Arts, University of Waterloo Ring Road Waterloo, ON N2L 3G1 Canada
Refund Policy
Refunds up to 1 day before event
Description
We are sold out! Sorry if you did not end up with a ticket. There will be no door sales....all available seating in the theatre is taken. Thanks for your understanding...hope to see you in the future!
The 1st Annual Ontario Winter Camping Symposium - Brought to You By Snowtrekker Tents - is coming to the University of Waterloo Theatre of the Arts on Saturday November 25th 2017! Have you ever wondered what it would be like to enjoy Ontario's wilderness in the winter months? Want to learn more? Or are you an experienced winter camper who wants to try something new...hot tenting, cold tenting, snow shelter or crown land camping? Then the Ontario Winter Camping Symposium is for you! Visit us at: www.ontariowintercamping.ca
Speakers include:
Jim Baird - Winner of the History Channel's "Alone" challenge, Jim will be discussing his solo winter crossing of the Ungava Penninsula in Northern Quebec.
Kevin Callan - The Happy Camper himself will discuss his winter travels, and preview his upcoming winter camping book!
David Lee - The Passionate Paddler will share his other passion....cold tenting in Killarney PP, including an ascent of Silver Peak in winter!
Martin Pine - Martin is an experienced winter shelter builder and crown land camper. Want to escape the provincial parks? Martin is your guy!
Duane and Marion Sonntag - The Camping Family will discuss the enthusiastic group of winter campers that invades Algonquin Parks Mew Lake Campground for New Years and the Family Day Weekend each year for "Winter in the Wilderness". New to winter camping? This may be the place to start!
Tierney Angus - Tierney is a journalism student, canoeing enthusiast, all-season backcountry camper and Friends of Temagami board member. Tierney will be sharing how she set out to learn how to live as comfortably as possible in the hard water season by making her own equipment with a whole lot of research and a very small budget.
Visit us at: www.ontariowintercamping.ca
Brought to you by Snowtrekker Tents
Here at Snowtrekker® Tents, traditional winter camping skills and gear are the foundation of our products. We draw our inspiration from the older traditions while keeping an eye on innovations in contemporary materials.
Snowtrekker® Tents maintains a strict, sustained commitment to provide only gear of the highest quality and durability to withstand the most demanding winter environments in which it is designed to perform, safely and reliably. This is our mission. And yes, we proudly build our tents in the USA.

Please Note: Our valued feature sponsor, Snowtrekker Tents, will not be attending the symposium
​due to American Thanksgiving family commitments. Instead, they are generously offering a $50 shipping discount on any tent ordered by symposium attendees in the week following the symposium! Email a picture of your ticket with your tent order, and save!
Also Sponsored by:
Pre-order your Whisky Jack Outdoor Co. Freight Toboggan by November 1st and pick it up at the OWCS.
​Save the cost of shipping! You save money, we save boxes, it's a win-win.
Go to www.whiskyjackoutdoor.com or email me at whiskyjackoutdoorco@gmail.com
to place your order.
FAQs
When does everything start and finish?
Doors will open at 9 am to allow the audience to visit sponsor displays. Auditorium seating will begin at 9:30, and speakers will start at 10am. The first three speakers will be followed by a 1 hour lunch break. More time to visit displays will follow the final three speakers. The symposium will be wrapped up by 3:30.
What are my parking options for the event?
Parking is available in several paid lots on the University of Waterloo campus. Lot H is close to the theatre, and is only $5 on weekends. There is also free parking available a 15 minute walk away at MacGregor Public School at 32 Central Street in Waterloo, or on side streets near that location. Visit the website and click on the "Theatre Location and Parking" Tab for maps and additional information.
What can I bring into the event?
No food or drinks can be consumed IN the theatre, but are encouraged in the foyer, so feel free to bring a brown bag lunch. There are also some food options available within a 5 - 10 minute walk both on and near campus. A one hour lunch break will be provided.
How can I contact the organizer with any questions?
My email is dbain72@gmail.com