Description
Take control of your health.
---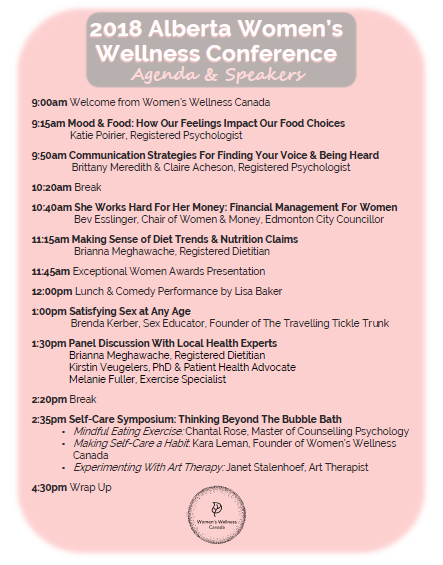 The 2018 Alberta Women's Wellness Conference is a one-day event designed to enable women to take control of their health and make the wellness decisions that are right for them. We promise:
** Expert speakers sharing trustworthy, science-based information
** Sessions that cover topics that matter to Canadian women
** Fun! Including a lunch-hour comedy performance & hands-on art therapy and mindful eating exercises
** Delicious food including a hot lunch, snacks & coffee catered by Vicky's Bistro
** A safe, welcoming environment, including the Mingle Program, an optional opportunity for solo event attendees to connect with other single participants
** The opportunity to support our charity partner, the Edmonton Humane Society, with a pet supplies drive
---
We have a fantastic line-up of all female speakers! Check out the following link for more info about these fabulous women: https://www.womenswellnesscanada.com/speakers
FAQs
1. Will there be food options available to accommodate dietary restrictions?
Yes! Before the event we will be reaching out to attendees to ensure that dietary restrictions are recognized & accommodated.
2. Do I have to sign up for specific sessions?
No - all attendees are able to experience all sessions
3. I am attending on my own, will I have the chance to meet other participants?
Yes! There is the opportunity to participate in our Mingle Program, which connects solo attendees with others in the same position.
4. Do I have to pay for parking?
Nope! There is free parking available at Festival Place, Kinsmen Leisure Centre & the Sherwood Park Arena and Sports Centre. We will be sending a map to all participants.