Description
*** Special Offer *** Purchase your conference tickets between July 3rd and July 22nd and you will be automatically entered for a chance to win 2 tickets to the August 2nd Edmonton Eskimos vs. Saskatchewan Roughriders game valued at over $50!
Empowered. Energized. Educated.
Health has become a complicated business. Many women feel overwhelmed by wellness advice and aren't sure where to turn. And it is becoming harder and harder to know what information we can trust. The sole purpose of Women's Wellness Canada is to provide women with the knowledge they need to make safe, smart decisions about their health. We do not sell products. We provide Canadian women with evidence-based health information in a fun, engaging, inclusive environment.
---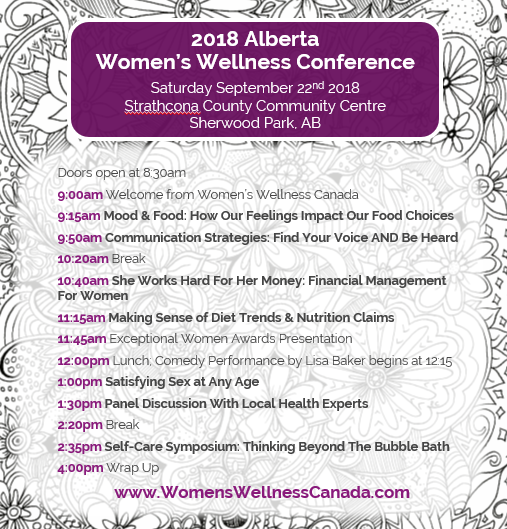 Take Control of Your Health.
The 2018 Alberta Women's Wellness Conference is a one-day event designed to empower, energize and educate women to take control of their health.
** Empowered ** Expert speakers share evidence-based content tailored to the needs of Canadian women. This conference provides women with the information they need to make the wellness decisions that are right for them.
** Energized ** Our conference helps participants feel refreshed and refocused with a renewed connection to the community of women that surround and support them.
** Educated ** Leave our conference feeling knowledgeable about the health topics that matter to you. We are covering a wide range of topics including emotional eating, communicating your needs, getting what you need from your sex life and financial management tips for women.