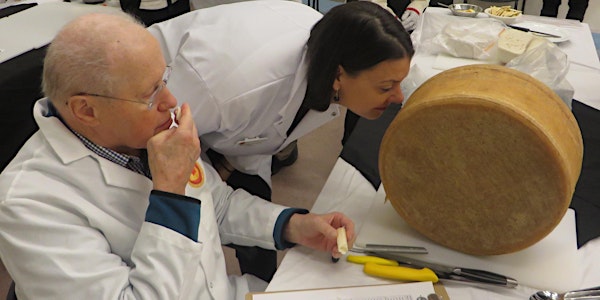 2018 Canadian Cheese Awards/Le Concours des fromages fins canadiens
By Cheese Lover Productions Inc.
Date and time
Tue, Jan 2, 2018 12:01 AM - Fri, Feb 16, 2018 11:59 PM EST
About the organizer
Our mission at Cheese Lover Productions is to help increase the sale and consumption of Canadian artisan cheese. Our goals are to produce high-quality shows that connect cheese producers directly with cheese lovers, to create events where consumers can sample and purchase cheese and related products in an appealing setting.

The Great Canadian Cheese Festival, since its launch in 2011, has become the biggest artisan cheese show in North America. Founded in 2014, the biennial Canadian Cheese Awards/Le Concours des fromages fins canadiens is the biggest cheese competition in Canada.

Artisan Cheese Night Market, a showcase for the best in Canadian artisan and farmstead cheese, was introduced in 2018 and was an instant sell-out success.
Georgs Kolesnikovs, our founder and director, has extensive experience in event management and promotion—and a lifelong passion for cheese. He first fell in love with artisan cheese when he tasted Oka as a teenager, when the Trappists still made it. He maintains the popular blog CheeseLover.ca.
First-class events cannot be produced without many willing hands and smart minds. Georgs considers himself fortunate to have associates he can count on:
Jackie Armet, Cheese Co-ordinator and Awards Co-ordinator

Heather Robertson, Ticketing Co-ordinator and Awards Registrar

Roxanne Renwick, Cheese Specialist/Cheese Producer Liaison

Nathalie Rollet Schofield, Quebec Cheese Producer Liaison

Rebecca Crosgrey, Event Manager




Nicole Gibb, Event Co-ordinator

Darshana Sen, Volunteer Co-ordinator

Anne Munro, Special Projects

Phoebe Powell, Promotions Specialist

Lin Chong, Associate Director.



For more information about Cheese Lover Productions, click here.

Cheese Lover Productions Inc.
59 Laguna Road
Campbellford, Ontario  K0L 1L0
Telephone 705.632.1503.