::2018 Carnival JUMP UP Yacht Cruise::
Event Information
Location
The Harbour Dancer (aka Stella Borealis)
333 Lakeshore Blvd. E.
(South end of the Pier, left of the River Gambler)
Toronto, Ontario
Canada
Description
JUMP UP Cruise is SOLD OUT!
Tickets at the dock:
If you have any tickets that you will not be using and are looking to sell, please feel free to contact me (call/text 416-882-9863) or reply to this message and I can see what I can do to make arrangements for your ticket to be sold to someone who is able and eager to attend.

As you already know, although the Cruise has been sold out, there are always tickets brought down to the dock for sale by those that have had cancellations within their group. There are also the straight no shows. Please contact me upon arrival and I will help you locate a ticket or tickets.
Directions using GPS:


Please enter into your GPS 333 Lakeshore Blvd East to ensure you arrive at the correct destination.The parking lot entrance is smack on the South East corner of Lakeshore Blvd. and Parliament Street.
Please note a few important points about the Cruise tonight.

Boarding: 9 pm aboard The Harbour Dancer (aka Stella Borealis). The boat is located at the south end of the pier, left of the River Gambler.
Returning: 2am
Parking Lot:

There are coin machines for parking permits at the entrance of the parking lot. You must have a permit or you could be ticketed.
The machine takes coins or credit cards and the cost is $15. Right Beside the $15 parking lot there is also a lot for approximately $5-$8. It is a longer walk but may be worth it. These parking lots are not paved. Please be aware that the ground is loose and uneven gravel. Little dusty on toes sometimes I understand.
Special Thanks!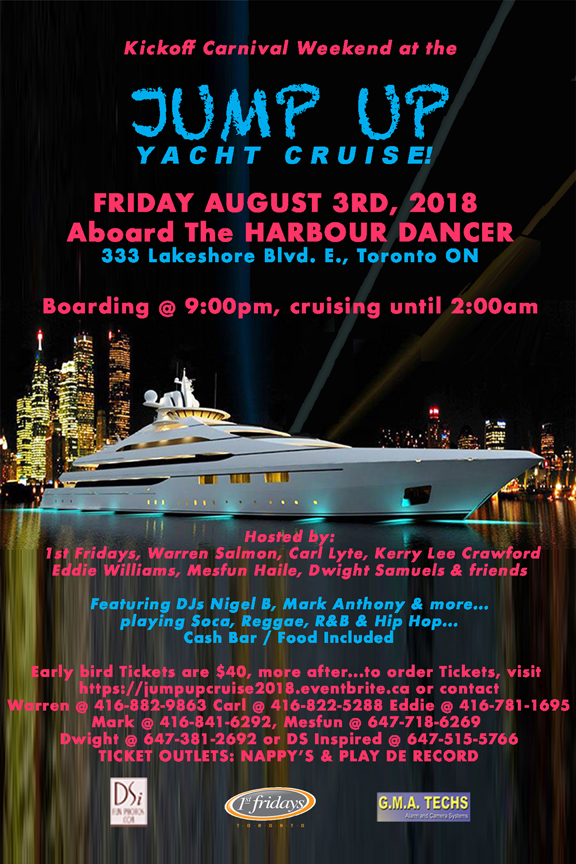 Kick off the Carnival weekend at the
:::JUMP UP YACHT CRUISE:::
FRIDAY AUGUST 3rd, 2018
Aboard THE HARBOUR DANCER
333 Lakeshore Blvd. E., Toronto ON
Boarding @ 9pm, cruising until 2am
Hosted by Warren Salmon, Carl Lyte, Kerry Lee Crawford, Eddie Williams, Mesfun Haile, Dwight Samuels & friends...
Featuring DJs Nigel B, Mark Anthony & more...playing the best Soca, Reggae, R&B & Hip Hop!
Cash Bar / Food Included
Online early bird Tickets are $40 unti July 29th, $50 after...
To Order Tickets, click on the link below
TICKET OUTLETS: NAPPYS & PLAY DE RECORD
Attire: Dress to Impress

19+
Date and Time
Location
The Harbour Dancer (aka Stella Borealis)
333 Lakeshore Blvd. E.
(South end of the Pier, left of the River Gambler)
Toronto, Ontario
Canada