2018 CET Symposium - Capturing the Value Proposition and Impact of Access Programs and Partnerships

Friday, 7 December 2018 from 8:00 AM to 4:00 PM (EST)
Registration Information
This event is invite-only
Event Details
The Council of Educators of Toronto (CET) is pleased to present
2018 CET Symposium
Capturing the Value Proposition and Impact of Access Programs and Partnerships
Join us on Friday, December 7, at Oakham House, on the Ryerson University Campus, as we come together to reconnect, learn and share.
In the current political environment of transition and fiscal restraint, and in a year marked by the resurgence of violence in the city, the need for a collaborative and coordinated approach to access to PSE remains as relevant today as it was the year the CET was created. More specifically, the ability to leverage limited resources, promote partnerships and best practices, provide learning and networking opportunities to a network of professionals, and generate new evidence-based intelligence to help inform the policy-making process, is more critical than ever before for the CET members. Over the past few years, the CET has strategically increased its capacity in all these areas, and has also initiated new projects in order to be strategically positioned during this period of change in order to best support members.
The PATH pilot project is the most innovative and ambitious CET initiative yet, as it will provide a new way for front-line staff from access programs to connect, not only among each other, but also with their contacts from community-based organizations. By attending this symposium you will have the opportunity to learn more about how it works in an interactive presentation and beta-testing session.
The day will start with a continental breakfast and the opportunity to network with your peers.
2018 CET Symposium Agenda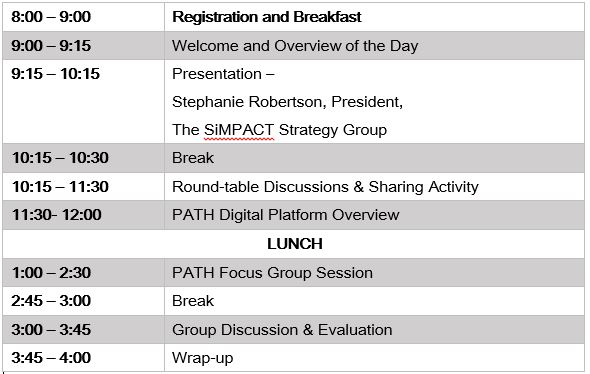 ---
Please RSVP for this event no later than Wednesday, December 5, 2018, noting any food allergies/sensitivities.
If you have any questions about the event, please contact: Leisha Sladden-Atkinson, Project Manager
(T) 416.397.0443 or (E) leisha.sladden-atkinson@toronto.ca
---