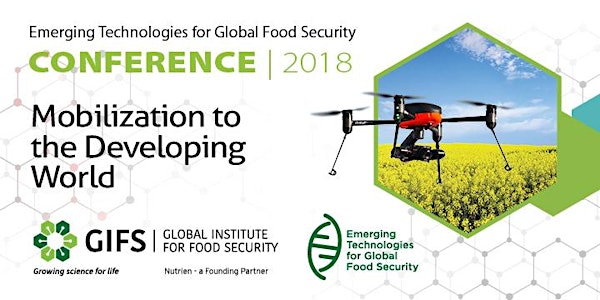 2018 Emerging Technologies for Global Food Security Conference
Event Information
Location
Delta Hotels by Marriott Bessborough
601 Spadina Crescent East
Saskatoon, SK S7K 3G8
Canada
Description
The Global Institute for Food Security (GIFS) is excited to host the 2018 Emerging Technologies for Global Food Security Conference on June 19-21, 2018 at the Delta Bessborough Hotel in Saskatoon, Saskatchewan, Canada!
The industry, academic, and student tickets include the full conference Program and Welcome Reception. If you wish to attend the Gala Dinner on June 21, please purchase a ticket for this as well.
Cancellation of your registration will be accepted up to 60 days prior to the conference (April 21, 2018). If you wish to substitute another individual in your place, you may do so up to one (1) week in advance of the conference, provided that the individual does not require administrative support for travel. Please provide written confirmation from the individual who will be taking your place by having them forward an email to conference2018@gifs.ca.
If you require an official letter of invitation from GIFS, or require assistance in registering, please contact us at conference2018@gifs.ca.
Keep checking the Emerging Technologies conference website at http://conference.gifs.ca/ for program and speaker updates!
Book a room at our host hotel, the Delta Bessborough. A block of rooms has also been secured at the Park Town Hotel, located near the Delta Bessborough. To book at room at the Park Town Hotel please call (306) 244-5564 or 1 (800) 667-3999.
Date and time
Location
Delta Hotels by Marriott Bessborough
601 Spadina Crescent East
Saskatoon, SK S7K 3G8
Canada