Description
The Fundica Roadshow is stopping in Vancouver at Goldcorp Stage at the BMO Theatre Centre on May 31st, 2018
Grow your business today! An intense live pitch competition for the $500,000 Investment Award, valuable networking opportunities with funders and industry experts, and insightful speaker sessions are all in store for this one-of-a-kind, 2018 Fundica Roadshow.
Come network with investors from Panache Ventures, Vanedge Capital, Victory Square, BDC IT Fund, Espresso Capital, Relentless Pursuit Partners, Timia Capital, Vantec, iNovia Capital, Yaletown Partners, Northmark Ventures, VanFounders, Version One Ventures, Stanley Park Ventures, Arch River Capital, Highline Ventures.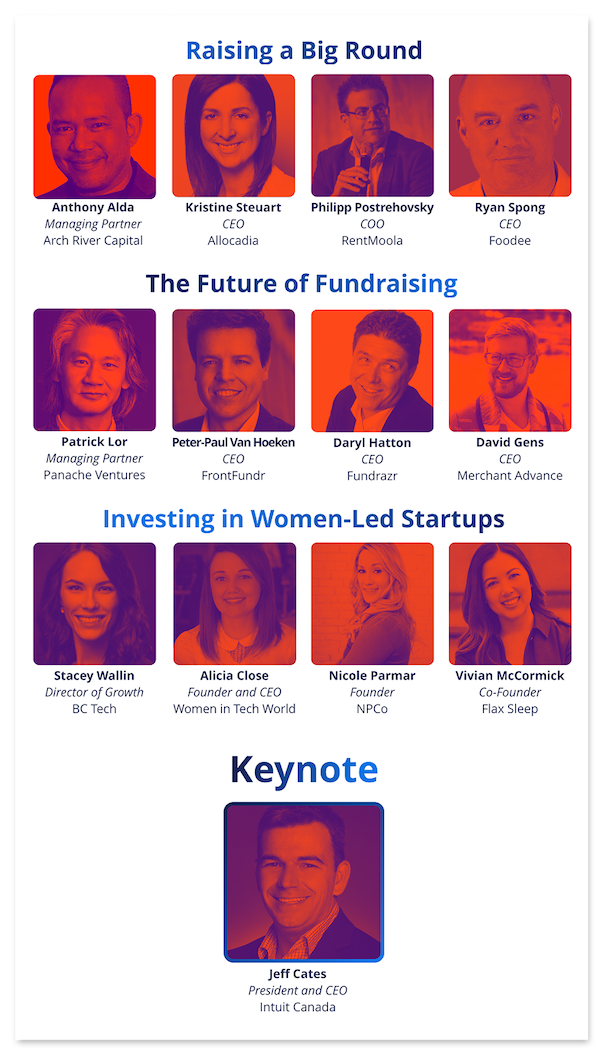 More reasons to attend?
Learn about important funding trends and opportunities

Discover available resources to start and grow your business

Connect with entrepreneurs, funding experts, and advisors
If you are an entrepreneur seeking funding, apply to pitch.


AGENDA
Main Stage
8:30am - 9:00 Registration, Coffee, & Networking
9:00 - 9:15 Event Kick-Off
9:20 – 9:50 Raising a Big Round, presented by CANARIE - Ryan Spong (CEO @Foodee), Kristine Steuart (Co-Founder & CEO @Allocadia), Philipp Postrehovsky (Co-Founder & COO @RentMoola), Mike Lee (President @Fundica)
9:55 - 10:25 Why We Invest in Female-Led Startups, presented by National Bank - Stacey Wallin (Director of Venture Programs @BC Tech), Alicia Close (Founder & CEO @Women in Tech World), Vivian McCormick (Co-Founder @Flax Sleep), Nicole Parmar (Founder @NPCo), Melanie Ewan (Managing Partner @Volition)
10:30 – 11:00 The Future of Fundraising: Blockchain, Crowdfunding, & Venture Capital, presented by Intuit Quickbooks - Patrick Lor (Managing Partner @Panache Ventures), Peter-Paul Van Hoeken (Founder & CEO @FrontFundr), David Gens (CEO @Merchant Advance), Daryl Hatton (CEO @Fundrazr), Mike Lee (President @Fundica)
11:05 - 12:40 Round 1 Pitches – 9 startups
12:40 - 1:40 Networking Lunch
1:50 - 2:20 Employing AI to Work Smarter, Not Harder, presented by R&D Partners - Jeff Cates (CEO @Intuit Canada)
2:25 - 4:05 Round 2 Pitches – 9 startups
4:10 - 4:20 Winners Announcement & Closing Remarks
4:20 - 6:00 Networking Cocktail Party
Room B
9:20 - 9:50 How to Acquire the Government of Canada as a Customer, presented by Built in Canada Innovation Program - Tess Menges (Supply Officer @Government of Canada)
9:55 - 10:25 Legal Issues faced by Entrepreneurs, presented by Blakes Lawyers - Troy Lehman (Partner @Blakes)
10:30 - 12:30 Wildcard Pitch-Off

12:40 - 1:40 Networking Lunch + Wildcard Pitch-Off (if necessary)
1:50 - 2:20: Networking + Wildcard Pitch-Off (if necessary)
2:25 - 2:55: Business Model Canvas, presented by National Bank of Canada
3:00 - 3:30: Conducting Customer Interviews to Validate Product Market Fit - Chloe Morrow (SVP Product Management @Vision Capital)
3:35 - 4:00: Non-Dilutive Fundraising: Government Grants & Tax Credits, presented by R&D Partners - Mike Lee (President @R&D Partners)