2018 IDERD Conference and Recognition Awards Ceremony
Description
The Anti-Racism & Cultural Diversity Office (ARCDO) in collaboration with its partners will host the 2018 IDERD Conference, March 19 -20, 2018. Building on the inaugural conference that was held in 2017, this year's Conference will convene over two days at Hart House on the St. George campus of the University of Toronto. The Conference will address the theme, "Anti-Racism Change in Postsecondary Institutions: Resistance, Assessment, Measurement, and Accountability."
Postsecondary institutions have a pivotal role to play in advancing a systemic anti-racism agenda. Through the lens of resistance, assessment, measurement, and accountability, the conference will provide a space for attendees to examine the work needed to bring about transformational change and address racialized inequities in the postsecondary institutions.
Increasingly, students, faculty and staff are challenging the persistence of racism in post-secondary institutions. What further measures must be taken to accelerate and embed institutional antiracism change?
The 2018 IDERD Conference provides an engaging space for critical dialogue, keynotes, panels and roundtable discussions, as it takes up the theme of antiracism change in post secondary institutions
Keynote Speaker: Natasha Kumar Warikoo
Associate Professor of Education, Harvard University, Guggenheim Fellow and expert on the relationship between education, racial & ethnic diversity and cultural processes in university.
Please email antiracism@utoronto.ca if you have any questions or concerns.
Link to full conference program below
http://www.antiracism.utoronto.ca/iderd/IDERD_2018_conferenceSchedule.pdf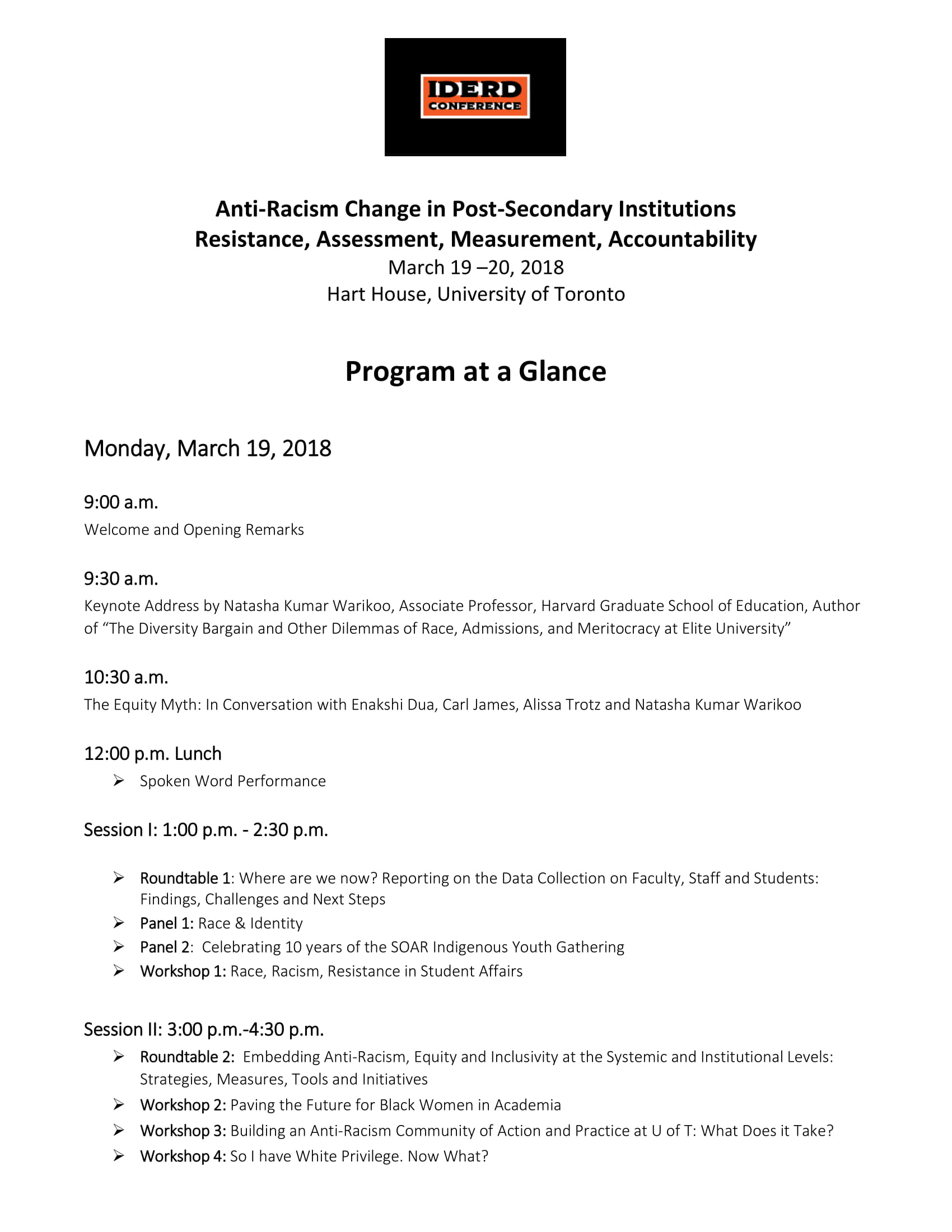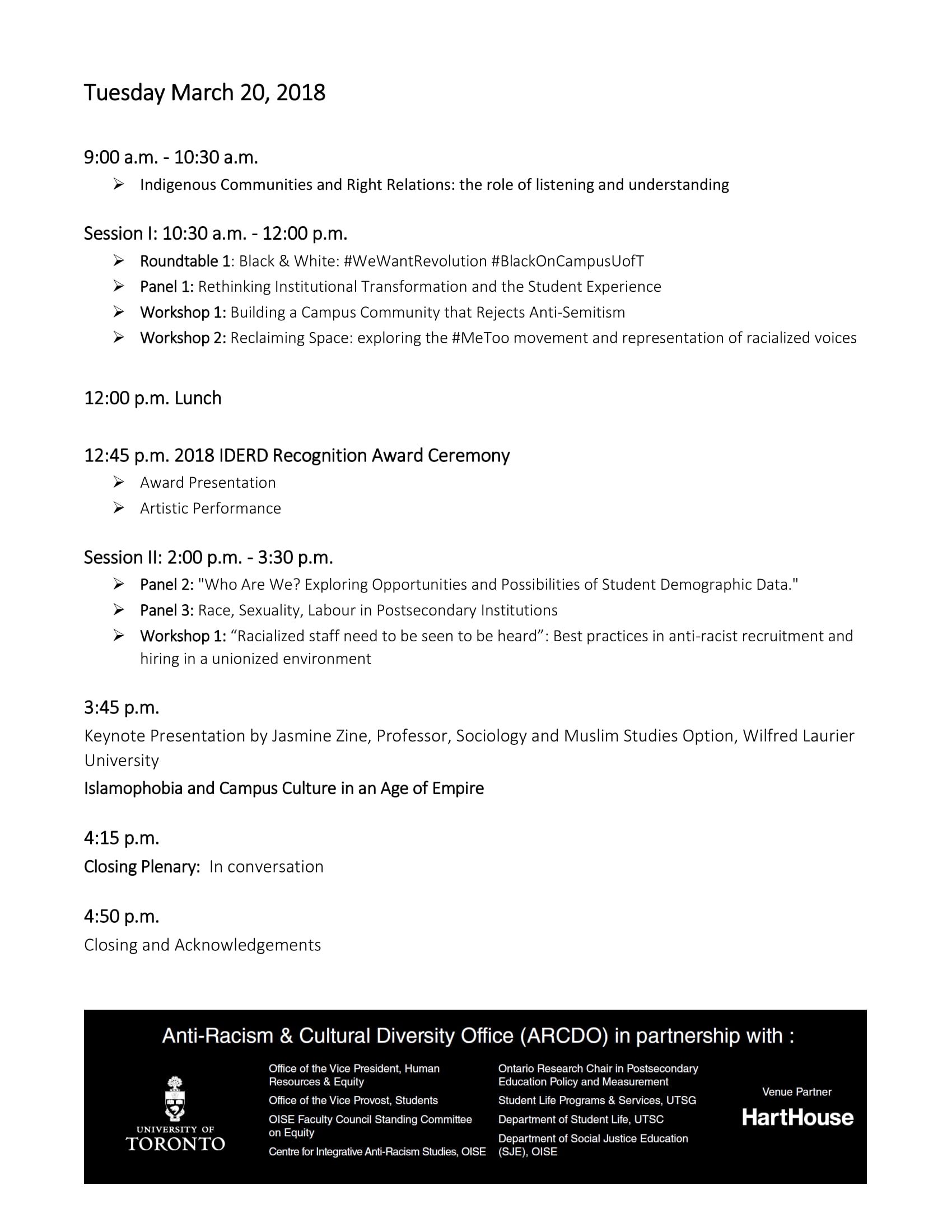 Partners
Office of the Vice President, Human Resources & Equity
Office of the Vice Provost, Students
OISE, Faculty Council Standing Committe on Equity
Centre for Integrative Anti-Racism Studies, OISE
Ontario Research Chair in Postsecondary Education Policy and Measurement
Student Life Programs & Services, UTSG
Department of Student Life, UTSC
Department of Social Justice Education (SJE) OISE
Venue Partner, Hart House
Organizer of 2018 IDERD Conference and Recognition Awards Ceremony
The Anti-Racism & Cultural Diversity Office (ARCDO) works in collaboration with the other U of T equity offices and partners to promote a University campus that is free of discrimination and harassment based on race, ancestry, place of origin, colour, ethnic origin, citizenship and/or creed.

The work is carried out in four overarching areas:

Responding to concerns, resolving conflict, managing complaints of discrimination and harassment based on race, ancestry, place of origin, colour, ethnic origin, citizenship and/or creed.
Providing advice regarding the interpretation of policy and with initiatives relevant to anti-racism, cultural diversity and inclusion. 
Developing and delivering professional development and public education programs and initiatives to build awareness and competencies.
Organizing and hosting events and fora to promote inclusion, community engagement and leadership and to highlight issues that are important to the University community.