Description
DESCRIPTION
The Early Detection and Rapid Response (EDRR) Ontario Network is hosting a FREE one-day Youth Workshop on Invasive Species (flora & fauna) Research & Resource Management in Ontario. This event is geared toward students and young professionals in the Sudbury and surrounding regions.
This workshop will cover emerging research that is helping us better understand invasive species and their impacts on Ontario's natural history. Student representatives from local Universities and Colleges are invited to take part in this one-day free workshop that has been sponsored by the EDRR Network of Ontario.
Participants will have the opportunity to network with environmental professionals and peers from other institutions, studying similar issues, and share experiences gained from working on a range of invasive species found in Ontario.
THIS EVENT WILL.....
Help you to learn and familiarize yourself with invasive species that are present and threatening Ontario (identification, biology and impacts)

Cover current invasive species research and management from across the province

Provide an opportunity to network with and learn about the careers of researchers and resource managers in the environmental science, biology and natural resource management fields

Provide FREE LUNCH AND REFRESHMENTS AT NO COST to attendees!
EVENT DETAILS
TIME & LOCATION
9:00am - 3:00pm (registration starts at 8:45am)
Tuesday, November 20th, 2018
Vale Living With Lakes Centre, Laurentian University
Rm. LL202, 2nd Fl.,
935 Ramsey Lake Road,
Sudbury, ON, P3E 2C6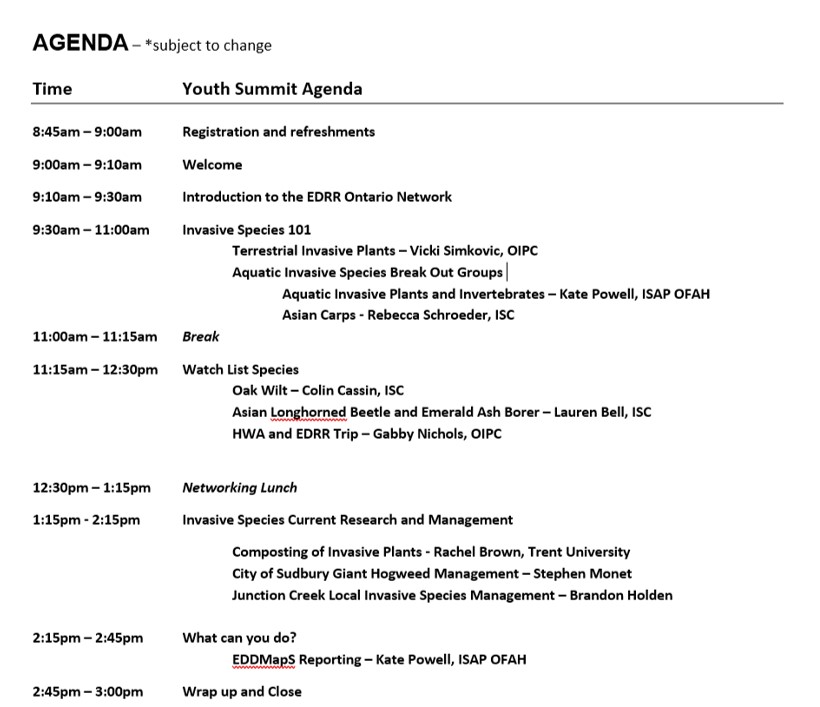 COST
Absolutely free! We simply ask that you participate in the workshop, and ultimately help us broaden the "first line of defense" against new invasive species in the Sudbury and surrounding areas.
PARKING
There is no parking at the Vale Living with Lakes Centre, participants who are driving will need to park at the metered lots in Front of Fraser (lot A). Please note, the Fraser parking lots can be very full on Tuesdays. Please click HERE for parking details at Laurentian University.
BUS
The City of Greater Sudbury provides a transit service throughout the city. There is a bus stop located adjacent to the Vale Living With Lakes Centre. Bus numbers 500, 501, 502, and 503 stop at this location. For a map of the City of Greater Sudbury Transit system click HERE.
MORE INFORMATION
Visit https://edrrontario.ca/ or email gabby@oninvasives.ca .
The EDRR Sponsor and Partners: