Location
YMCA Cedar Glen
13300 Concession Road 11
Schomberg, ON L0G 1T0
Canada
Description
The LFFC 9th Assembly will be held in Cedar Glen Outdoor Centre Schomberg from March 20th and 21st 2018. The assembly brings together co-operative managers, farmers and food system developers to learn from each other.
Highlights of the upcoming 2018 LFFC Assembly
Over 20 sector specific workshops geared to co-ops

25+ leading co-op speakers

Exciting new marketing opportunities for co-ops

Silent Transformation screening
Attended by food and farming co-ops from across Canada, this conference is an opportunity to connect with peers from the sector, build new connections and learn from each other. Relationships fostered at the assembly continue for years as co-operators work together to overcome challenges and strive for success together.
---
Program
The workshops planned at the Assembly are all geared towards identified needs of our members. The goal is to balance practical business training with forward thinking system change content to keep us inspired.
Check out the draft program: (subject to change)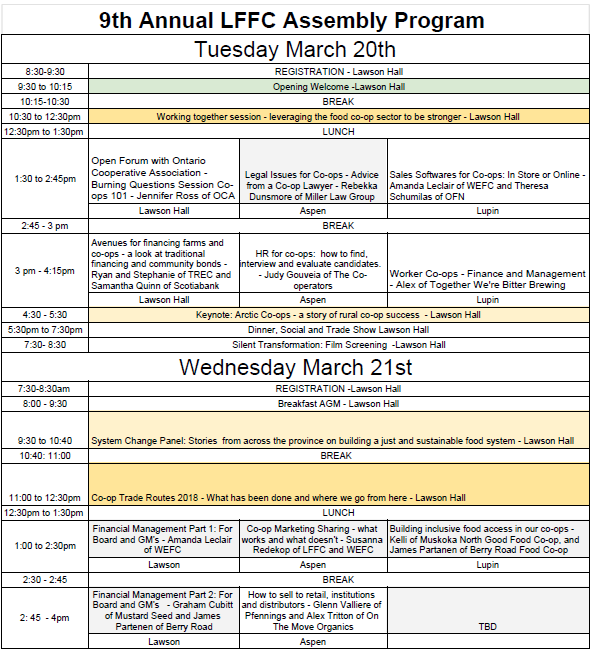 Special Events
: Silent Transformation Film Screening Tuesday March 20th 7pm :
This is a film about the transformative power of the co-operative enterprise model. As the modern economy increasingly denies vast sectors of the population basic amenities for decent life, this co-operative spirit is as critical as ever. However, over the years the co-op sector has become insular and poorly understood.
A Silent Transformation sets out to explore the innovative self-help efforts of different communities across the Province of Ontario. By addressing their needs collectively they are helping to regain the radical vision of co-operation.


---
Registration Information
15% Early Bird discount if you register before midnight Feb 15th - Use discount code EARLYBIRD
Full Conference Pass : $125 for LFFC Members, $175 for Non-Members
Includes two days access to all workshops, keynotes and events. Four meals and overnight accomodation shared with another registrant.
*LFFC Member Registrants associated co-op must have a current LFFC membership otherwise registrant will be charged additional fees for non-member registration*
Day Pass: $85 for LFFC Members, $105 for Non-Members
Includes 1 day access to all conference activities and associated meals. No accommodation included
*LFFC Member Registrants associated co-op must have a current LFFC membership otherwise registrant will be charged additional fees for non-member registration*
Single Accomodation ADD ON: $50
All full conference passes come with on-site accomodation in a shared dorm room with one other person. If single accomodation is requested, an additional charge of $50 is applied to cover associated costs.
---
About Cedar Glen Outdoor Center YMCA:
YMCA Cedar Glen Outdoor Centre is located in Schomberg near Bolton and Nobleton. Situated on 263 acres of the Oak Ridges Moraine, Cedar Glen welcomes outdoor education, retreat and conference groups, offering meals served in our dining hall, overnight accommodations, meeting facilities and a variety of outdoor experiential education programs.
Overnight accomodation is provided in dorm rooms that accommodate two adults. Each room has its own bathroom. Single accomodation is available at an extra charge.
https://ymcagta.org/find-a-y/ymca-cedar-glen-outdoor-centre
Transportation:
There is no organized transportation to and from the Assembly, due to its proximity to public transit and Toronto.
We encourage people travelling by car, with room for extra participants to register in the Car Pool, so others from your area can ride with you.
If you are looking for a ride, check the car pool to see if there is someone you can ride with or register on a waiting list to identify that your looking for a ride.
Register on the Car Pool App now
---
The LFFC Assembly is delivered in partnership with: