Description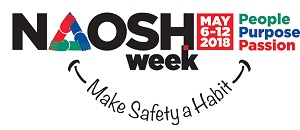 A two day conference has been planned to meet the goals of NAOSH Week 2018 in Medicine Hat. The conference will take place at Medicine Hat College on May 10 – 11, 2018.
There is a pre-conference workshop on Tuesday May 8th with Dave Fennell on Risk Tolerance.
Wednesday May 9th WCB will present a pre-conference seminar on what employers need to know about WCB and return to work strategies for workers hurt on the job. To attend this session, register at

https://www.wcb.ab.ca/resources/for-employers/seminars-andworkshops/rural_seminar.asp
The pre-conference workshops and conference sessions are ideal for health and safety professionals, human resources professionals, business owners, managers/supervisors and workers in all industries.
Thursday Sessions include:
Shift or Get Off the Pot: Simple Truths About Getting a Life - Linda Edgecombe

Changes to Employment Standards Legislation - Safe, Fair and Healthy Workplaces
Health and Safety in the Agricultural Industry - Dan Trottier
Duty to Accomodate - AB Human Rights Commission
Friday Sessions include:
Alcohol and Drugs in the Workplace - Ed Secondiak
New OHS legislation Question & Answer Session - Safe, Fair and Healthy Workplaces
Mental Health Issues in the Workplace: Why You Should Care - Kris Porleir
Getting the Best from the Most: People Are Our Priority - Brenda Robinson
Questions? email: seabcsse@gmail.com