Description
Soil is a critical resource. It supports plant growth, stores and filters water and stores carbon. It is a crucial part of our ecosystem. Construction and development in Ontario generates 25 million cubic metres of excess soil which must be transported across the Province each year. The movement and relocation of this soil must be properly managed to mitigate negative impacts to communities and the environment and to help preserve this resource.
To help support the beneficial reuse of excess soil the Canadian Urban Institute is convening the 2018 Ontario Excess Soil Symposium in partnership with experts from industry, government, NGOs and academia.
The event will be held on November 28 in Ajax Ontario and feature lessons learned and successful case studies about the management of excess soil. Discussion topics will include:
Why does soil management matter?
Successful pilot projects and case studies
Emerging technology options
Prevention of illegal dumping and enforcement
Advances in municipal by-laws and procurement
And more
Speakers include:
Hon Rod Phillips, Minister, Ministry of Environment, Conservation and Parks
Didi Pershouse, Author of Understanding Soil Health and Watershed Function
Rob Baldwin, General Manager, Planning and Development, Lake Simcoe Region Conservation Authority
Krista Barfoot, Principal Brownfield Technologist, Jacobs
Janet Bobechko, Senior Partner, Norton Rose Fulbright Canada LLP
Kevin Goldberg, Product Manager, SynerTrack
Steve Grace, Program Manager, Water Resources, Town of Halton Hills
Tom Halinski, Partner, Aird & Berlis LLP
Marc Hebert, Agronomist and Trainer, Retired Quebec MOE
Meggen Janes, Director of Soil and Groundwater Management, Waterfront Toronto
Dr. Francine Kelly-Hooper, Environmental Contaminant Scientist, Stantec
Glenn Miller, Senior Associate, Canadian Urban Institute
Paul Neuman, Director of Engineering, Town of East Gwillimbury
Leanne Philips, Soil Advocates Inc.
Dean Young, Sustainable Technologies Evaluation Program, Toronto & Region Conservation Authority (TRCA)
Amanda Smith, Managing Director, Canadian Urban Institute
Carl Spensieri, VP Environment, Berkley Canada
Derek Stephens & Chris Lant, SCS Consulting
Grant Walsom, Partner, XCG Consulting


Thank you to our 2018 Sponsors!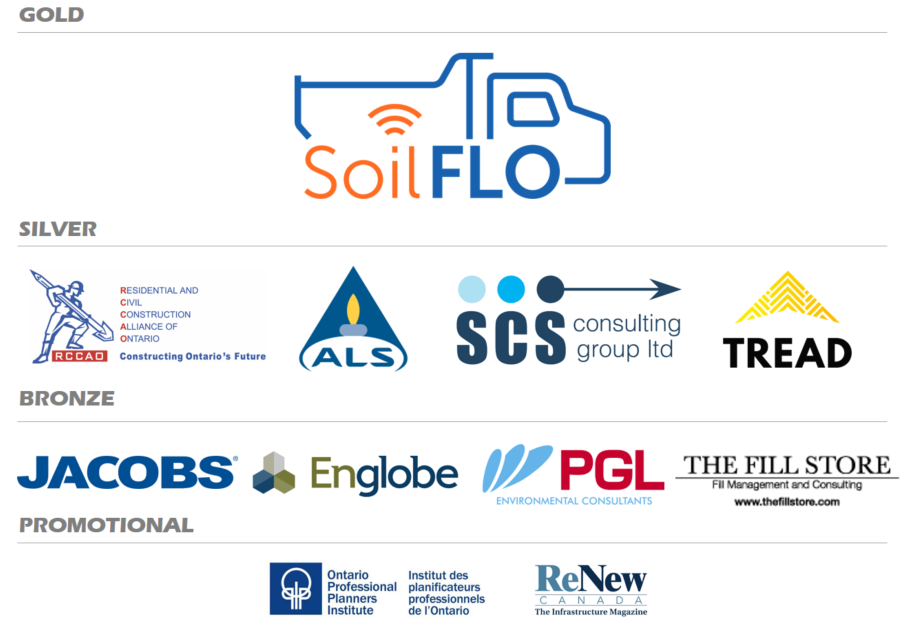 Sponosrship opportunities are still available. View the Sponsorship Package or contact Geneva Starr (gstarr@canurb.org, 416-365-0816 ext. 257) for details.