Description
In partnership with Right to Play and the Waterloo Region Record Community Partnership Program, St. Paul's University College proudly presents the 2018 Stanley Knowles Humanitarian Service Lecture:
Zahra Mahmoodi, Athlete Ambassador, Right to Play Canada
"Forbidden Dream: Fighting for Women's Right to Play"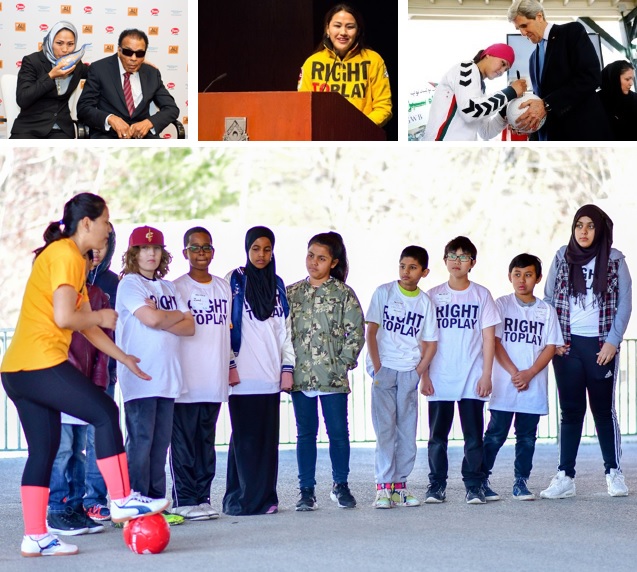 Wednesday, November 7, 2018 | Humanities Theatre, University of Waterloo
---
Zahra Mahmoodi was born in Iran as an Afghan refugee, and grew up knowing that she was forbidden to pursue some of her dreams because she was a girl. At age 10, she discovered a love for the beautiful game but her school didn't allow girls to play and she didn't think she would ever touch a soccer ball again. Then, her father began making soccer balls in his workshop...
When her family moved back to Afghanistan in 2004, Zahra introduced soccer to other girls and fearlessly defended their right to play the game they loved. Eventually, she and her friends established the first women's soccer team of Afghanistan. Zahra became captain and one of Afghanistan's first ever professional athletes.
Her fight for women's rights in the traditional society of a war torn country eventually attracted international media attention. Zahra used her global platform to advocate for others and in 2013 she was honored with the Muhammad Ali Six Core Principles Humanitarian Award in the spirituality category for her efforts to promote peace and gender equality through sports.
Don't miss this insightful and thought provoking discussion about the rights of women and girls and the important role that sport can play in advancing development.
Visitor Parking
Please visit: https://uwaterloo.ca/map/?basemap=D&layer=visitor-parking#map=16/43.4687/-80.5429 for an interactive campus map including the location of visitor parking. The lecture will take place in building HH.