Description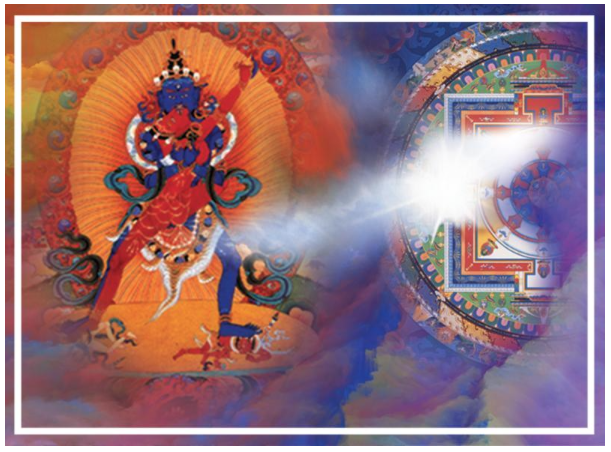 May 26th - June 1 2018 at Loon Lake Lodge & Retreat Centre

Experience the Profound Practices of TANTRA MAHAMUDRA, in a beautiful retreat setting, with Dr. Carlos de León.
This 7-Day Residential Retreat, May 26 through June 1, 2018, covers Year 3* of a 4-year study program.
Mahamudra Tantra is defined as "a mind of fully qualified clear light that experiences great bliss and realizes emptiness directly". The collection of merit produces the Buddha's "form body" and the collection of wisdom produces the Buddha's "truth body", or Dharmakaya. The transformation that occurs through training in these meditations gives rise to an experience of profound and ineffable meaning.
*Each year of this 4-year program offers a complete cycle of practices, empowerments and teachings. While it is desirable to do the program sequentially, the Third Year Retreat can also accommodate first-time students. All students can expect to receive personal attention from Dr. Carlos de León, and guidance with their individual practices.
TANTRA MAHAMUDRA TALK: THE UNION OF GREAT BLISS & EMPTINESS.
Click Here to Listen to the presentation hosted at the Ontogony Centre on April 19, 2017.

What you can look forward to in the 2018 Retreat Teachings:
The Tibetan tradition known as the Six Yogas of Naropa is one of the most popular tantric systems in all schools of Tibetan Buddhism. Derived from various Buddhist and Tantric legacies, the system was structured and codified by the 11th-century Indian masters, Tilopa and Naropa. A generation later the practices were carried to Tibet by Marpa, the translator. The Six Yogas—inner heat, illusory body, clear light, consciousness transference, forceful projection, and bardo yoga— constitute of the most important living meditation traditions in and from the "land of the snows".
Highlights of Tantra Mahamudra ~ 3rd Year: 6 Yogas of Naropa:
Supporting Practices:
1. The 4 Enlightened Actions
•Purifying
•Increasing
•Magnetizing
•Removing Obstacles
2. White Chakrasamvara, a source of Vitality, Sexual Energy and Healing.
3. Zhitro, for purifying the Bardos. Zhitro refers to a cycle, or mandala, of 100 dieties, both peaceful (zhi) and wrathful (khro). Representing the elements of body and mind, these hundred tantric deities are believed to manifest to a deceased person in the bardo, the intermediate state between death and rebirth.
4. Chod, for purifying Karma. Chod means "cutting through" or severing erroneous concepts about the world of appearances and the illusions regarding the existence of a personal self. Attachment and clinging are part of what give rise to anguish and pain. Chod is the advanced practice enabling disciples to understand emptiness.
Fruits of the Mahamudra Practice:
• Recognition of our True Nature
• Recognition of ourselves in the Base
• Pure Awareness without Distortion
• Naked and Natural Mind, without Ornamentation
• Non-conditioned Awareness
• Union of Emptiness, Bliss and Clarity
• Instantaneous Presence
• Liberation, or Buddhic State
Tantra Mahamudra Retreat Details:
Dates: May 26 thru June 1, 2018
Beginning: Check-in is 8:30 am. The program starts promptly at 10:00 am.
Finish: Last teaching session ends at 1:00 pm. (Room check-out is by 11:00 am.)

Location: Loon Lake Lodge & Retreat Centre, Maple Ridge, BC. This beautiful location on the shore of a pristine lake, is part of the University of British Columbia's Malcolm Knapp Research Forest. Located 1.5 hours from downtown Vancouver, it is like an enchanted woods, full of walking trails and wildlife.
Program Fee: Includes tuition, accommodation for 6 days and nights; 6 breakfasts, 6 lunches and 6 dinners beginning with lunch on May 26, 2018 and concluding with breakfast on June 1, 2018. Options for lodging are on a first-come-first-served basis. We recommend that you register early, reserve your choice of accommodation, and provide us with the name of your room mate(s), otherwise we cannot guarantee your selection of lodging.
Accommodation & Tuition Options – A deposit of $450 + GST is required at the time of registration. To receive the Early Bird Rate, the balance is due on or before February 1, 2018.
A – Koerner Lodge Double Room: Regular Fee – $1,900
Early Bird – $1,750 (full payment by 02/01/18)
B – Koerner Lodge Quad Room: Regular Fee – $1,750
Early Bird – $1,600 (full payment by 02/01/18)
C – Johnson Yew Double Room: Regular Fee – $1,750
Early Bird – $1,600 (full payment by 02/01/18)
Registration for the Tantra Mahamudra Residential Retreat closes on May 2, 2018, or when the capacity of 70 people for lodging onsite has been reached. All fees will be subject to 5% GST. All lodging requests will be confirmed by email.
Non-Residential Option: This includes retreat teachings, 6 breakfasts, 6 lunches and 6 dinners beginning with lunch on May 26, 2018 and concluding with breakfast on June 1, 2018. There are limited spaces available, therefore we recommend you register early to reserve you space. Early Bird Tuition – $1,100 + GST, after February 1, 2018 the tuition is $1,200 + GST.
Personal Inquiries: If you would like one of our team members to contact you to discuss or confirm your reservation, forward an email to info@ontogony.com attention Registrar. One of the Ontogony Team Members will contact you.