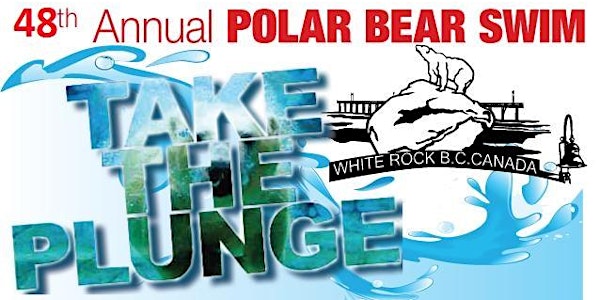 2018 White Rock POLAR PLUNGE
Location
White Rock Pier & Promenade
15000 Marine Drive
White Rock, BC V4B 1C3
Canada
Description
DATE: Janury 1st, 2018 Noon
TIME: Registration Party @ 10:30am
EVENT: Polar Bear Plunge @ 12:00pm.
LOCATION: White Rock Pier @The-Rock
Every registered Polar Bear Plunger will receive FREE Polar Plunge Certificate
TAKE THE PLUNGE Please Join us for the is Amazing Community Event
The White Rock Polar Bear Plunge is back to make it 48th splash New Year's Day at White Rock Beach.
Many hardworking groups & dedicated individuals are participating ensuring another FUN-tastic Frosty & Wet good time!
Dozens of dedicated volunteer members from 5 local Rotary clubs: Peace Arch, Peninsula, South Surrey, Semihamoo, White Rock & the Royal Canadian Marine Search & Rescue Unit 5 are again proudly hosting this year's polar bear swim.
This years event will return on Canada's 151st New Year and will be better than ever this year providing Free Hot Drinks
for all spectators & participants who brave the elements for a refreshing start to 2018.
Over 3000 people are expected to participate and or watch the 800+ "Polar-Plungers" leap into the chilly sea January 1st
including over 60 Volunteers from Rotary, RCMSAR5, White Rock RCMP & City Council, White Rock Youth Ambassadors.
This year we celebrate the return of Polar Plunge founder Denise Stevenson our "Grand Marshall" as well as members from the Semiahamoo First Nation and leaders from local Civic, Provincial, & Federal Governments.
NOTICE:
PLEASE BE ADVISED THAT PHOTOGRAPHS & LIMITED VIDEO WILL BE TAKEN AT THE EVENT FOR SOCIAL MEDIA USE BY THE EVENT ORGANIZERS & LOCAL PRESS AND OTHER COMMUNITY PUBLICATIONS. BY ENTERING THIS EVENT AREA, YOU CONSENT TO THE EVENT ORGANIZERS PHOTOGRAPHING AND USING YOUR IMAGE AND LIKENESS.
ACCEPTANCE WAIVER: IN CONSIDERATION OF ACCEPTING ENTRY TO THIS PUBLIC EVENT, I HEREBY FOR MY HEIRS, EXECUTORS AND ADMINISTRATORS, WAIVE AND RELEASE ANY AND ALL RIGHT AND CLAIM FOR DAMAGES I MAY HAVE AGAINST THE ORGANIZERS HOLDING THIS EVENT, THEIR AGENTS, REPRESENTATIVES, SUCCESSORS AND ASSIGNS FOR ANY AND ALL INJURIES SUFFERED BY ME AT THIS EVENT