Description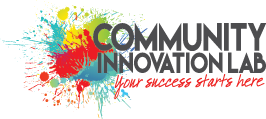 The Refinery's 2018 Women's Entrepreneurship Finance Conference focuses on financing for women entrepreneurs, the opportunities that exist for women leading growth-oriented businesses and how to grow a business beyond the start-up stage.
Keynote speaker, Heather Gamble, CEO of Women on the Move will share opportunities and speak about how women entrepreneurs can achieve their dreams without compromising a sustainable and successful economic model. The conference will also bring together an Interactive Panel on Financing and Funding Women Entrepreneurs with guests from the banking and investment sectors. Themed breakout sessions will provide attendees with the hands-on knowledge and toolkits on financing. A vendor marketplace will highlight pop-up booths by sponsors along with products and services from The Refinery's NEXT25 women entrepreneurs. The event will close with a networking reception featuring local investors and women entrepreneurs.
---
2018 Women's Entrepreneurship Finance Conference Agenda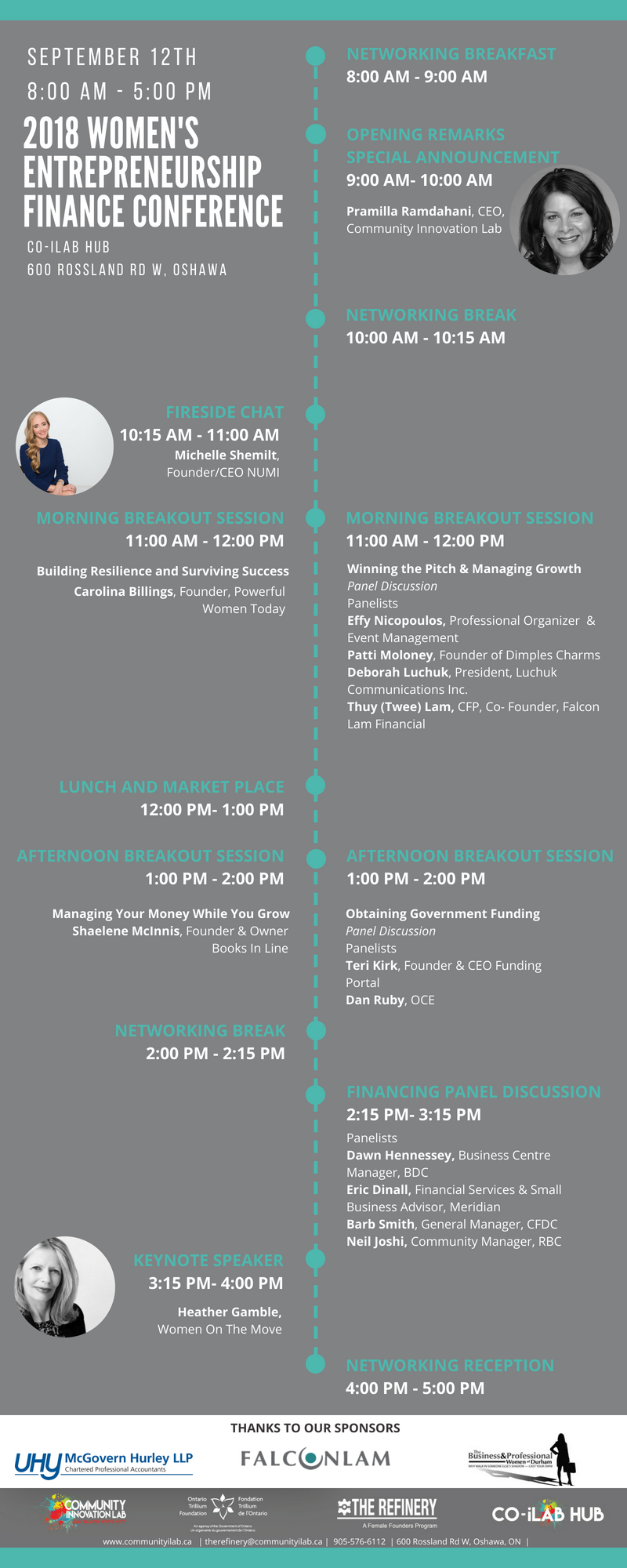 Fireside Chat
Michelle Shemilt, Founder/CEO of NUMI (10:15 AM - 11:00 AM)
Join Michelle Shemilt, Founder & CEO of NUMI as she discusses her journey of boot-strapping her business, managing funding through growth and how she successfully accessed many grant and funding programs within Ontario and Canada. Formerly called Nudy Patooty, NUMI has been featured as a revolutionary new fashion trend and innovative design on Dragon's Den, NBC's Today Show, The Toronto Star, Real Simple magazine, and at the National Women's Show, and the Toronto Women's Entrepreneurial Forum. Based out of Toronto, ON, Michelle appeared on Season 11 of Dragon's Den through her company, Nudy Patooty Inc.
http://communityilab.ca/team/michelle-shemilt/
Morning Breakout Sessions

Building Resilience and Surviving Success with Carolina Billings, Founder, Powerful Women Today (11:00 AM - 12:00 PM)
Carolina is the founder of Powerful Women Today a forum for the empowerment and optimization of women's status and lives. Her sold out conferences have received the continued support and accolades of key champions of women in business such as BMO for women & HomEquity Bank. Carolina is proud to call herself an advocate working wholeheartedly for the emotional and financial independence and prosperity of women and their dependents.
Session will cover understanding that success is a journey in which failure, disappointment, drudgery, are part of the process. Skills to handle stress, focus and building stamina are key to get to and survive success.
Key take-aways include:
Resilience
Self-Compassion
Purpose beyond success
Living in the eye of the storm
This session will feature women entrepreneurs who have recieved funding from different sources; banks, Angel, Venture Capital, family and friends. Women Entrepreneurs will discuss their success stories, challenges they have faced, along with tips and tricks they used to achieve funding!
This panel will feature:
Effy Nicopoulos, Professional Organizer & Event Management, Organize That
Patti Moloney, Founder of Dimples Charms
http://communityilab.ca/team/patti-moloney/
Deb Luchuk, Luchuk Communications
Thuy Lam, Co-founder, Falcon Lam Financial
http://communityilab.ca/team/thuy-twee-lam/
---
Lunch and Marketplace (12:00 PM- 1:00 PM)
Attendees enjoy catered lunch whilst visiting various booths of local entrepreneurs from the Durham Region
---


Afternoon Breakout Sessions

Obtaining Government Funding with Teri Kirk, Founder & CEO Funding Portal & Dan Ruby, OCE (1:00 PM - 2:00 PM)
Teri Kirk is Founder and CEO of Fundingportal where she has overseen the growth of North America's leading Software as a Service (SaaS) platform for companies seeking improved access to funding, including government incentives, capital, and financing markets. Teri has 25 years' experience as a lawyer, executive, and entrepreneur. She was recognized as the CATA/ EY Sara Kirke Entrepreneur and Innovator of the Year in 2016 for her work building Fundingportal.
http://communityilab.ca/team/teri-kirk/


Managing Your Money While You Grow with Shaelene McInnis, Founder, Owner Books In Line(1:00 PM - 2:00 PM)
Shaelene McInnis is the founder and CEO of Books In Line, an accounting company located in Durham Region. She had spent many years in the corporate world until deciding, with the birth of her two daughters, to enter the entrepreneurial world and start working from home.
Books In Line started in the basement of her house and now, just 5 years later, has a number of offices and 12 employees with plans to expand to 15 before the end of the year. Discussion on How to Manage your money once you have grown.
---


Finance Panel Discussion (2:15 PM- 3:15 PM)
Interactive panel Discussion with financial industry leaders on Funding and Financing options available for Women Entrepreneurs.
Panel will feature representatives from the following financial industry: Meridian, BDC, CFDC, TD and RBC


---
Keynote Speaker: Heather Gamble, CEO at Women on the Move (3:15 PM-4:00 PM)
Less than 1% of female founders achieve over a million dollars in annual revenue. Heather founded her first entrepreneurial venture and in less than 18 months, reached a million in revenue.
Heather is one of Canada's leading warriors for women's equality, through entrepreneurship. Her mission is to have thousands of women realizing their inner dreams to be the wild woman entrepreneur with a sustainable and successful economic model. Today she travels between Canada and Chile, moving women entrepreneurs onto their successful and sustainable million dollar path.

http://communityilab.ca/team/heather-gamble/
---
Networking Reception (4:00 PM-5:00 PM)
Sponsored by Falcon Lam Financial, attendees will have the opportunity to connect and network over hors d'oeuvres and other refreshments.
---
FAQs
I am a Refinery alumna from the boot camp, are there discounts available to me to attend the conference?
Yes, please contact The Refinery directly at: theRefinery@communityilab.ca or 905-576-6112 for discount codes for the conference.
Is Community Innovation Lab offering financial support to attend the conference?

There are ten (10) free tickets reserved for Community Innovation Lab alumni (any program) to attend the conference, based on identifying a need for financial support to attend. These tickets are first come, first served and are only available to Community Innovation Lab alumni. Please contact The Refinery directly at: theRefinery@communityilab.ca if you would like to request a free ticket.
What are my transportation/parking options for getting to and from the event?
The Co-iLab Hub is accessible via car or public transit.
By Car: There is free parking available onsite.
*Please note that the Co-iLab Hub is located in a wing of the Monsignor Paul Dwyer Catholic High School; enter the parking lot off of the Rossland Road Entrance and follow the signs for the Co-iLab Hub.*
By Transit: The Co-iLab Hub can be accessed via Durham Transit: https://www.triplinx.ca/. If travelling into Oshawa from Toronto, Oshawa is along the GO Transit line: https://www.gotransit.com/
How can I contact the organizer with any questions?
You can contact The Refinery's Program Coordinator, Safa Khan, at: theRefinery@communityilab.ca
When will the topics of the breakout sessions and the panellists be announced?
Both the focus of the breakout sessions and the panellists of the Finance Panel will be announced mid-July.
When can I choose what breakout session I would like to attend?

Registered attendees will receive an e-mail in mid-august where they will be able to choose which breakout session they wish to attend.
Group Rates - we are offering a group rate for groups of 8 or more (20% off ticket price). Please select the Group rate option when selecting tickets (discount rate will be applied to the applicable ticket type, either Early Bird or Regular Price).