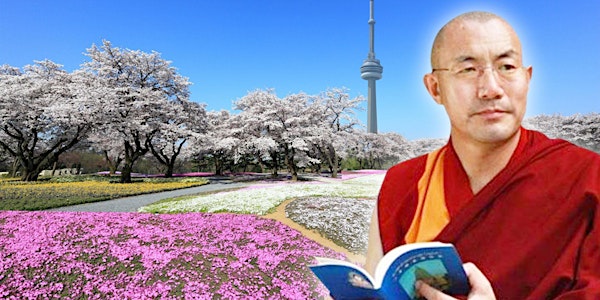 慈誠羅珠堪布仁波切2018多倫多講座(1) Khenchen Tsultrim Lodrö 2018 Toronto Lectures (1)
Location
Hilton Hotel Ball Room (Conference Center)
8500 Warden Avenue
Markham, ON L6G 1A5
Canada
Description
慈誠羅珠堪布仁波切2018多倫多講座(1)
4月26日(周四)
晚上 7:30 - 10:00 PM 煩惱與痛苦的來源
地址:Hilton Hotel,8500 Warden Avenue, Markham, ON L6G 1A5
會議廳:Ball Room (Conference Center)
人們對煩惱和痛苦之來源的好奇心,如同對宇宙起源的好奇心,源源不斷;而前者更關乎我們的幸福指數和人生歸宿。它既系於當下的一念煩惱心,又可追溯到心性中最深奧的秘密。請聽堪布仁波切為你深入淺出娓娓道來。

身為這個時代修證最不可思議的藏傳佛教禪修大師,慈誠羅珠堪布的每一個實修竅訣和每一座實修引導,都具有震撼人心和受益一生的力量。
重要提示:
中文授課,英文翻譯。
所有講座免費。網上預訂。
請提前至少10分鐘入場;請勿將食物或飲料帶入會場。
停車提示:周四和周六的會場,都在Highway 7上,相距很近,附近也有公交Bus。Hilton停車收費,周邊也有免費停車的地方。Sheraton的地下停車場可免費停車到下午5:00PM。會議廳電梯可直達會場。
Khenchen Trultrim Lodro Rinpoche's 2018 Toronto Lectures (1)
April 26th (Thursday)
7:30 pm - 10:00 pm Topic: The Origin of Afflictions and Sufferings
Address: Hilton Hotel, 8500 Warden Avenue, Markham, ON L6G1A5
(Conference Hall: Ball Room)

Similar to our curiosity for the origin of the universe, our curiosity toward the root causes and origin of suffering and afflictions also seems to be unending. Yet, the latter curiosity possess much more relevance to our happiness and lifelong pursuits. This topic, not only is pertinent to taming the troubled mind, but also shines light upon the deepest secrets within our heart.

As one of the most prestigious and inconceivable master of Tibetan Buddhism meditation, Khenchen Tsultrim Lodro offers powerful and life-changing practical methods which can guide you into the most authentic meditation sessions.
Important notes:
Teaching in Chinese; translated in English.
All lectures free. Internet booking.
Food and drink not allowed to bring into the meeting area.
慈誠羅珠堪布仁波切2018多倫多講座(2)
点击注册:https://khenchen-tsultrim-lodro-2018-toronto-lectures-2.eventbrite.ca
Khenchen Tsultrim Lodrö 2018 Toronto Lectures (2)
Click to register: https://khenchen-tsultrim-lodro-2018-toronto-lectures-2.eventbrite.ca
多伦多慧灯禅修(慧务处)
Luminous Wisdom Toronto