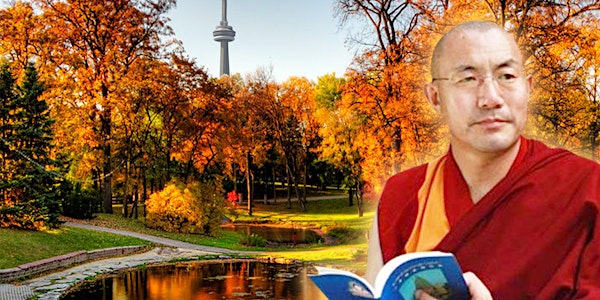 慈誠羅珠堪布仁波切2018多倫多講座(2) Khenchen Tsultrim Lodrö 2018 Toronto Lectures (2)
Location
Sheraton Parkway Hotel Grand York A (Conference Center)
600 Highway 7 East
Richmond Hill, ON L4B 1B2
Canada
Description
慈誠羅珠堪布仁波切2018多倫多講座(2)
4月28日 (周六)
上午 9:30 - 12:00 帶領實修觀心禪

下午 2:00 - 4:00 帶領實修大悲禪
地址:Sheraton Parkway Hotel, 600 Highway 7 East, Richmond Hill, ON L4B 1B2
會議廳:Grand York A (Conference Center)
身為這個時代修證最不可思議的藏傳佛教禪修大師,慈誠羅珠堪布的每一個實修竅訣和每一座實修引導,都具有震撼人心和受益一生的力量。請珍惜這個極為稀有的機緣,和堪布仁波切一起現場禪修,感受心性與大悲心的魅力。
重要提示:
中文授課,英文翻譯。
所有講座免費。網上預訂。
請提前至少10分鐘入場;請勿將食物或飲料帶入會場。
停車提示:周四和周六的會場,都在Highway 7上,相距很近,附近也有公交Bus。Hilton停車收費,周邊也有免費停車的地方。Sheraton的地下停車場可免費停車到下午5:00PM。會議廳電梯可直達會場。
Khenchen Trultrim Lodro Rinpoche's 2018 Toronto Lectures (2)
April 28th (Saturday)
Morning 9:30 am - 12:00 pm Guided Session on Observing Mind Meditation

Afternoon 2:00 pm - 4:00 pm Guided Session on Compassion Meditation
Address:
Sheraton Parkway Hotel, Conference Center 600 Highway 7 East, Richmond Hill, ON L4B 1B2
(Conference Hall: Grand York A)
As one of the most prestigious and inconceivable master of Tibetan Buddhism meditation, Khenchen Tsultrim Lodro offers powerful and life-changing practical methods which can guide you into the most authentic meditation sessions. Please join us for this precious opportunity to experience first-handedly the charisma of compassion and nature of mind in meditation.
Important notes:
Teaching in Chinese; translated in English.
All lectures free. Internet booking.
Food and drink not allowed to bring into the meeting area.
慈誠羅珠堪布仁波切2018多倫多講座(1)
点击注册:https://khenchen-tsultrim-lodro-2018-toronto-lectures-1.eventbrite.ca
Khenchen Tsultrim Lodrö 2018 Toronto Lectures (1)
Click to register: https://khenchen-tsultrim-lodro-2018-toronto-lectures-1.eventbrite.ca
多伦多慧灯禅修(慧务处)
Luminous Wisdom Toronto