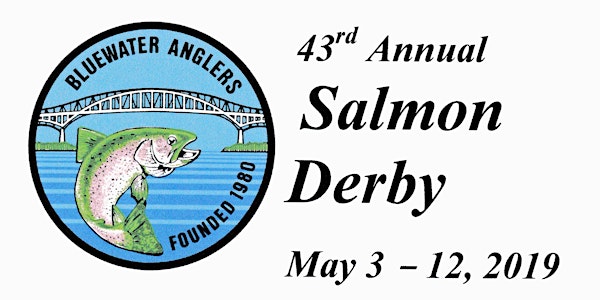 2019 Bluewater Anglers Salmon Derby
When and where
Location
Bluewater Anglers 1 Michigan Ave. Point Edward, Ontario N7V 1L8 Canada
Description
The 43rd Annual Bluewater Anglers Salmon Derby is being held from May 3rd - May 12th, 2019. The prize package will be over $40,000.00 in cash and merchandise prizes.
Prizes are available for boat and shore fishermen. There are kids prizes, senior prizes, and ladies day prizes plus bonus Draw prizes that bring the entire family together to enjoy fishing Lake Huron and the St. Clair river.
Please refer to www.bluewateranglers.com for further details including Derby Rules and Regulations.
Derby tickets must be purchased at least one day before participating in the derby.
Entry Fee - $25 Single or $50 Family
Family Entries are defined as parents OR grandparents OR guardians & dependent children 15 years of age & under (2 generations only).
Everyone in a boat must be entered in the Salmon Derby or all persons in the boat will be diqualified from entering fish. The only exception is a child under 5 years of age AND NO FISHING LINES ARE SET FOR THE CHILD.
LOCATION
Lower Lake Huron: North to Latitude 43'20" (just north of Grand Bend west to north of Lexington, Michigan) Upper St. Clair River: South to the southern tip of Fawn Island.