Sales Have Ended
Registrations are closed
Thanks for your interest! There are no more tickets available for this brunch. We look forward to seeing you at our next event. Cheers!
Sales Have Ended
Registrations are closed
Thanks for your interest! There are no more tickets available for this brunch. We look forward to seeing you at our next event. Cheers!
About this Event
CONNECT. MIX. MINGLE. LEARN. CELEBRATE. BE INSPIRED!
To mark this year's World Cancer Day, we're focusing on Oncology Nutrition while exploring the healing power of food. We warmly invite you to the 2019 Butterflies & Fireflies Brunch: Staying Nourished Through Cancer, to be held at Kitchen 24 Food Incubator in Toronto on Saturday, February 2, 2019 from 12:00 pm to 3:00pm.
The Butterflies & Fireflies Brunch was created to help combat the emotional and isolating social impact of cancer by gathering those affected for a celebration of life. It aims to CONNECT cancer fighters, survivors and their loved ones with others on a similar path, to CELEBRATE with local survivors, INSPIRE patients recently diagnosed, offer SUPPORT for caregivers and MEMORIALIZE those who've lost their lives to this devastating illness.
Additionally, the Brunch was designed to nourish both body and mind, therefore provides an atmosphere that encourages story sharing jointly with the exchange of knowledge and expertise relating to cancer, in a fun non medical environment. This year our attendees have the opportunity to meet, LEARN from and gain nuggets of wisdom from each other as well as respected, hand selected experts and mentors in the oncology nutrition community.
A special feature of the Butterflies & Fireflies Brunch will be a fun, interactive live culinary demo presentation and cookbook signing. As an added bonus guests will be treated to delicious bites featuring recipes from the recently released cookbook, THE LIVING KITCHEN: HEALING RECIPES TO SUPPORT YOUR BODY DURING CANCER TREATMENT AND RECOVERY written by Tamara Green and Sarah Grossman.
SPEAKERS:
TAMARA GREEN & SARAH GROSSMAN are certified nutritionists, authors of The Living Kitchen and founders of Living Kitchen. They offer private chef, consulting and meal planning services to clientele throughout Toronto, bringing nutritional support, education and food to cancer patients and caregivers, as well as people maintaining a healthy lifestyle. The Living Kitchen is an informative, inspiring, and empowering cookbook that will educate cancer patients and their caregivers about the healing power of food. To learn more visit www.livingkitchenwellness.com
DR. MARTHA SHARPE is a registered Naturopathic Doctor (ND) with the College of Naturopaths of Ontario (CONO), and currently practices in Vaughan at the Marsden Centre for Excellence in Integrative Medicine. Post-graduation, she pursued further education in integrative cancer care, and was accepted into the only CNME-approved Naturopathic Residency program focusing on adjunctive cancer care in Canada. She is also certified in Intravenous Therapy. After becoming an ND, she was blindsided with a diagnosis of Acute Leukaemia, which has further cultivated her passion for a more holistic model of cancer care. She is deeply committed to the improvement of education and standards in survivorship, and for young adults with a history of cancer. To learn more visit www.marthasharpe.com
JEAN LAMANTIA is a registered dietitian, cancer survivor, author of The Essential Cancer Treatment Nutrition Guide and Cookbook and creator of the Cancer Risk Reduction Guide. Her latest book the Complete Lymphedema Management and Nutrition Guide will be released this Spring. As well as speaking to groups, she assists clients one-on-one with their nutrition goals and is happy to accept new clients. You can read more about her and follow her blog Cancer Bites at www.jeanlamantia.com
AGENDA: 12:00 PM to 3:00 PM
Welcome
Group Chat - Jean LaMantia, RD, Founder of Cancer Bites Blog - "My Cancer Treatment is Finished...Now What?" (*Talk proudly sponsored by the Oncology Nutrition Dietetic Practice Group of the Academy of Nutrition and Dietetics)
Light lunch Served
Presentation - Dr. Martha Sharpe ND , Integrative Oncology, Marsden Centre For Excellence In Integrative Medicine - "The True Meaning Of Nourishment"
Presentation & Cooking Demo —Tamara Green and Sarah Grossman, Founders of The Living Kitchen - "How Food and Nutrition Can Support You Through Cancer Treatment"
Connecting Activity
Purchase your copy of the cookbooks onsite and get your book signed by the authors too! COST: Cookbook $20, Guide $5
Door Prizes
VENUE: Kitchen 24 Food Incubator
LOCATION: 100 Marmora St. Suite 200, Toronto, ON , M9M 2X5
ABOUT THE COOKBOOKS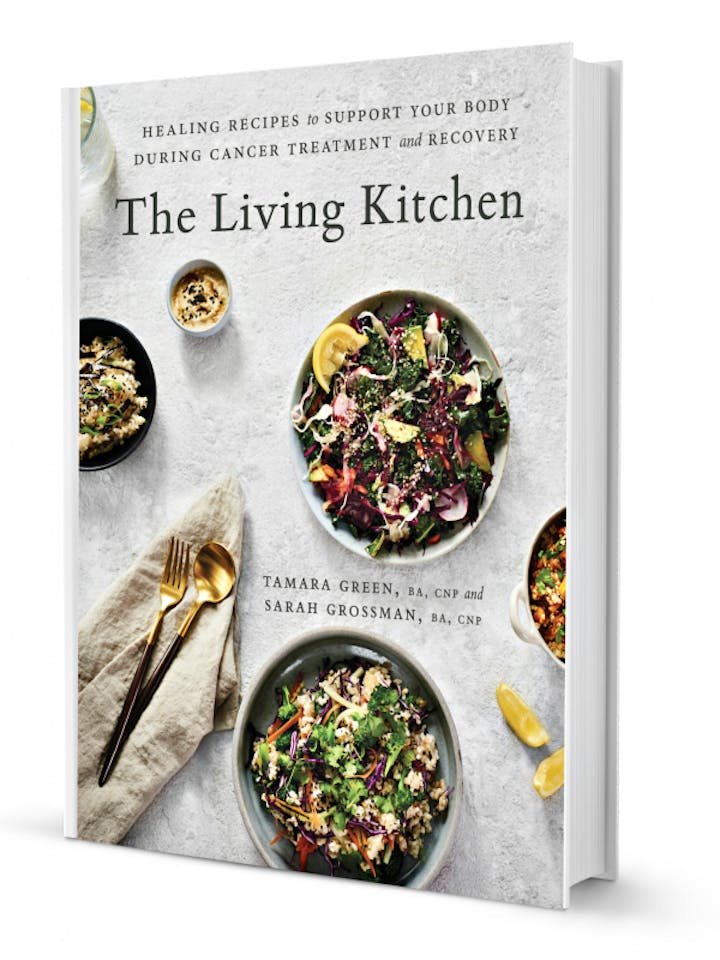 THE LIVING KITCHEN COOKBOOK
From two experts in cancer care cooking comes an informative, inspiring, and empowering guide that will educate cancer patients and their caregivers about the healing power of food. With nearly 100 nourishing recipes designed to combat side effects related to cancer therapy, this book is an essential resource for anyone experiencing cancer, undergoing treatment, or in remission.
A cancer diagnosis can be overwhelming, frightening, and uncertain. You'll want to learn what to expect from chemotherapy and radiation, how you'll navigate the often debilitating side effects that come with treatment, and what you should eat to support your body at a time when eating and cooking may be too challenging. The Living Kitchen will help cancer patients and their caregivers navigate every stage of their cancer therapy journey, from diagnosis to treatment to recovery.
Within the pages of this indispensable guide, certified nutritionists Sarah Grossman and Tamara Green provide easy-to-understand, research-based nutritional information on the science behind how food relates to your health and the effects of cancer, and offer strategies to prepare your body, life, and kitchen for treatment. With nearly 100 stress-free, healthy, freezer-friendly, and flavorful recipes specially designed to relieve specific symptoms and side effects of cancer and its therapies (including loss of appetite, sore mouth, altered taste buds, nausea, and more) and to strengthen your body once in recovery, The Living Kitchen is accompanied by stunning photography and a simple, user-friendly design. With energizing snacks and breakfasts; superfood smoothies, juices and elixirs; soups and stews, and nutrient-rich, flavorful main dishes, these are recipes that you, your family, and your caregivers will all enjoy. The Living Kitchen will give you comfort in knowing that your body will be nourished and supported during (and even after) cancer treatment.
Published by Appetite by Penguin Random House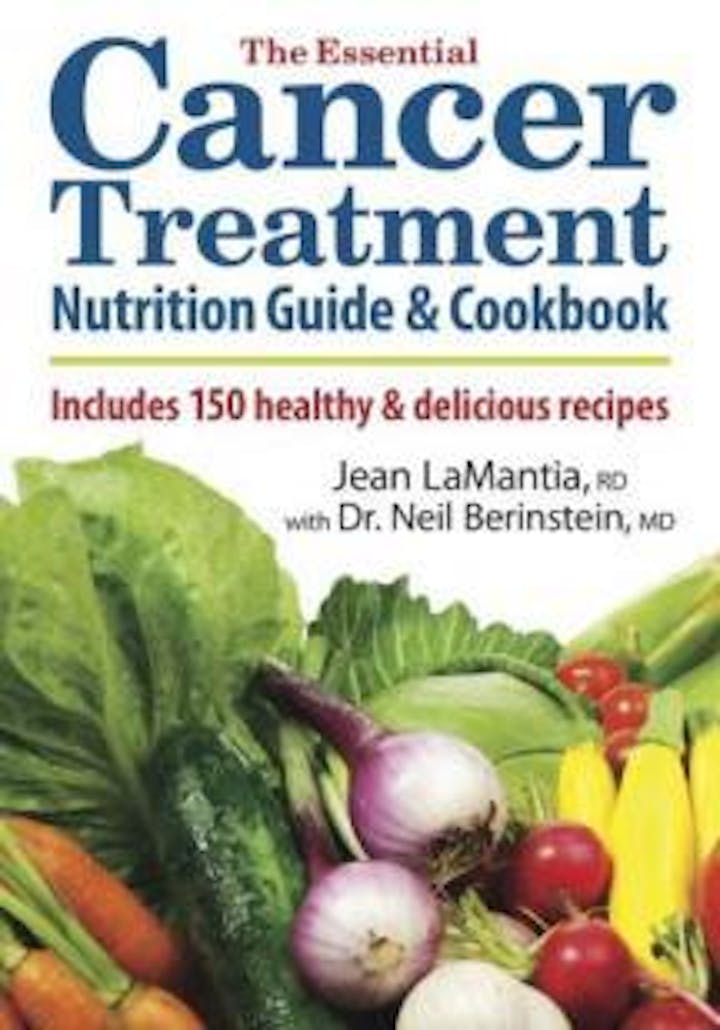 The ESSENTIAL CANCER TREATMENT NUTRITION GUIDE AND COOKBOOK
Written with the newly diagnosed person in mind, with a comprehensive A-Z list of side effects and concurrent cancer conditions that you can support with nutrition therapy. The book is fully referenced, evidence-informed and can be your trusted companion during cancer treatment and beyond. The book is a national best-seller and has been reprinted in translation.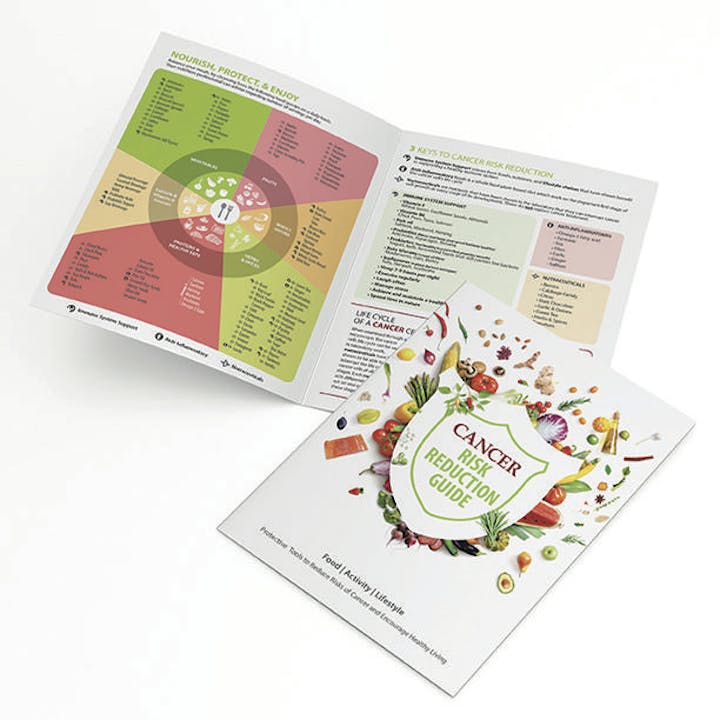 The CANCER RISK REDUCTION GUIDE will provide you with clear, easy to understand guidance on the foods, nutrients and lifestyle choices that offer protection against cancer. You can follow the guidance in this tool to feel better because of and about the choices you make.