2019 Calgary West Rotary Club Calgary Stampede Parade Gourmet Breakfast (Ju...
Description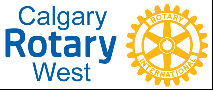 The Calgary Stampede 2019 is just around the corner!
Join people from around the world at The Calgary West Rotary Club's 26th annual Stampede Parade Gourmet Breakfast on Friday, July 5th, 2019, 7:00–9:00 am. Enter on the SW Corner of 7th Street and 9th Avenue SW. The breakfast quickly sells out so click on TICKETS to purchase yours. Don't miss out on the fun!
Watch Our Video from 2018. If you were there, you may be in it!
Listen to Our Podcast; Robyn Braley Interviewed on Country 105 radio
Ticket Cost - Individuals and Families
Each ticket costs $55. Children under 4 years of age eat for free. Guaranteed seating.
Value Package - Famous Western Hospitality
Pancakes, berries & cream, sausage, eggs, beans, coffee
Family style breakfast seating at tables and chairs
Live country music band
Guaranteed parade seating
Bottle water during parade
Connect with people from around the world
Memories to last a lifetime
Group Tickets
If your community or company group wish to purchase bulk tickets of 25 or more, please contact us for pricing information.
Bulk Tickets - 25 or more
Helping the Community
The event is managed by Rotarian volunteers along with friends and family. All proceeds beyond the cost of supplies are donated to local and world-wide humanitarian projects that the club supports. Calgary West Rotarians have been serving communities for more than 50 years. These are a few of the programs we support.
Youth-at-risk
Domestic violence
Clean water
Addictions recovery
Food bank
Micro-finance
Families-at-risk
Our Event and Venue Sponsor
We wish to thank Knoxville's Tavern for allowing us to use their facility and the help of your staff. Thankyou for supporting out event.

Knoxville's is located at 9th Ave and 8th St., Calgary, Alberta
Organizer of 2019 Calgary West Rotary Club Calgary Stampede Parade Gourmet Breakfast (July 5)