2019 CGS-SOS Summer Workshop: Geo-characterization Using the Cone Penetration Test

Wednesday, 17 July 2019 from 7:30 AM to 5:00 PM (EDT)
Event Details
Summer Workshop: Geo-characterization Using the Cone Penetration Test
CGS-SOS is pleased to present a one-day summer workshop, designed for Geotechnical Consultants, Geo-structural Designers, Specialty Geotechnical Contractors, Government Agencies, University Students and other contractors and designers who desire continual improvement to their geotechnical engineering skills.
Workshop Overview
Geotechnical site exploration is a necessary and paramount initial task for projects that interface with the ground. Cone Penetration Testing (CPT) is a fast and reliable means of conducting site explorations in soft and loose soils and provides continuous readings of point load, friction, porewater pressures.  The readings (qt, fs, u2, t50, and Vs) can be used to evaluate soil stratigraphy, soil types, water table and engineering parameters.  The CPT is less disruptive than conventional rotary drilling and the continuous nature of CPT readings permit clear delineations of various soil data, their depths, thickness, and extent.  
The workshop will introduce CPT technology and provide an overview of CPT interpretation and its applications. Case histories will be presented with an emphasis on site characterization and the evaluation of geo-parameters for analysis and design as inputs for conventional and finite element analyses. In addition, the application of CPT in design of shallow and deep foundations and seismic geotechnics, including the evaluation of soil liquefaction potential will be covered.
This technical workshop is suitable for engineers and scientists who like to advance their understanding of the CPT method.  Registration fee covers your spot at the workshop, an access to workshop materials, continental breakfast, lunch and coffee breaks.
Attendance at this workshop qualifies for CPD. 
PRESENTERS:
Mr. James Sharp, CEO, ConeTec Group
Dr. Peter K. Robertson, Technical Advisor, Gregg Drilling LLC and Gregg Drilling Canada
Dr. Paul Mayne, Professor, Georgia Institute of Technology
AGENDA:
1.1       CPT (CPTu, SCPTu) Equipment and Procedures
1.2       CPT Interpretation – Soil stratigraphy and Unit Weight
1.3       Effective Friction Angle of Soils
1.4       Pre-consolidation Stress and OCR
1.5       Undrained Shear Strength, Stiffness, and Moduli                      
1.6       Shallow Foundation Design Using CPT
1.7       Deep Foundation Design Using CPT
1.8       Liquefaction & Case Studies
1.9       Worked Examples
2.0       Panel Discussion  – Question and Answer

Link to the Workshop Brochure: 
http://cgs-sos.ca/wp-content/uploads/2019/05/2019-CGS-SOS-Summer-Work-Shop-Brochure-Final.pdf
When & Where

Pearson Convention Centre
2638 Steeles Avenue East
Brampton, ON L6T 4L7
Canada

Wednesday, 17 July 2019 from 7:30 AM to 5:00 PM (EDT)
Add to my calendar
Organizer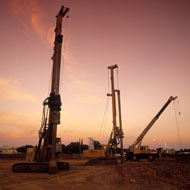 About Us
The Canadian Geotechnical Society Southern Ontario Section (CGS-SOS) represents the national organization at the local level centered at the Greater Toronto Area (GTA) and covering some cities in Southern Ontario. The CGS-SOS was established in the early 1970s and forms the largest region of the Society. Its purpose is to provide opportunities for continuing education (through lectures and seminars), and for constructive dialogue and sharing of experiences. This is accomplished through organizing events on about a monthly basis.
The Canadian Geotechnical Society (CGS) is an independent, federally incorporated, non-profit learned society which exists to serve and promote the geotechnical and geo-science community in Canada. It encompasses a wide spectrum of scientific and engineering disciplines within the geotechnical field. Membership is open to individuals from all sectors including private consulting, universities, industry, contracting and public services.