About this Event

2019 7th China Electronic Information Expo ( CITE 2019)
Shenzhen Convention and Exhibition Centre
April 9-11 2019
This exposition focuses on the core content of the future development of the electronic information industry, including artificial intelligence, intelligent manufacturing, high-end chips, virtual reality and augmented reality, intelligent network automobile, smart family, E-sports and so on.
For more info, please visit
Official website: http://www.citexpo.org/en/
Facebook:https://www.facebook.com/citexpochina/
Twitter: https://twitter.com/citexpochina
Five Reasons to Join in CITE 2019
1 The only national platform for electronic & ICT industry in China. Gain access to the key decision makers recruited by central government and local governments.
2 Shenzhen mainly serves 3C applied fields including consumer electronics, computer and communication. With a heavy focus on the high-tech sector, Shenzhen is positioned strategically for innovation and growth as China develops. The city is home to some of China's most successful high-tech companies, such as Huawei, Tencent and ZTE. These companies have located their production centers, research facilities and trading operations in Shenzhen.
3 Major products include hardware and software, communications equipment, audio and visual products, optical electromechanical products, biomedical products and medical equipment. Shenzhen has ranked 1st in the export of software for five consecutive years.
4 Reach the extensive publicity platform including advertising, TV show, broadcasting, media column, press conference and guest interview, etc.
5 Demonstrate and launch new products and services to your potential clients with the help of buyer invitation program.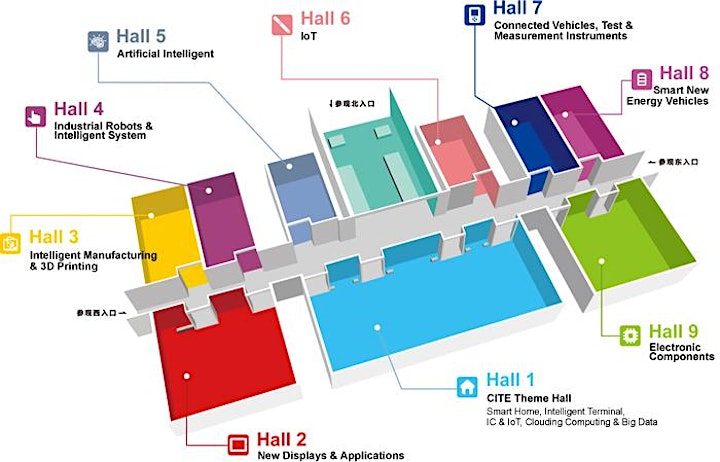 Hall Allocation
Hall 1: CITE Theme Hall
Intelligent Manufacturing, Smart Home, Intelligent Terminal, IC, IoT, Clouding Computing, Big Data
Hall 2: New Displays & Applications
LCD, OLED, LED
Hall 3: Intelligent Manufacturing & 3D Printing
Hall 4: Industrial Robots & Intelligent System
Service Robots, Industrial Robots, 3C Industry Applications
Hall 5: Artificial Intelligence
Hall 6: Interactive Entertainment
Competitive Gaming, Innovation zone, VR, Intelligent Hardware
Hall 7: Test & Measurement Instruments
Test & Measurement Instruments, Manufacturing Equipment
Hall 8: New Energy
Lithium Battery, Connected Vehicle, New Energy Vehicles
Hall 9: Electronic Components
Resistor/Capacitor, Connector, Discrete Devices, Defense Electronics

Value-added Service
● New products release: Publish your company's new products and news through the CITE's official website as well as preferred 100,000 buyers and 200 qualified media.
● Press conference: Take the opportunity to release lasted news in press conference.
● Exclusive interview: Make an appointment with the senior journalists of electronics industry invited by CITE.
● Buyer invitation: Enjoy a high quality of services to your preferred customers free of charge.
● On-site Product Release Stage: Debut new products at CITE stage.
● CITE show daily: Inform visitors what to expect from exhibiting companies and facilitate purchasing decisions at the show floor.
Featured Photos at CITE 2018