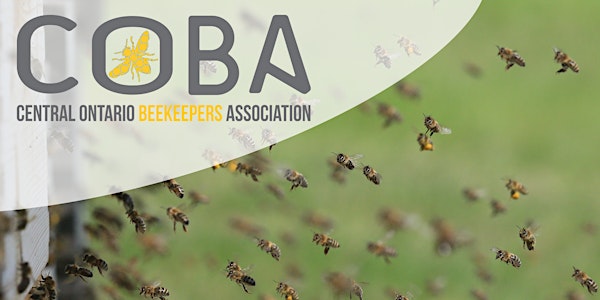 2019 Conference - Beekeeping Locally & Abroad: Issues, Challenges & Hope
Location
Fleming College - Frost Campus
200 Albert Street South
Lindsay
Kawartha Lakes, ON K9V 5E6
Canada
Refund policy
Contact the organizer to request a refund.
Eventbrite's fee is nonrefundable.
Description
***Registration deadline extended!***
Unable to attend the Apimondia International Apicultural Congress in Montreal this year? No problem! The Central Ontario Beekeepers Association is pleased to invite you to attend its mini-conference and bring some of Apimondia to you.
The conference format is geared towards all experience levels—from new beekeepers to those with decades of experience. International and local researchers and experts will provide stimulating and educational perspectives on beekeeping. In addition, two workshops (limited registration) will provide hands-on learning for participants.
Lunch is included in the ticket price.
Conference Speakers
Saturday September 14, 2019, Registration: 8:00-9:15am; Wrap up: 4:30pm
DR. RAFFAELE DALL'OLIO is a beekeeper and a PhD animal biologist (University of Bologna) with a master's degree in honeybee pathogens diagnostic (University of Pisa), and skilled in artificial insemination of honeybee queens. He has more than 12 years of experience with the Italian National Institute for Beekeeping (now CREA) in honeybee research and teaching focusing on genetic conservation of honeybee races, detection of pathogens and viruses, improving quality of beekeeping products.
He is a member of the Executive Commiteee of COLOSS and is taking part in two EU projects on sustainable breeding and bee health. As an internationally sought out speaker including Apimonida and the European Conference of Apidology, Raffaele has more than 50 publications in the field. As a beekeeper Raffaele had commercial experience with Camperchi srl in Tuscany, Italy, queen-rearing experience for Steens LDT, bee-health monitoring for Manuka Health in New Zealand and almond pollination for OHB in tUSA.
In addition, Raffaele has more than 10 years' experience as a teacher and professional honey taster. He is a panel leader for the National Register of Experts in the Sensory Analysis of Honey and an instructor in the courses on Honey Sensory Analysis in Bologna, Italy.
Raffaele will speak about the genetic conservation of honey bee races, queen rearing and honey storage and crystallization. He will also lead a Honey Tasting Workshop which will be limited to 20 participants. NOTE: there is an additional cost for this workshop - $45/person and separate registration. Please email cobasecretary@nexicom.net. First come, first served.
DR. NURIA MORFIN RAMIREZ has been working with honeybees since 2006 both as a beekeeper and as a researcher. Nuria first received a master's degree from the National University of Mexico, working with Africanized bees. In Mexico, she also worked with neotropical bees for pollination services. In 2018, Nuria received her PhD from the University of Guelph studying the interaction of insecticides, viral infections and Varroa destructor parasitism on honey bee health and behaviour.
Nuria actively collaborates with the Technology Transfer Program of the Ontario Beekeepers Association as an instructor of courses for beekeepers that focus on Integrated Pest Management. Nuria is currently a Research Associate at the Honey Bee Research Centre, University of Guelph, where she studies the effect of stressors on humoral immunity of honey bees and on mechanisms of disease resistance, such as grooming behaviour. Her current work also involves the impact of insecticides in the lipid profile of the bees' brains and the effect of health enhancers on honeybee metabolism.
Nuria will discuss her research and in particular how neonicotinoids hinder bees' ability to fend off mites.

SUSAN CHAN is a pollination biologist and educator, with strong interests in sustainable agriculture. Susan's lifelong passion has been to understand and encourage natural systems on farms that support agriculture and provide safe habitat for wild creatures of all kinds. Susan has played a pivotal role in educating the public about native pollinators, creating demonstrations and resources for farmers who wish to incorporate pollinator habitat on their farms, and in raising awareness about the negative environmental impacts of neonicotinoids. Susan is presently completing her Ph.D. at the University of Guelph studying the effects of pesticides on solitary, ground-nesting bees.
Susan's presentation will focus on the effects of neonicotinoids on the squash bee.


Sunday September 15, 2019; Registration: 9:00-9:45am; Wrap up: 2:30pm
DR. NOA SIMON DELSO is a Veterinarian and researcher specializing in honeybee health. She has a PhD in Agricultural Science from Universite Catholique de Louvain (Belgium), an MSc in Veterinary Science from the Universidad de Leon (Spain) and an MSc in Economy, Managment and Consumer Studies from Wageningen University (The Netherlands).
She has been working at CARI (Centre Apicole de Recherche et Information) in Belgium since 2009 dealing with the multiple stressors affecting bee health,specifically integrating ecotoxicology in the concept of bee health. She also provides scientific-technical advice to the association Bee Life European Beekeeping Coordination where she deals with the European dossiers dealing with environmental health of pollinators.
Noa's presentation "Honeybees as Environmental Patients" will provoke us to think outside the hive to consider what is happening with bee colonies.

DR. JANKO BOZIC has dedicated himself to the study of bee biology and beekeeping technology since childhood. With his undergraduate and Masters degrees in Biology from Ljubljana University in Slovenia, Janko's main research topic was waggle dance communication in honeybees with a focus on followers' behavior. He obtained his PhD at Louisiana State University in Baton Rouge, USA, studying the physiological background of recruitment of honeybees to foraging activities.
In recent years he has cooperated with research groups to study the sub-lethal effects of pesticides and nanomaterials. Along with his scientific work, Janko is also involved in extension work for Slovenian beekeepers, working in groups of experts to prepare development programs related to beekeeping. Part of his time is dedicated to practical beekeeping as well as the development of beekeeping technology such as spreading knowledge of using the Slovenian type of hives (AZ), which has brought some extra attention in the beekeeping community worldwide in recent years.
Janko's presentation will focus on beekeeping research and practice in Slovenia.
Janko will also lead a special hands-on tutorial - Working with AZ Hives at a Slovenian beehouse in Cavan, ON (approx 30 minute drive from the College). This 2 hour session will begin at approximately 3:45pm and is limited to 10 participants. There is an additional cost of $25/person and separate registration is required - please email cobasecretary@nexicom.net for more information. First come, first served.