Description
Join Honourary co-chairs Aly & Naila Jivraj at the 2019 Courage Gala presented by UNITE HERE Local 47, and show your Colours of Courage!
The Courage Gala is a celebration where we pause to reflect on the truly important moments in life - moments where the human spirit shines and courage is encouraged.
Winner of the 2017 Best Fundraiser through the Edmonton Event Awards, the Courage Gala and preceding Glenrose Foundation galas have raised more that $4 million dollars! It's an event you don't want to miss!
Attire: Colours Encouraged (ladies, swap your LBD with your choice of bold colour. Gentlemen, swap your black tie for some pop colour envy!)
---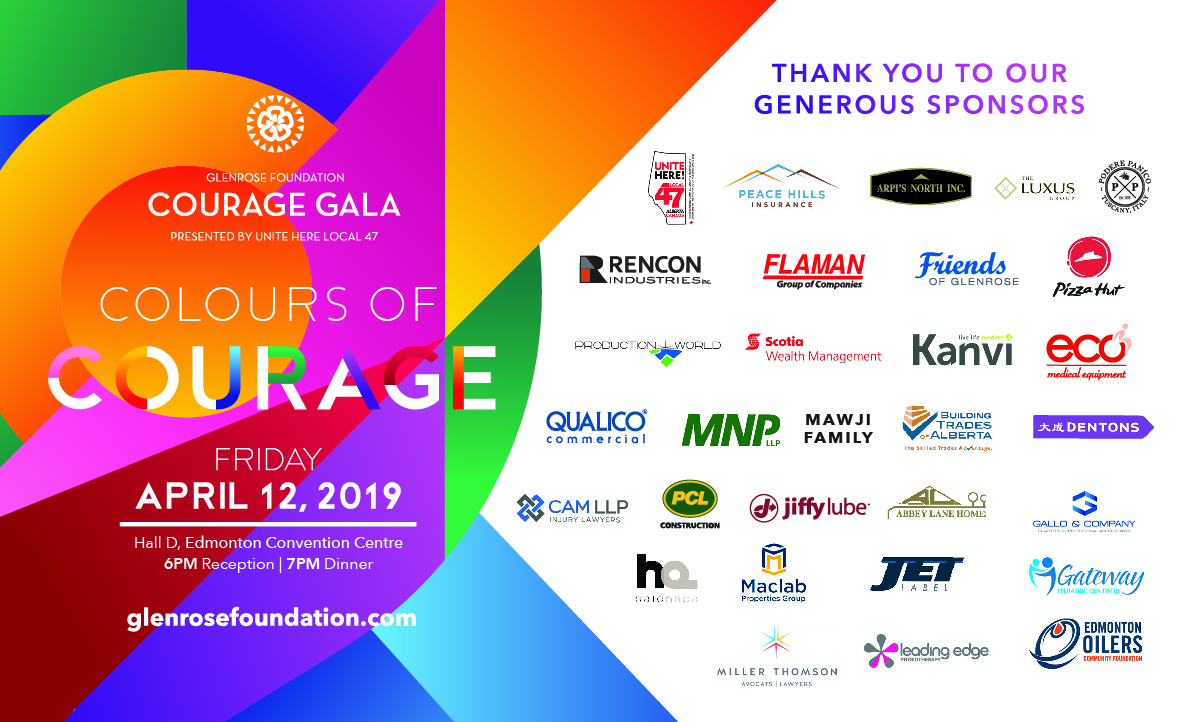 ---
Sponsorship opportunities for this highly anticipated signature event are available!
Supporting the Courage Gala offers great corporate exposure through event marketing, advertising & community engagement opportunities. For more information, please contact Jamey Blair- Officer, Philanthropy at 780.916.8360 or jamey.blair@albertahealthservices.ca.
__________________________________________________________________________________________
Italian Experience Raffle: 199 tickets printed. Purchasers must be at least 18 years of age and winning ticket must have the name of a person 18 years of age or older. Members of the Glenrose Rehabilitation Hospital Foundation (GRHF) their families and the Raffle Chairperson may purchase tickets. Ticket will be drawn for 1 prize from a cage-barrel. Prize 10:00 p.m., April 12, 2019, from the stage in Hall D of the Edmonton Convention Centre, 9797 Jasper Avenue, Edmonton, Alberta.Tickets are $500 for one (1) and may be purchased online at couragegala.com by Alberta residents only. Ticket presales will be available from March 15, 2019 and will end on April 5, 2019 and will again be sold on April 12, 2019 on site in Hall D. Sales stop at 9:30 p.m. No extension will be requested. Winners do not need to be present to claim their prize and will be contacted by phone and/or mail. Winners will be posted in the GRHF office and on the GRHF website. All prizes are nontransferable. All winners have up to 1 year from the date of the draw to claim their prize. If at that time the prize has still not been claimed, the prize or cash equivalent to the fair market value of the prize shall be donated to a charitable beneficiary approved by the AGLC. If prize is claimed after May 2019 winner will receive $20,000 cash prize which will be available for one year from draw date. No refunds for ticket purchases. In the event a winning ticket stub has more than one name on it, GRHF will award the prize to the first name listed (from left to right) on the ticket. GRHF and AGLC are not responsible for any disputes which may arise between the different individuals whose names appear on the ticket stub. GRHF and AGLC are not responsible for any illness, injury, damages or loss of property associated with the prizes. AGLC Raffle License # 523494
Edmonton Oilers Suite Raffle: 200 tickets printed. Purchasers must be at least 18 years of age and winning ticket must have the name of a person 18 years of age or older. Members of the Glenrose Rehabilitation Hospital Foundation (GRHF) their families and the Raffle Chairperson may purchase tickets. Ticket will be drawn for 1 prize from a cage-barrel. Prize 10:05 p.m., April 12, 2019, from the stage in Hall D of the Edmonton Convention Centre, 9797 Jasper Avenue, Edmonton, Alberta. Tickets are $250 for one (1) and may be purchased online at couragegala.com by Alberta residents only. Ticket presales will be available from March 15, 2019 and will end on April 5, 2019. Tickets will again be sold on April 12, 2019 on site in Hall D. Ticket sales will stop at 9:30 p.m. No extension will be requested. Winners do not need to be present to claim their prize and will be contacted by phone and/or mail. Winners will be posted in the GRHF office and on the GRHF website. All prizes are nontransferable. All winners have up to 1 year from the date of the draw to claim their prize (note the listed prize restrictions). If at that time the prize has still not been claimed, the prize or cash equivalent to the fair market value of the prize shall be donated to a charitable beneficiary approved by the AGLC. No refunds for ticket purchases. In the event a wining ticket stub has more than one name on it, GRHF will award the prize to the first name listed (from left to right) on the ticket. GRHF and AGLC are not responsible for any disputes which may arise between the different individuals whose names appear on the ticket stub. GRHF and AGLC are not responsible for any illness, injury, damages or loss of property associated with the prizes. AGLC Raffle License # 523493
Luxury Wellness Raffle: 200 tickets printed. Purchasers must be at least 18 years of age and winning ticket must have the name of a person 18 years of age or older. Members of the Glenrose Rehabilitation Hospital Foundation (GRHF) their families and the Raffle Chairperson may purchase tickets. Ticket will be drawn for 1prize from a cage-barrel. Prize 10:05 p.m., April 12, 2019, from the stage in Hall D of the Edmonton Convention Centre, 9797 Jasper Avenue, Edmonton, Alberta. Tickets are $100 for one (1) and may be purchased online at couragegala.com by Alberta residents only. Ticket presales will be available from March 15, 2019 and will end on April 5, 2019. Tickets will again be sold on April 12, 2019 on site in Hall D. Ticket sales will stop at 9:30 p.m. No extension will be requested. Winners do not need to be present to claim their prize and will be contacted by phone and/or mail. Winners will be posted in the GRHF office and on the GRHF website. All prizes are nontransferable. All winners have up to 1 year from the date of the draw to claim their prize (note the listed prize restrictions). If at that time the prize has still not been claimed, the prize or cash equivalent to the fair market value of the prize shall be donated to a charitable beneficiary approved by the AGLC. No refunds for ticket purchases. In the event a wining ticket stub has more than one name on it, GRHF will award the prize to the first name listed (from left to right) on the ticket. GRHF and AGLC are not responsible for any disputes which may arise between the different individuals whose names appear on the ticket stub. GRHF and AGLC are not responsible for any illness, injury, damages or loss of property associated with the prizes. AGLC Raffle License # 525809