Description
Join us for the 2019 CRSB Semi-Annual Meeting at the Hilton Winnipeg Airport Suites & Conference Centre in Winnipeg, MB.
April 25, 2019
The CRSB will hold Committee, Council and a Semi-Annual members' meeting to provide updates on CRSB activities, implementation of the Certified Sustainable Beef Framework, gather feedback on a renewed Business Strategy and discuss opportunities to advance sustainability in the Canadian beef industry.
---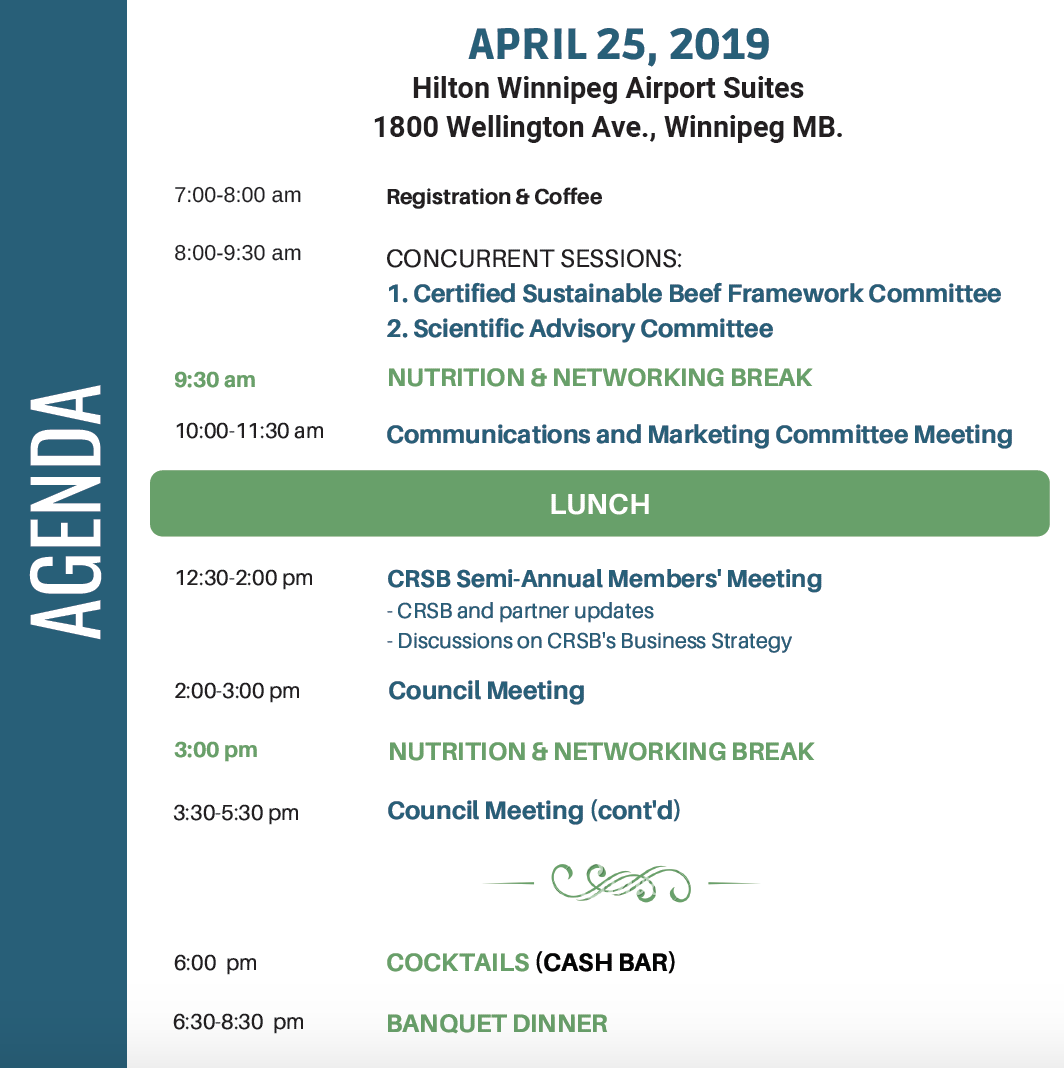 * Committee and Council meetings are open for all to attend and we welcome participation by observers.
Meetings and Banquet dinner have been separated into various tickets to allow for flexibility. Please register for all events you plan to attend.
Thank you to JBS Canada for providing beef for the Banquet.
Click here for a pdf of the full agenda and event information.
---
Accommodations
A block of rooms has been saved for the CRSB group at a rate of $134/nt., eligible April 24-26, 2019. Click the link below to book online or contact the hotel directly (204) 783-1700 and request the CRSB rate.
DEADLINE for CRSB Rate BOOKING: April 8, 2019
Click here to book accommodations at the CRSB rate.
An additional block of rooms is available at the Victoria Inn Hotel and Conference Centre, right next door at 1808 Wellington Avenue. This block is eligible for April 24-26, and will be available for booking until April 15, 2019. Please call the hotel at (204) 786-4801 and quote Canadian Roundtable for Sustainable Beef to book.
---
Transportation
Air Travel

CRSB has secured an airline discount for the event through Westjet, eligible for travel from April 8 - May 3, 2019. This offer provides a discount of 5% off Econo* and 10% off EconoFlex and Premium fares for travel within Canada and 2% off Econo*, 5% off EconoFlex and 10% off Premium base fares for guests travelling Trans-border** into and out of Winnipeg. To take advantage of this offer, you will need the discount code listed. Please visit www.westjet.com/conventions to make a booking online.
*Travel Agent use only. Travel Agents – if booking in GDS please use Promo Code
Coupon code: K84AB68
Promo code: WDD90
If you have questions about how to complete a booking with your discount codes, please check out the frequently asked questions.
Changes/cancellations
You can change or cancel reservations within 24 hours of booking at no charge. Further changes or cancellations can be made up to 2 hours prior to the flight; please note additional fees or charges may apply for each guest depending on fare class booked and differences in fare. Check out Westjet's service fees page for more information.
Airport Hotel Shuttle
The Winnipeg airport is located approximately 1 km from the hotel. The hotel offers a complimentary shuttle service from the airport. When you arrive, simply call the hotel at (204) 783-1700 to arrange pick-up.
---
We hope to see you there!
If you have any questions, please don't hesitate to contact Andrea White, CRSB Community Engagement Manager at whitea@cattle.ca or at 250.682.5698.
Organizer of 2019 CRSB Semi-Annual Meeting
The CRSB is a collaborative community of stakeholders  dedicated to advancing environmental, social and economic sustainability in the Canadian beef industry.
Through leadership, science, multi-stakeholder engagement and collaboration, continuous improvement of sustainability of the Canadian beef value chain will be achieved and recognized.