Event Information
Location
Downtown
Charlottetown, PE
Canada
Description
Join in the Island's largest outdoor street festival and celebrate all things LOCAL at the 12th anniversary of Farm Day in the City presented by the PEI Potato Growers.

This year's event will take over the streets of downtown Charlottetown on Sunday, October 6, 2019 from 11:00am - 5:00pm. 2019 marks the 12th annual Farm Day in the City and Discover Charlottetown is gearing up to make this year's event bigger and better than ever!

Featuring +200 vendors/exhibitors and +15,000 attendees, it's an exciting day for all!


Registrations add-ons:
Top of Queen Reservation (SOLD OUT): Vendors can reserve space in the top block of Queen

(between Grafton and Richmond Streets

| See map below

).

The add-on cost is $50/space. There are a very limited number spaces and will be given on

a first come first serve basis.



Power:

Electricity is available for vendors at an additional cost of $60/space. Due to the increase in demand the last few years we are required to rent a generator for power. There will be a limited number of vendor

spaces (Between Richmond and Sydney | See map below) with access so we recommend registering early.
Add-ons can be found at the bottom of the order form once you select your vendor type.

Victoria Row & Confederation Centre Plaza Vendor Registration: Spaces along Victoria Row and on the Confederation Centre Plaza can be booked this year for a set fee of $45. These spaces are open to all vendor types except Food Vendors and Exhibitors.

Space is available on a first come first serve basis. Vendor locations will be decided by event orgninizors based on a number of factors including health & safty regulations and orginizors do not guarantee specific locations. If you have any questions or want more details please feel free to contact us. E: info@discovercharlottetown.com | P: 902.629.1864


Early Registration Deadline: July 10th, 2019 (Registration fee will be increased after August 3)
Event Date: October 6th, 11:00am - 5:00pm
Map: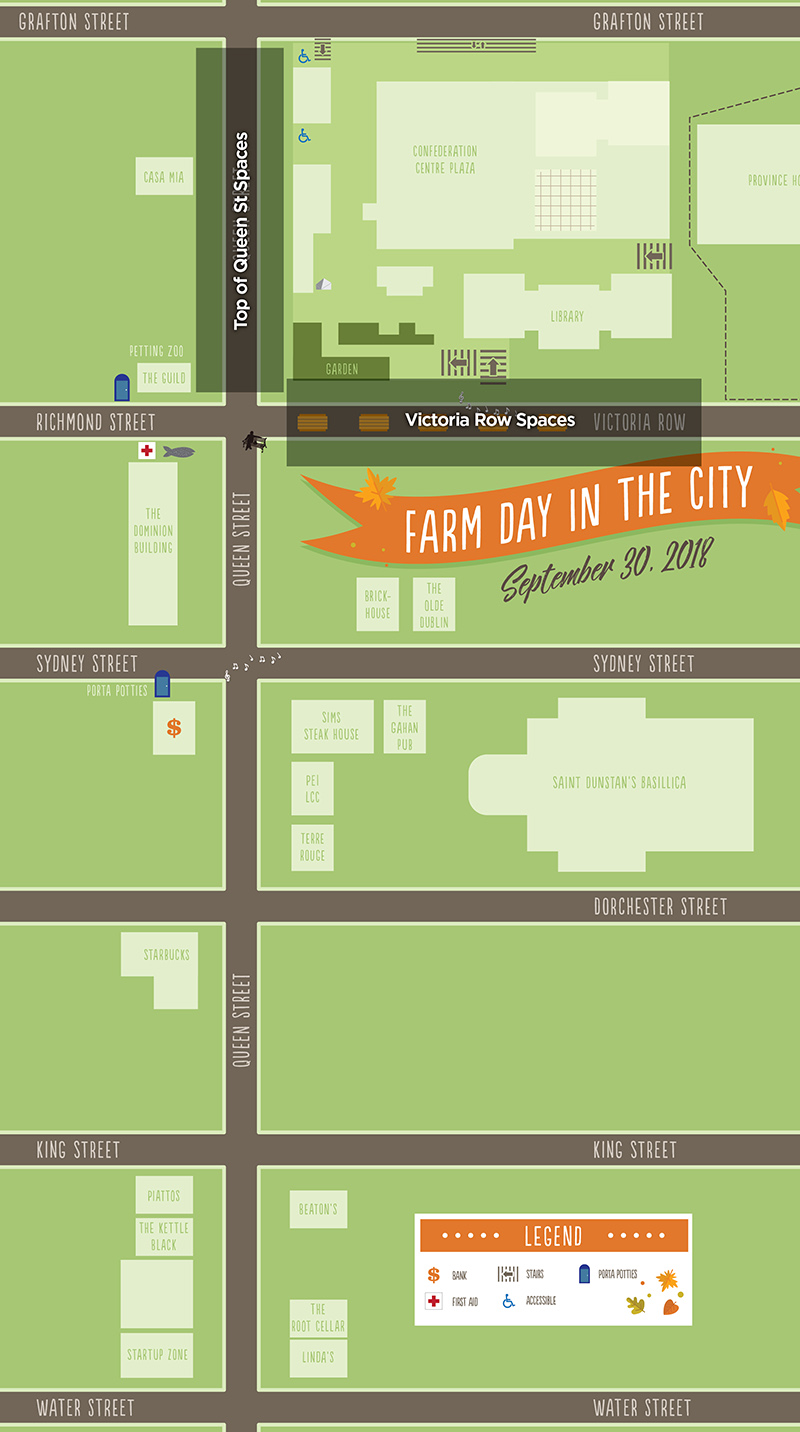 Additional Vendor Information:
Farm Day organizers reserve the right to deny any vendor registration and issue a refund up to 6 weeks prior to Farm Day in the City in the event that the business and/or product does not fit with the nature of the event. Vendors are considered approved unless informed otherwise.
Farm Day primarily consists of local products that are grown, handcrafted or produced on Prince Edward Island. Exceptions may apply but must be approved by

organizers

first.

Please keep this in mind when considering registration as organizers cannot guarantee the sale of vendor products.
Date and Time
Location
Downtown
Charlottetown, PE
Canada
Refund Policy