Sales Have Ended
Ticket sales have ended
Thank you for registering for FFCON19. If you have any questions please email info@ncfacanada.org
Event Information
Location
Day 1: Gowling WLG (Canada) LLP / Day 2: Bram and Bluma Appel Salono
Suite 1600-100 King St. West / 789 Yonge Street (2nd floor)
Toronto, ON M4W 2G8
Canada
Sales Have Ended
Ticket sales have ended
Thank you for registering for FFCON19. If you have any questions please email info@ncfacanada.org
Description
FINTECH, BLOCKCHAIN, AI, FUNDING, AND ALTERNATIVE FINANCE
The National Crowdfunding & Fintech Association of Canada (NCFA) and partners are delighted to present the 2019 Fintech & Financing Conference and Expo (#FFCON19) taking place April 3-4, 2019 in downtown Toronto.

In its 5th year, FFCON19 remains inclusive and one of the most engaging platforms in Canada for high growth and emerging startups-scaleups, professionals, reguatory bodies and ecosystem stakeholders to launch, build, connect, invest and scale the next generation of rising stars at the intersection of finance, technology, entrepreneurship and global digital markets.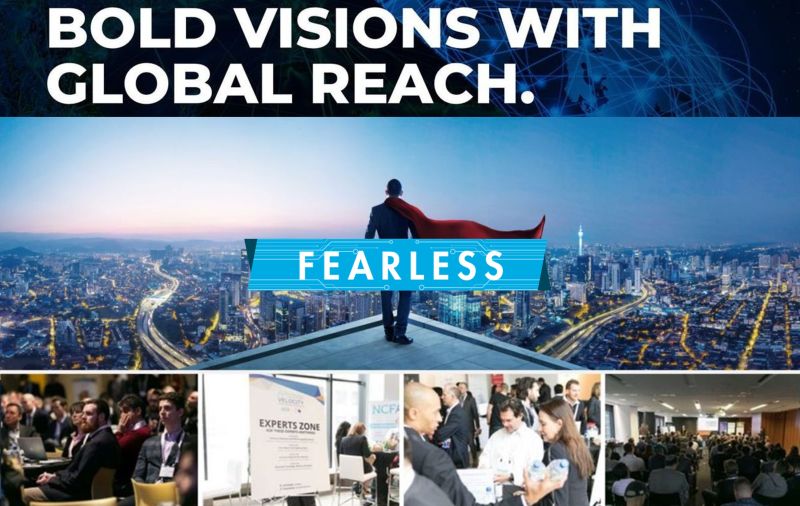 The theme of FFCON19 is FEARLESS. The theme exudes the boldness of the fintech space where small players are challenging orthodoxy, going against convention and transforming the financial industry with fresh insights and thinking. Our mission is to drive all the advantages of technology to help transform the financial industry at home and abroad with innovative initiatives. This means an emphasis on network effects, collaboration, thinking strategically and bold visions with a global appeal.
If you are a fintech, blockchain, peer finance, AI innovator, investor or a company actively raising capital or key decision maker/stakeholder in technology and capital markets innovation initiatives and programs, FFCON19 is a must attend event
"Motivation is the catalyzing ingredient for every successful innovation. The same is true for learning." Clayton Christensen
FFCON19 APRIL 3-4, 2019 | TORONTO, CANADA
DAY 1: Wednesday, April 3, 2019 from 12:30-6:30PM EST
Where: Gowling WLG (Canada) LLP
Address: 100 King Street West, Suite 1600, Toronto, ON, M5X 1G5
Half day Interactive Sessions, Industry Workshops, Demos & VIP Networking Reception
DAY 2: Thursday, April 4, 2019 from 8:00AM-6:30PM EST
Where: The Bram and Bluma Appel Salon
Address: 789 Yonge Street, 2nd Floor, Toronto, ON, M4W 2B8 (Yorkville)
Full Day Conference, Thought leadership, Consultation, Panels, Pitching & Cocktail Reception


LAUNCH. BUILD. CONNECT. INVEST. SCALE
TICKET REGISTRATION: (>95% SOLD)
April 4 Standard Ticket: $295 + tax (>95% SOLD)
April 3+4 VIP All Access Standard Ticket: $495 + tax (>95% SOLD)


A FEW TICKETS AT THE DOOR WILL BE AVAIALABLE 'AT THE DOOR' PRICING

START-UP DEALS (>95% sold):

* FFCON19 is offering a limited block of sponsored Startup Tickets powered by the CITY OF TORONTO! Go to the check out page and attend FFCON19! LIMITED QTY So go to the eventbrite checkout page to secure your ticket while quantities last!
April 4 Startup Ticket: $195 + tax (>95% SOLD)
April 4 QTY 2 OR MORE tickets Startup Deal $150 + tax (LIMITED)

VIP Ticket Registration includes Free access to the inaugural Global Fintech Program LEARN MORE
* FFCON19 has multiple venues and ticket types so please be mindful of ticket type and location!
Here are just a few of our Confirmed Speakers:
Hon. Bill Walker, Minister of Government and Consumer Sevices Ontario
Alan Wunsche, CEO & Chief Token Officer, TokenFunder
Ali Pourdad, CEO, Progressa
Andrew Dix, Co-Founder & CEO, Crowdfund Insider
Anthony Di Iorio, Founder & CEO, Decentral & Jaxx | Co-Founder, Ethereum
Bernd Petak, Investment Partner, Northmark Ventures
Brice Penaud, Founder & CEO, Commercial Passport
Bruce Silcoff, CEO, Shyft Network International
Bryan Uyanwune, Co-Founder & CIO, Korapay
Denise Hearn, Co-Auther, The Myth of Capitalism
Denise Weeres, Director, New Economy, Alberta Securities Commission
Dr. Dan Rosen, CEO, d1g1t Inc.
Eli Fathi, CEO, MindBridge Ai
Eytan Bensoussan, Co-Founder & CEO, NorthOne
Hussein Hallak, CEO & Co-Founder, Next Decentrum
Iliana Oris Valiente, Managing Director, Canada, Innovation Hub & Blockchain Lead, Accenture
Jason Saltzman, Partner, Gowling WLG (Canada) LLP
Jennifer Reynolds, President & CEO, Toronto Finance International
Jon Medved, CEO, OurCrowd
Muhammad Rashid, Co-Founder & CEO, Moregidge
Peter-Paul Van Hoeken, Founder & CEO, FrontFundr
Robert Antoniades, General Partner & Co-Founder, Information Venture Partners
Safwan Zaheer, Head of Fintech (US), KPMG
Sharon Zohar, Founding Partner, The Big Push
Shidan Gouran, President, Global Blockchain Mining Corp.
Teri Kirk, Founder & CEO, Funding Portal
Toufi Saliba, Founder & CEO, TODA.network
And many more!
Check out our 50+ Great speaker line-up here
INDUSTRY LED AND DESIGNED FOR GROWTH
Learn vital content delivered from leading experts on emerging technologies, investment, regulation, economic progress, best practices, trends, insights and opportunities;

Direct access to industry networks, influencers, registrants and regulators from participating CSA and other agencies;

Fearless programming on Innovation in Canada, industry topics, start-up and leadership culture, productivity, health & wealth, going global;

Interactive sessions and people's choice awards;

Showcase and celebrate new emerging companies from various industries and growth stages.


EMERGING FINANCIAL TECHNOLOGIES & FINANCING TOPICS

TECHNOLOGY: fintech, blockchain, AI/data/ML, IoT, security tokens, digital assets, crowdfinance, open banking, distributed, decentralized, cloud, security, governance, standards
FUNDING: innovation, private vs public, global markets, bootstrap, small business, new funding models and hybrids
INNOVATION: national fintech strategy, regulation, culture, leadership, productivity, risk mitigation

DELEGATES THAT ATTEND

Founders, experts, leaders & decision makers

in emerging financial technologies, blockchain, AI, digital finance, online communities, social impact and alternative finance sectors (eg cannabis)

Start-ups/scale-ups

interested in raising capital;

Investors

– early stage VCs, accredited, retail, fund managers and corporate investors actively seeking to invest and create value with leading and emerging start-ups;

Advisors

in Tech, business and innovation development groups, dealers, funding portals, EMDs;

Financial institutions

interested in fintech partnerships, investment or staying current with trends;

Media, government

and academic hubs involved in small business incubation, entrepreneurship and innovation. Regulators looking to educate the markets and engage community.
LAST YEAR ATTENDEE QUOTES

"Dynamic. The breadth of information was fantastic!"
"The diversity of the crowd was the best. Had a great time, met several great contacts and learned tons!"
"Good participation from industry, interest groups and regulators."
"I enjoyed the debate discussion panels and getting their real thoughts and viewpoints."
LINKS:

CAST YOUR VOTE - FFCON19s PEOPLE'S CHOICE AWARDS!


LOOKING FOR A DISCOUNT? AT NCFA WE'RE INCLUSIVE, DROP US A LINE AND LET US KNOW HOW WE CAN HELP

* We understand that innovation and funding is difficult. We're here to help get you funded, build knowledge and help your business grow. Contact us to apply for the Startup Code: info@ncfacanada.org
REFUND POLICY
Full refunds are available for tickets purchased 2 weeks before the start date of FFCON19 (before March 20, 2019). After March 20, only transfers and credit for future conferences and applicable services are possible. Thank you.

Date and time
Location
Day 1: Gowling WLG (Canada) LLP / Day 2: Bram and Bluma Appel Salono
Suite 1600-100 King St. West / 789 Yonge Street (2nd floor)
Toronto, ON M4W 2G8
Canada