Description
International Anonymous Show Gala Opening
at 100 Braid St Studios
Friday, October 25, 2019
7:00-10:00pm
In celebration of International Artist Day we invite you to the 100 Braid St Anonymous Art Show Gala Opening. This exclusive event promotes local artists while acting as the largest fundraiser of the year for the Arts Council of New Westminster. We will be hanging 1-3 works of art from each artist; but who created the pieces will remain a mystery until after the artwork is purchased. Buyers will be able to have their piece wrapped and take it home that night.
Perhaps we should have called it the "not so anonymous" show because we're going to let you know some of the artists who are participating on our Instagram and Facebook pages (and if you're a fan of their work they'll let you know themselves) but it will be up to you to identify their work if you want to purchase it! Call it a huge treasure hunt…
All art work is unframed 12″ x 12″. There will be oil and acrylic paintings, textile art, photography and mixed media pieces. Each piece is priced at $150 with $100 going directly to the artists themselves; the remainder will go be split between the Arts Council of New Westminster and to cover basic show costs.
What are my transport options getting to the event?
Address: 200-100 Braid St New Westminster, BC V3L 3P4
Intersection: Between Braid and Brunette and Braid and Rousseau St.
By Car:
The studios are conveniently located just off of Hwy 1 on Braid St between Rousseau and Brunette. Parking is available in the front of the building and additional parking is available in the back of the building.
By Skytrain:
Expo Line – Production Way: Braid St Station.
100 Braid St Studios is about a three minute walk across the street from the Braid St Skytrain station. The station is the major interchange with skytrain for many Coquitlam and New Westminster bus routes.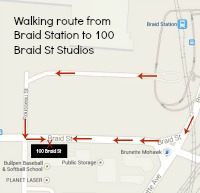 By Bus:
Many Coquitlam and New Westminster bus routes meet at the Braid Station interchange and then it's just a short walk to the Studios.
How can I contact the organizer with other questions?
Please email at: iad.100braidststudios@gmail.com
Phone: 778-886-5391
Hours of operation:
Sunday & Monday – closed
Tuesday – by appointment only
Wednesday – Friday: 1-6pm
Saturday By appointment only
The posted hours are generalized times when you will find the studio open or someone available by phone. Our hours are subject to change based on specific classes or events which can run anywhere from 8am – Midnight, Tuesday to Saturday.
Newsletter Sign Up
By purchasing or attending this event you are agreeing to sign up for the 100 Braid St Studios IAD Anonymous Show Newsletter. On each newsletter this is an UNSUBSCRIBE link or you may email us at 100braidststudios@gmail.com to indicate that you do not wish to receive this newsletter. The newsletter will keep you up to date on updcoming future events at the studio.
We look forward to seeing you!