About this Event
Welcome and thank you for your interest in the largest IT connection event hosted by the iGeek technology student group!
This event will be hosted on Friday, September 20th, 2019, at the University of Alberta Dinwoodie Lounge. Through this event, we will bring together academia and industry to promote collaboration and disseminate the latest technology in Canada. We aim to connect you with the technical professionals and embrace the University of Alberta technology culture. But more importantly, we would like to enlighten our wonderful community with your technological innovations, ideas, and passion.
For more detail, please visit our offical website by clicking here.
*ATTENTION: You ONLY need one ticket to enter the venue, please purchase the best time at your most convenience and do not purchase multiple tickets for the same person*
What to expect from the 2019 IT Connection Event?
This event will invite 20+ technology companies / organizations to not only promote their technology-related career opportunities, but also to present their cutting-edge and exciting technology products and ideas.
Want to learn about the latest technology information from technology industry professionals? Come to the tech-talk session from 12:00 PM to 2:00 PM! You will have the opportunity to listen to the speeches from more than 10 companies' professionals!
Networking, networking, and networking! Learn the industry, know the people, and discuss your potential job opportunities!
Event Schedule:
9:00 AM: Event begins! Talk to our iGeek representatives and pick up your name badge at our reception table. Bring your resume, questions and passion to the company representatives. It's show time!
12:00 PM: Company's tech talk starts! Learn the industry insight from 10+ speakers!
2:00 PM: Networking session resumes! Do not waste any minute in the venue! Talk, move and keep roaring using the voice of technology.
4:00 PM: Event ends. Don't forget to follow up with your most favorable companies to let the recruiters remember you!
Thank You To Our Sponsors!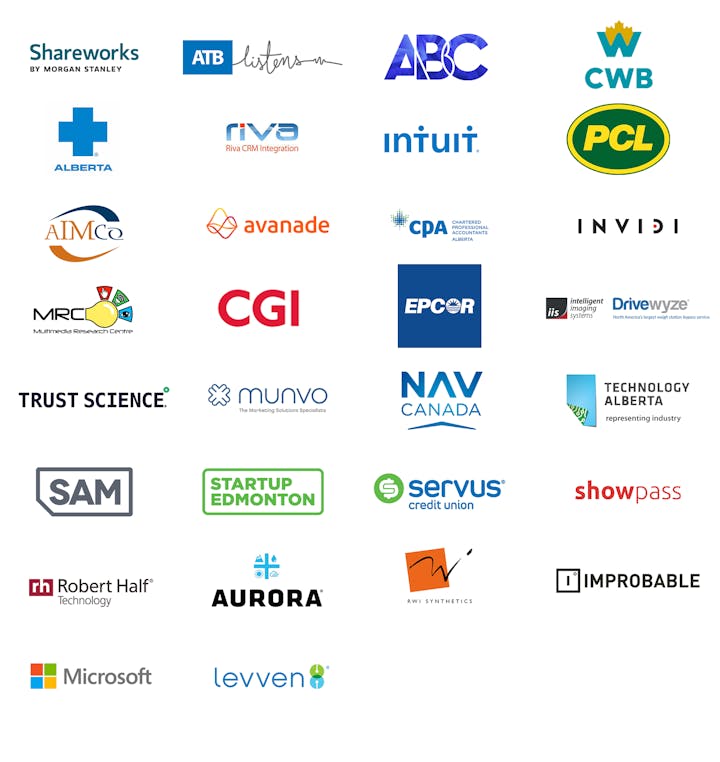 Alberta Blockchain Consortium
Shareworks by Morgan Stanley
PCL Constructors Inc.
SAM Inc.
EPCOR
Startup Edmonton
Alberta Blue Cross
University of Alberta, Multimedia Master Program
ATB Financial
Invidi Technologies Corporation
Chartered Professional Accountants (CPA) Alberta
Munvo
Technology Alberta
Servus Credit Union
Riva International Ltd, Inc.
NAV CANADA
RUNWITHIT Synthetics Inc.
Intuit
Drivewyze
CWB Financial Group
CGI
Avanade Inc.
Showpass
Trust Science Inc.
Robert Half Intl - CA
Aurora Cannabis Enterprises Inc.
Alberta Investment Management Corporation
Improbable
Microsoft
Lavven