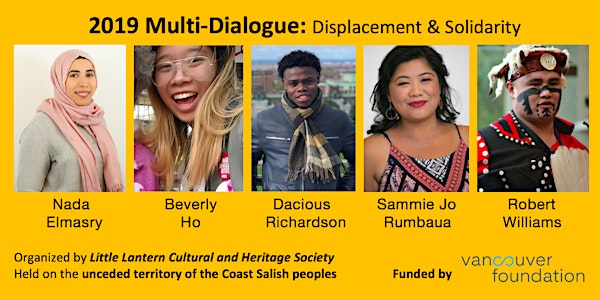 2019 Multi-Dialogue: Displacement & Solidarity
Be part of the diverse youth voices to learn and unpack social justice issues through different aspects of culture backgrounds!
When and where
Location
Byrne Creek Community School 7777 18th Street Burnaby, BC V3N 5E5 Canada
About this event
Join a team of facilitators to dialogue around indigenous experiences and those of recent and ancestral migration journey. Inquiry discussions include: land history, identity & belonging, racialization, diaspora, and breaking down racial stereotype / bias / discrimination.
Explore how to talk about social justice in other languages that you speak. Facilitators will create a multilingual learning space to support high-school participants in this intercultural learning opportunity.
Dialogues are facilitated in English, while all input in any languages are valued. We welcome and encourages participants who are new to living in Canada, which include but not limited to newcomers who are immigrants, refugees and international students.
Nada Elmasry
Beverly Ho
Dacious Richardson
Sammie Jo Rumbaua
Robert Williams
Participants will convene for four sessions from 4:30 pm – 8:00 pm at Byrne Creek Community School (7777 - 18th Street, Burnaby). Limited space. Priority is given to registrants who can commit to all 4 sessions. This event is free for high-school aged youth.
Friday, February 15
Friday, February 22 *session will run, even though it is a Pro-D day in Burnaby
Friday, March 1 and
Friday, March 8
Together the facilitators and the participants will create a youth-led infographics, factsheets or pamphlets summarizing their dialogue learning to share with the communities.
Shape of the Sessions: *subjected to change to adapt to participants' learning needs
4:15 – 4:30 pm sign-in
4:30 – 5:30 pm welcome, presentation & interactive activities
5:30 – 7:00 pm small group breakout discussions
7:00 – 8:00 pm share-back, dinner & wrap-up
Please bring signed consent form (downloadable here) to the first session.
If you are looking for more info or have any questions, contact Project Coordinator at LittleLanternSociety@gmail.com