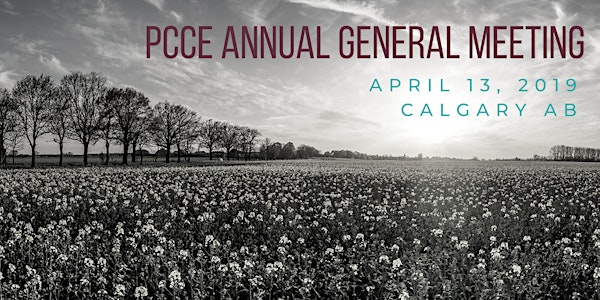 2019 PCCE Annual General Meeting
When and where
Location
Four Points by Sheraton Calgary Airport 2875 Sunridge Way Northeast Calgary, AB T1Y 7K7 Canada
Description
On Saturday April 13, the PCCE will be hosting our Annual General Meeting, and while we will do the traditional things like approving a new budget, selecting new Board members and hearing an update on the happenings at PCCE, we will also be holding a series of workshops in the morning. The topics will be highly relevant to Board members, school leaders and educators interested in the "governance" side of their school.
Previous Years
Schools sent 1 Board Member and 1 Educator Representative
This Year
Schools are encourage to send LOTS of Board Members and Educators
Previous Years
Participants learned more about PCCE and had some opportunities to connect with other school reps
This Year
Participants will receive some top-notch training in workshops led by high quality presenters while learning aside their colleagues from other schools
Last Year
The event, including lunch, was free of charge to all participants
This Year
Still no charge! I guess there is such a thing as a "free lunch."
A list of the workshops being held is HERE. Each person attending needs to register for the meeting and select the workshops they wish to attend. (You will be able to select these once you click on the the green REGISTER button at the top right.) This allows the workshop leaders to prepare properly for their session and for us to ensure the proper facilities.
What to Do Now?
Pass this information on to your Board and staff inviting/encouraging them to attend.
Assuming you have LOTS of people attending, appoint one official Board/Society Representative and one official Educator Representative. These people will be your official "voice" at the AGM portion of the day.*
Look over the 2019 AGM PACKAGE to familiarize yourself with business of the meeting. Feel free to discuss the key matters with your Board and staff to get their input.
Register for the event by clicking the green REGISTER button to the top-right and then selecting the workshops you wish to attend.
* Please note:
According to the bylaws of our organization member school communities shall each delegate one Board representative and an Educator representative to attend this meeting with each needing to be in attendance to deem a school community present. Each Board Representative and each Educator Representative will have one vote each.
This year's PCCE Annual General Meeting is taking place in Calgary, Alberta at the Four Points by Sheraton Calgary Airport. We have secured a special rate at the hotel for delegates requiring overnight accommodations. The rate for a Standard Queen room or King room: $101 + 12% tax . To book a room please either call the hotel at 1-866-961-2994 or email frontoffice@fourpointscalgaryairport.com and mention the Group Name
"PCCE AGM April 2019" or the Group Code PC1033 by March 29, 2019.
We ask that this AGM Registration be completed by April 05, 2019.