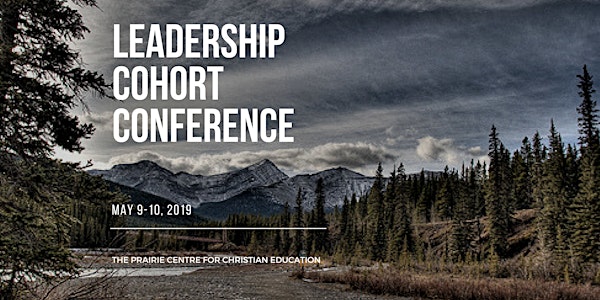 2019 PCCE Leadership Cohort Conference
When and where
Location
Entheos Conference and Retreat Centre Calgary, AB T3Z 2W8 Canada
Refund Policy
Contact the organizer to request a refund.
Description
DESCRIPTION

We are delighted to have Dr. Rod Wilson, former President of Regent College and current Teaching Pastor at Capilano Christian Community, join us to lead us in sessions under the topic: Identity Theft: Are Your Roots Getting Rain? Combining teaching with small group interactions and large group discussions, Rod will lead us to deepen our understanding that administrators are at their best when their identity is strong, their sense of spiritual well-being is rooted, and their doing flows from who they are.
THE DEADLINE TO REGISTER FOR THIS CONFERENCE IS THURSDAY, APRIL 25, 2019.
FAQs
Who should attend?
All school-based leaders are invited and encouraged to attend: principals, assistant-principals, executive directors, other members of your leadership team.
What is the cost to attend this conference?
The prices are as follows:
$300.00 per person for a Single Room
$280.00 per person for a Shared Room
$200.00 per person for individuals not staying overnight
Is it possible to attend for only one day?
Our organization highly values collaboration and shared learning experiences so we strongly encourage attendance for both days. For those who are unable to attend on both days, note that because of policies at Entheos there is no difference in price charged for one versus two days.
I live close to the Entheos Retreat Centre; can I attend the LC Conference but stay off-site?
To maximize the opportunities to collaborate and connect with your peers at this annual conference, we strongly encourage you to stay on-site. That being said, if it is not possible for you to stay on-site, you are still welcome to attend the conference and stay off-site and can indicate that choice when you select a ticket type.
What is the schedule for the Conference?
Wednesday May 8 evening: Registration from 7:00-9:00 p.m.. If you will be arriving later than that, please let us know and we can send you additional information. Note that dinner is NOT available at Entheos.
Thursday, May 9: Breakfast begins at 8:00 a.m. followed by a time of worship and devotions. The rest of the day involves sessions of learning, with breaks interspersed throughout.
Friday, May 10: Breakfast at 8:00 a.m., communal worship and learning sessions will fill our morning, wrapping up at 12:00 and sending you on your way with a bagged lunch.