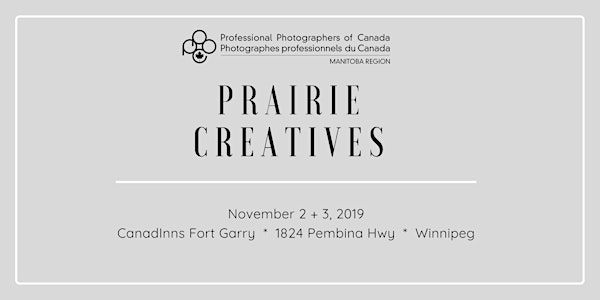 2019 Prairie Creatives Photography Conference by PPOC-Manitoba - 4030-0041
When and where
Location
CanadInns Fort Garry 1824 Pembina Highway Winnipeg, MB R3T 2G2 Canada
Refund Policy
Refunds up to 7 days before event
Description
Prairie Creatives Photography Conference by PPOC Manitoba is jam-packed full of fun, professional development for photographers, and networking at the CanadInns Fort Garry in Winnipeg, MB. We are excited to have two amazing speakers, Tavis & Amy Guild from Yakima, WA (they were speakers at WPPI 2019). And the Manitoba Photographer of the Year will be announced at the Awards Banquet!
You don't want to miss this annual event, whether you are a member or not. Full registrations include everything on the schedule plus Lunch on Saturday and Sunday, as well as the Awards Banquet on Saturday night.
Full Registration - includes Speakers, Lunches and Awards Banquet Dinner
If you can't make it for the entire weekend, we do have a one-day rate, which includes Lunch.
---
Back by Popular Demand! For anyone that is interested in attending, but not a member of the Professional Photographers of Canada, we have a 'No Frills' price which includes both speakers on both days. No lunches or banquet dinner included in this price, but can be purchased separately. Check out the menu when you click on the Lunch Ticket.
---
Prairie Creative Speakers Agenda and Bio
"The Marketing Marathon" - 2019 Program for Prairie Creatives
By Tavis & Amy Guild
CONFERENCE AGENDA:
Session 1: What's the Point of Marketing?
9am - 12pm Saturday, November 2, 2019
What does the word marketing mean to you?

What is it we are really selling?

Why this is a marketing marathon

Finding your why - core value group exercise

Setting goals for clear marketing
Session 2: Perception is Reality
1pm-4pm Saturday, November 2, 2019
What they're saying about your brand is TRUE

Creating your brand - Avatar activity

The client development process - Getting inside their box

Brand strength is bigger than your marketing creativity

Let the client be the hero of the story
Session 3: The Client Experience
9am-12pm Sunday, November 3, 2019
Create a business flowchart

What marketing message is sent at each step

WIFM: What's in it for me

Systematize

Walking Billboards: Your client will outsell you 10 to 1
Session 4: Finding Your Competitive Advantage
1pm - 4pm Sunday, November 3, 2019
Your marketing statement & marketing strategy

Public relations

Filling your marketing calendar

What is it we are really selling?

What does the word marketing mean to you?
Brief class summary in paragraph form:
Marketing is so much more than just overnight advertising gimmicks. It takes time, planning, and a commitment for the long haul. If you brand yourself well you will be able to market more effectively. At this conference Tavis and Amy will break down this marketing marathon starting with your why, your core values, your business management and your brand. They will also talk about the client development process, finding your competitive advantage in the market AND some specific marketing ideas to implement in your studio right away. This is a weekend that could change the way you view marketing... you don't want to miss it!
Promotional video: https://youtu.be/JhbrZvJaTzg
Saturday, November 2
9:00am - 12:00pm Speakers
12:00pm - 1:00pm Lunch (Included in most registrations)
1:00pm - 4:00pm Speakers
6:00pm Cocktails
6:30pm Awards Banquet
Sunday, November 3
9:00am - 12:00 pm Speakers
12:00pm - 1:00pm Lunch (Included in most registrations)
1:00pm - 4:00 pm Speakers