About this Event
What can researchers committed to social justice learn from Dr. Roderick Fergusons' reconceptualization of queer liberation movements? In what ways does the University, a supposed site of critical inquiry, simultaneously enact violence on students, faculty, and society? What coalitions and commitments make radical futures more possible?
The SJE Colloquium will be held from March 19 to March 20, 2019 at the Ontario Institute for Studies in Education, University of Toronto. This event is open to all students, faculty and community members.
Programming for the colloquium is as follows:
Student Research Roundtables on March 19 from 9am to 4pm (doors open at 8:45am): The roundtables will showcase original student work, in conversation with one another, guest faculty and community activists. All work explores the radical past, present, and futures within and around the academy. Held in the OISE Nexus Lounge, 12th Floor.
Africville Screening on March 20 from 12pm to 2:30pm: Join us for a documentary screening, lunch and facilitated discussion of Remember Africville (1991). Held in OISE Rm. 12-199, 12th floor.
Dr. Roderick Ferguson's Keynote on March 20 from 5:30pm to 7:30pm: Professor Ferguson will be speaking on "Enacting Radical Traditions: The Politics of Interdisciplinarity in Academia". Held in the OISE Library, main floor.
We will be joined by distinguished and invited scholar Dr. Roderick A. Ferguson at SJE Colloquium events.
Professor Ferguson is faculty in the Department of African American Studies and the Gender and Women's Studies Program at the University of Illinois at Chicago (UIC). He is the co-director of the Racialized Body research cluster at UIC. He is the co-editor with Grace Hong of the University of Minnesota Press series Difference Incorporated. Also with Hong, he is the co-editor of the anthology Strange Affinities: The Gender and Sexual Politics of Comparative Racialization (2011). In addition, he is the author of We Demand: The University and Student Protests (2017), The Reorder of Things: The University and Its Pedagogies of Minority Difference (2012), Aberrations in Black: Toward a Queer of Color Critique (2004), and articles on race, social theory, cultural formations, sexuality, and feminism.
Dr. Roderick Ferguson's Keynote
This lecture will investigate the role that minoritized communities have had on the epistemic changes within the North American academy. Refusing to read those communities as simple demographic entities having little bearing on the life of the mind, the talk interrogates communities minoritized by race, gender, sexuality, indigeneity and nationality as generators of intellectual transformations that challenge the primacy of disciplinary and canonical knowledges.
In addition to challenging the sanctioned intellectual traditions of the academy, those transformations have also accounted for some of the most dynamic revisions to progressive politics and analyses, redefining such categories as "anti-racism," "feminism," "socialism," and "liberation." Using historical and personal narratives, the talk addresses the academy as a heterotopic space comprised of disciplinary and vernacular knowledges, a composition that bears upon the worlds within and outside the university.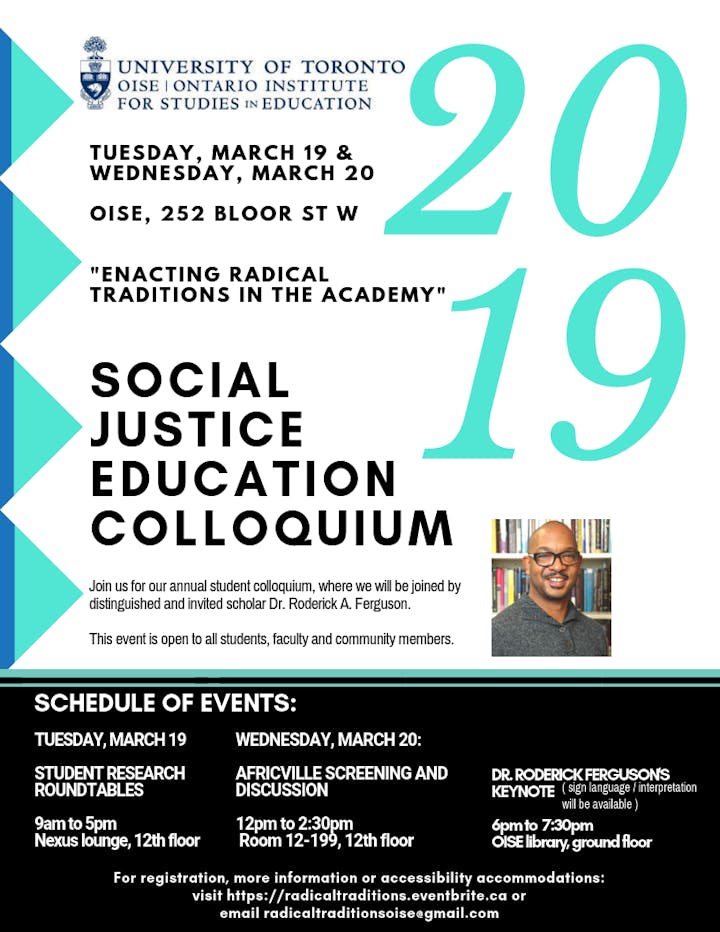 Additional information about the 2019 SJE Colloquium
Food and Refreshments: Food and refreshments will be provided at the Student Research Roundtables and Africville Screening. If you have any dietary restrictions, please let us know in the registration or contact us.
Accessibility Accommodations: The organizers of the 2019 SJE Colloquium are committed to making the events as accessible as possible. Sign language / interpretation will be made available for the Keynote. If you require sign language / interpretation for any of the 2019 SJE Colloquium or if you have any other accessibility accommodations, please let us know in the registration or contact us.
Scent-free Zone: We are requesting that attendees avoid wearing scented products to make this a scent-free zone.
Quiet Room: A quiet space will be available for decompressing and for religious or prayer purposes. An active listener will also be available.
Building Information and Physical Accessibility: The building is located at 252 Bloor Street West (closest intersection is Bloor Street West and St. George Street). There is a wheelchair accessible entrance to OISE from St. George subway station (Bedford exit) and there are wheelchair accessible bathrooms in the building. ASL interpretation is to be confirmed. To request other accommodations, please contact vannina.sztainbok@utoronto.ca.
Public Transit Information: The building is also accessible by the St. George TTC Station, with a direct entrance and accessible ramp to OISE.
Volunteering: If you are interested in helping out at the Colloquium, please connect with us!
The 2019 SJE Colloquium is organized by students and faculty of the Social Justice Education department at the Ontario Institute for Studies in Education, University of Toronto.
To contact us, please email radicaltraditionsoise@gmail.com.