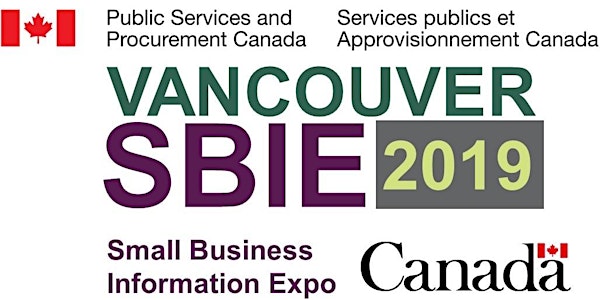 2019 Vancouver Small Business Information Expo
Location
Roundhouse Community Arts & Recreation Centre
181 Roundhouse Mews
Vancouver, BC V6Z 2W3
Canada
Description
Looking to Start, Grow or Leverage an Innovation within your Business?
Join us at the 2019 Vancouver Small Business Information Expo (SBIE)
The 2019 Vancouver SBIE will feature face-to-face opportunities to interact with experts from over 50 support programs who provide valuable resources to small businesses.

When: Wednesday February 6, 2019 from 8:30 AM to 3:30 PM
Where: Roundhouse Community Arts and Recreation Centre
**JUST ADDED**
Meet your labour shortages! presented by Service Canada 12:30 - 1:30 pm
Learn how to address your labour shortages by accessing wage subsidies available through the Government of Canada's Grants and Contributions programs. Local Service Providers will detail how their respective programs working with Youth, Indigenous Peoples and Persons with Disabilities to help enter or re-enter the labour market. Wage subsidies are available to employers who can offer work experience and employment opportunities.
In addition to the 50+ programs that will be exhibiting, we will host presentations on:
Innovation Lightning Round 9:00 – 9:30 am
Rapid-fire presentations of programs which support R&D of innovative goods and services with combined annual contributions of ~$900 million in direct funding and $3.3 billion in indirect funding
Selling to Government 10:00 – 11:00 am

Interested in selling to the public sector? This panel brings together purchasing specialists from different levels of government who will help you understand the processes for government contracting.
Access to Financing 2:00 – 3:00 pm
Looking for sources of capital? Want us to show you the money? This panel will bring together government representatives who will provide you with information on various financing (loans & grants) programs and resources available to your business.
New to the SBIE for 2019, OSME will offer an interactive Master Class sessions (space limited) on government procurement topics:
Bid Evaluation Master Class 1:30 - 2:30 pm
Get a "glimpse behind the curtain" from procurement professionals on the process used to evaluate bids and award contracts for the federal government. Learn about mandatory and point-rated criteria, the basis of selection, and the kinds of questions which can be asked during the process.
The Canadian Industrial Security Directorate (CISD) information session on the Contract Security Program 3:00 – 4:30 pm
This presentation provides information on what you need to know and most importantly, what you need to do, when your organization is considering bidding on a government contract that has security requirements. We will explain:
what the Contract Security Program is all about, its role, policies and processes, including recent program changes
what you need to know about contract security requirements and about having to register in the program.
your roles and responsibilities in meeting the security requirements of sensitive government contracts as well as maintaining compliance with the Contract Security Program
For more information on the Contract Security Program, please visit http://ssi-iss.tpsgc-pwgsc.gc.ca.
**Please note that seating at the panel and Master Class sessions is limited, and on a first-come, first-serve basis.**
To promote accessibility, sign language interpretation (ASL) will be available on-site. Please indicate with your registration if you will need this service. The ASL version of this content can be found at https://youtu.be/AC2aenVEyb8