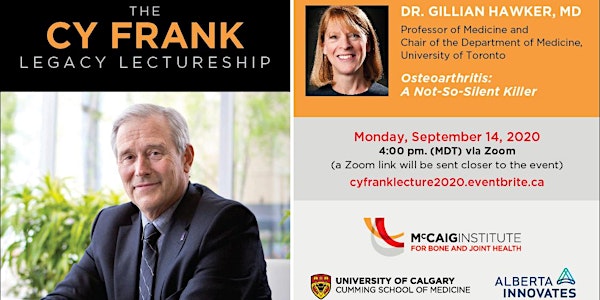 2020 Cy Frank Legacy Lectureship with Professor Gillian Hawker
Join us online for the fifth Cy Frank Legacy Lecture
About this event
The Cy Frank Legacy Lectureship honours and commemorates the late Dr. Cy Frank, an internationally acclaimed visionary who championed the application of research to create solutions for patients. The lectureship showcases individuals who reflect the passion of Dr. Frank.
This year's talk will be delivered by Gillian Hawker, Professor of Medicine and Chair of the Department of Medicine at the University of Toronto. She will be presenting: "Osteoarthritis: A Not-So-Silent Killer."
Tickets are free. This year's lecture will be offered online through Zoom and there will be an opportunity to ask questions after the lecture. The lecture is scheduled for 4:00 p.m. (MDT).
A recording of the lecture will be provided to all registered attendees. If you have any questions, please email mccaig@ucalgary.ca.
Webinar instructions:
To join the Webinar, click here: https://zoom.us/j/98292572556
Please click on the above weblink on Monday September 14th before the session starts at 4:00 p.m. (MDT) in order to join the webinar.
This webinar will be hosted on Zoom. If you are a new user to Zoom you will be prompted to either download the Zoom client or connect through your web browser. Either option will allow you to participate in the webinar.
Once you have connected to the Zoom meeting room:
Choose "Join Meeting" and type your full name and email address.
Make sure you are in an area with a stable internet connection and your computer speakers work. Your camera and microphone will be disabled during this webinar. If you have a question for the speaker you can ask via the Q&A feature on Zoom.
It is recommended that you join the webinar on a laptop or desktop computer; however, if you are connecting using a tablet or mobile phone, you will need to download the Zoom Cloud meetings app from either the Google Play Store (for Android devices) or the Apple App Store (for iOS devices).
If you are using the App, enter Zoom ID: 982-9257-2556 to attend the webinar.