About this Event
We are living in a time of unprecedented opportunity and rapid change for social impact.
Income inequality, collective mental trauma, weak elder care, online bullying, food insecurity, systemic racism. These problems, and many more, are exposed and amplified by the coronavirus pandemic. They are problems that aren't simple to solve. But — the pandemic also illuminated a new breed of problem-solver.
Let's bring them all together in a first-of-its-kind digital experience to #BuildBackBetter.
After years of talk — about inclusion, digital access, mental health, embracing new business models, and holding ourselves to higher professional and societal standards — the time has come to take action. And that begins with each of us.
Join us at the 2020 Future of Good Summit.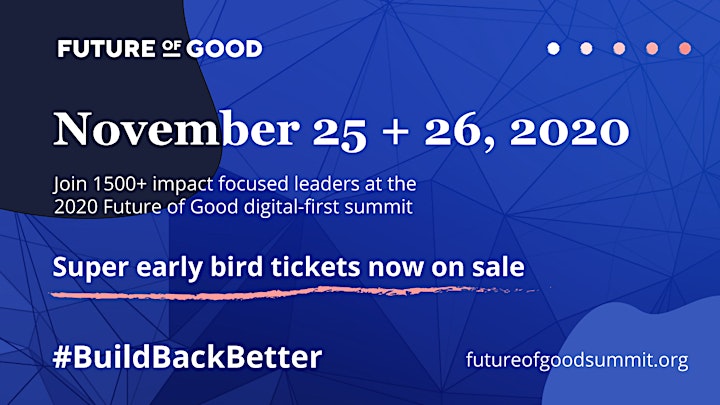 We will:
Connect - Intentional spaces for cross-pollination by bringing together leaders working in diverse issues and sectors. You leave with meaningful new connections.
Learn - Gain new skills and perspectives through participative workshops, demonstrations, and opportunities to exchange with trailblazers. You leave with practical new skills.
Adapt - See what's next in philanthropy, international development, tech, social services, and more as we come together to celebrate the bold and the curious. You leave with extraordinary inspiration to adapt your work to the new reality.
Through the course of 2 half days we will explore topics like:
Reimagining care: Seniors living in long-term care homes account for about 80 percent of COVID-19-related deaths. The inequities in elder care have prompted a reckoning. Elder care needed to change since well before coronavirus. Now, after a horrific crisis, it finally might. From digital health to new types of physical living environments and delivering home care, the future of aging is rapidly changing in the post-pandemic era.
Next gen philanthropy: The profile of a philanthropist is changing because the people behind the giving are changing, too. The average CEO of a billion-dollar startup in North America is 39 years old, and the average employee working for them is 29. What is a justice-based philanthropy? Who are the philanthropic disruptors doing ground-breaking work and what can we learn?
Digital access: Technology is transforming the way we solve local and global problems. However, tech infrastructure, transition, and capacity remain woefully underfunded in social purpose organizations. We'll explore the opportunities and concerns of social impact organizations in funding, capacity-building, deploying, and scaling technology.
The new essential services: Pre-pandemic, the world scored a 51 out of 100 on economic opportunity, according to the 2019 Social Progress Index. Creating a society for opportunity for all citizens remains an elusive goal. From mental health and newcomer language training to Indigenous health services and domestic abuse support, how can essential services organizations be more resilient and adaptive in a post-pandemic world?
Resilient Local Economies: The current global economic system has failed to serve everyone. There is a growing recognition that the business models that have led to environmental degradation and inequality fall short of providing solutions to those same problems. What alternatives exist in a post-pandemic world?
Speakers and full agenda details coming shortly.
Tickets:
Future of Good Member: Members have access to an exclusive ticket rate, please check your e-mail for promo code to access, select tickets and enter promo code.
Not yet a Future of Good Member? Exclusive super-early bird ticket at $99.00 offers both your summit ticket and one year of Future of Good membership! This offer expires September 15, 2020. Find out more about membership and it's benefits here.
Please note, a limited number of subsidized tickets are available. Please contact community@futureofgood.co for more information
Partners: