Description
The Maritime Beef Council welcomes you to attend livestock producers to the 6th annual Maritime Beef Conference, March 20 & 21st, 2020
The Annual Maritime Beef Conference is proudly brought to you by the Maritime Beef Council, in association with the New Brunswick, Nova Scotia and Prince Edward Island Cattle Producer Associations.
The 2020 event features various speaker topics that will explore the opportunities that lie before the Maritime beef sector as we drive towards growth and increased profitability. We look forward to hosting you for this exciting annual event.
For Full Conference Agenda please click HERE:
Congrès du Conseil du boeuf des Maritimes
Le Maritime Beef Council vous invite à assister au 6e congrès de l'industrie bovine des Maritimes, qui aura lieu les 20 et 21 mars 2020
Le congrès de l'industrie bovine des Maritimes vous est présenté avec fierté par le Maritime Beef Council, en association avec les Éleveurs de bovins du Nouveau-Brunswick et les associations de producteurs de bovins de la Nouvelle-Écosse et de l'Île-du-Prince-Édouard.
Le congrès 2020 présente divers sujets grâce à des conférenciers qui exploreront les possibilités qui s'offrent au secteur bovin des Maritimes alors que nous nous dirigeons vers la croissance et une rentabilité accrue. Nous nous réjouissons de vous accueillir pour cet événement annuel passionnant.
Pour consulter le programme complet du congrès, veuillez cliquer ICI :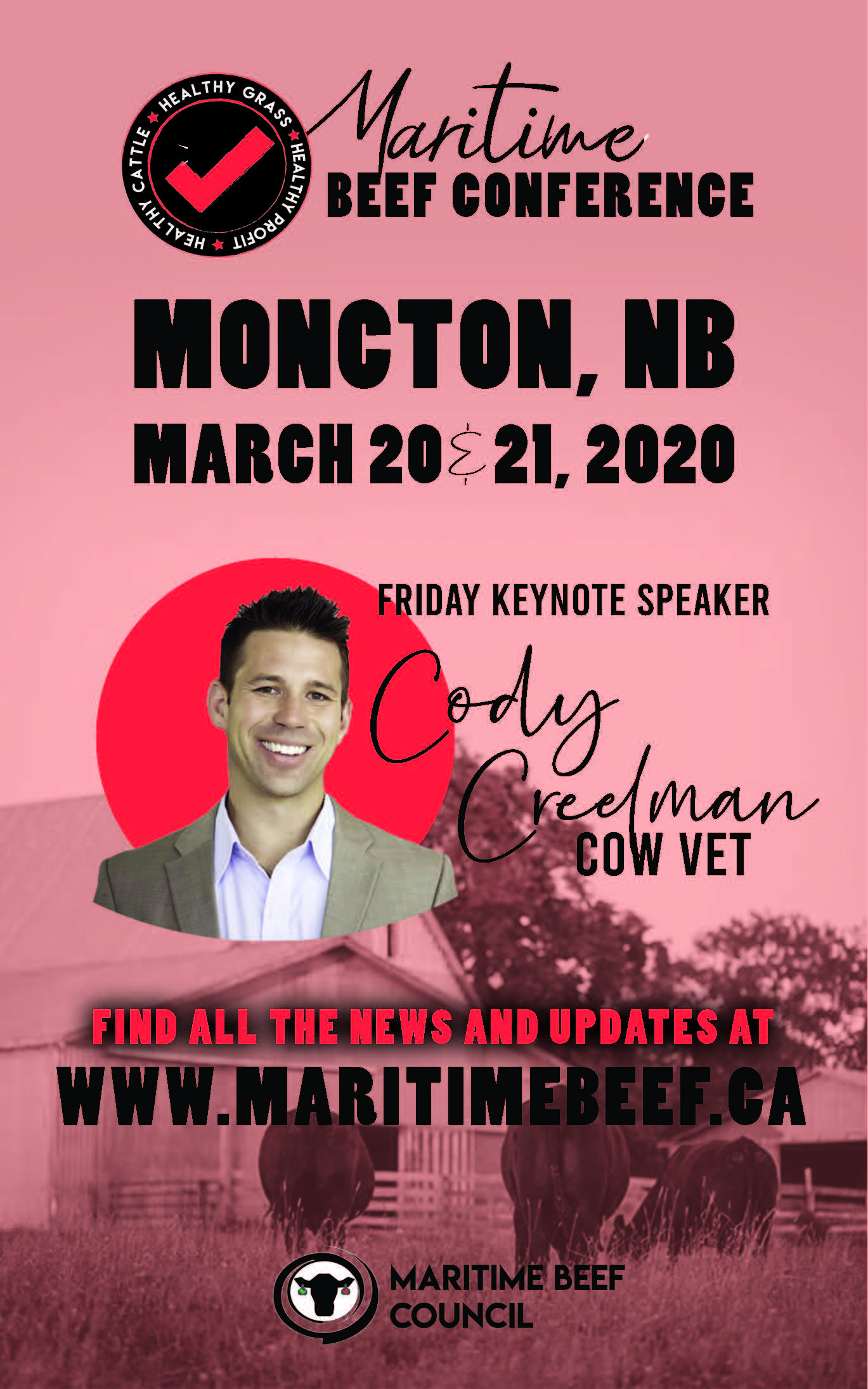 WE have a special Conference Rate with the Delta- Thank you for choosing to have your Event with us! If delegates wish to call 1-844-496-8551 and use code MOO or
Here's your reservation link your guests can use to make reservations:
Book your group rate for Maritime Beef Council Conference
You will find the information for your online reservation link below. If you have questions or need help with the link, please do not hesitate to ask. We appreciate your business and look forward to a successful event.
Event Summary:
Maritime Beef Council Conference ***note- most will have to change the # of nights to 1 night, we have approv
Start Date: Thursday, March 19, 2020
End Date: Saturday, March 21, 2020
Last Day to Book: Thursday, February 25, 2020
Hotel(s) offering your special group rate:
Delta Hotels Beausejour for 139 CAD per night