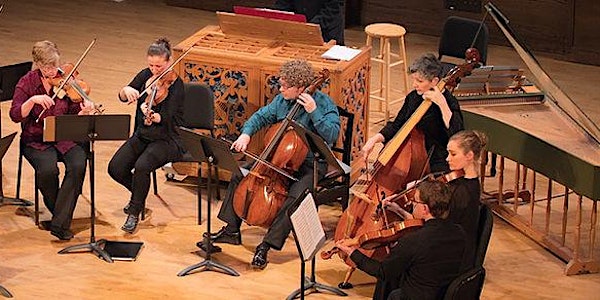 2020 Pacific Baroque Festival - GALANT & ELEGANT
PACIFIC BAROQUE FESTIVAL
When and where
Location
Christ Church Cathederal 930 Burdett Ave Victoria, BC V8V 3G8 Canada
About this event

PACIFIC BAROQUE FESTIVAL
'GALANT & ELEGANT'
Thursday, March 5 2020, 8PM (Pre-concert talk at 7:15PM)
Christ Church Cathedral
------------------------------------------------------------
PERFORMERS
Lorenzo Ghielmi, Organ
PROGRAMME INFORMATION
Multiple Diaposan d'or organist Lorenzo Ghielmi has prepared a superb program bridging the baroque-galant divide. Organist of the Ahrend organ in the historic Basilica San Simpliciano, Milan, Ghielmi's comprehensive insight of both the baroque and galant period is evidenced in an expressive selection of music fashioned to reveal the relationship between these two musical styles.
Lorenzo Ghielmi is one of Europe's leading musicians in the study and interpretation of music from the Renaissance and the Baroque. As organist, harpsichordist and conductor, he has performed throughout Europe, in Japan and America, and he has made many recordings for radio (BBC, WDR, MDR, Radio France, NHK). Among his extensive discography, his recordings of Bruhns, Bach, Handel concertos and the concertos by Haydn for organ and orchestra have been awarded the "Diapason d'Or". He teaches organ, harpsichord and ensemble music at the Civica Scuola di Musica di Milano and from 2006 to 2015 he was Professor of Organ at the Schola Cantorum Basiliensis in Basel. He conducts his own ensemble La Divina Armonia and has supervised the construction of several modern organs, including the monumental instrument in Tokyo Cathedral and that of Palma de Mallorca Cathedral.
PROGRAMME
Johann Sebastian Bach (1685-1750)
Aria variata alla maniera italiana BWV 989
Domenico Scarlatti (1685 - 1757)
Sonata in d minor K 92
Sonata a minor K 61
Giovanni Battista Sammartini (1701-1775)
Sonata in G major
Georg Friederich Haendel (1685-1759)
Passacaglia in B flat major
Johann Sebastian Bach
Schmücke dich, o liebe Seele BWV 654
Gottfried August Homilius (1714-1785)
Schmücke dich, o liebe Seele
Carl Philipp Emanuel Bach (1714-1788)
Sonata g minor H 87
(Allegro moderato, Adagio, Allegro)
Johann Sebastian / Carl Philipp Emanuel Bach
Wer nur den lieben Gott lässt walten BWV 691a (adaptation of BWV691 by C.Ph. Emanuel Bach?)
Johann Ludwig Krebs (1713-1780)
"Herzlich lieb hab ich dich, o Herr"
Johann Sebastian Bach
Fantasia & Fuga in c minor BWV 537
Doors open at 7pm.
Pre-concert talk at 7:15pm.
Festival Pass Information -When you arrive at the first concert, your ticket will be scanned and then you will receive a lanyard with festival pass attached for entry to all subsequent concerts for the festival.