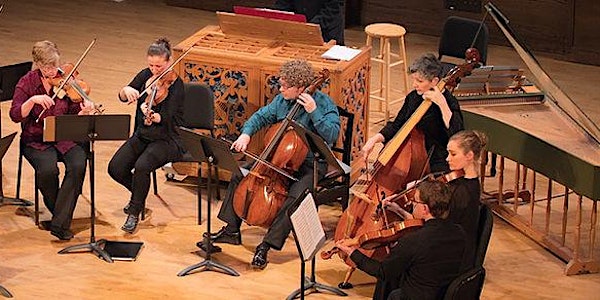 2020 Pacific Baroque Festival - 'L'EUROPE GALANTE - A GRAND TOUR'
PACIFIC BAROQUE FESTIVAL
When and where
Location
Alix Goolden Performance Hall 907 Pandora Ave Victoria, BC V8V 3N4 Canada
About this event

PACIFIC BAROQUE FESTIVAL
'L'EUROPE GALANTE - A GRAND TOUR'
Saturday, March 7 2020, 8PM
The Victoria Conservatory of Music's Alix Goolden Performance Hall
------------------------------------------------------------
PERFORMERS
Wilbert Hazelzet, flute
Jacques Ogg and Michael Jarvis, harpsichords
Victoria Children's Choir and soloists
Madeleine Humer, director
Pacific Baroque Festival Orchestra
Marc Destrubé, director
PROGRAMME INFORMATION
In the mid-18th century a musical style evolved (Empfindsamer Stil) that was a reaction to the formality of baroque styles and gave composers (and poets) freer reign to express "true and natural" feelings. Featuring sudden contrasts of mood and character, it opened the door to later romanticism. Its greatest exponent was J.S. Bach's second son, Carl Philip Emmanuel. As travel became more widespread in the 18th century, many young men (and a few young ladies) were expected to round off their education with a Grand Tour of Italy. A featured stop was one of the four Venetian Ospedalia with their acclaimed female choirs. Two of these choirs were directed by widely travelled Italian composers Baldassare Galuppi (who visited C.P.E. Bach in Berlin) and Nicola Porpora, both of whom adapted aspects of this new style to their similar style galante. They both composed exquisite vocal works, two of which will be performed by the extraordinary Victoria Children's Choir.
​PROGRAMME
​Carl Phillip Emmanuel Bach (1714-1788)
Concerto for two harpsichords and strings in F Major, Wq 46/H. 408
​Nicola Porpora (1686?-1766)
De profundis clamavi for soloists, choir and strings (1744)
​C.P.E. Bach
Concerto for flute and strings in D Major, Wq 13/H. 416 (1744)
​Baldassare Galuppi (1706-1785)
Nisi Dominus in C Minor
Doors open at 7pm.
Pre-concert talk at 7:15pm.