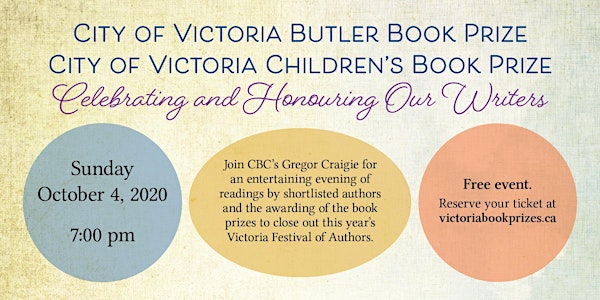 2020 Victoria Book Prizes
Join us for a festive evening celebrating our region's finest authors.
About this event
CBC Radio's Gregor Craigie will host readings by authors shortlisted for this year's Victoria Book Prizes. The event will conclude with the awarding of the City of Victoria Butler Book Prize ($5,000) and the City of Victoria Children's Book Prize ($5,000).
New format, but the same great talent! While we will miss gathering with readers and writers in person, we look forward to a fun evening virtually celebrating local literary talent. Listen to writers read from their nominated books, and raise a glass to the winners with a cocktail or mocktail created by Rebecca Wellman. Finalists and cocktail recipes will be announced at www.victoriabookprizes.ca.