For females ages 17+ of all ability levels. Full equipment required. $120 for the season (~$5 each) or drop-In fee $8 per ice time.
About this event
REGISTER ONLINE HERE OR AT SACKVILLE TOWN HALL BETWEEN 8:30am & 4:30PM Monday-Friday.
We are excited to offer the Women's Shinny program again during the 2021-22 season! This year, play will take place on Friday nights at the times listed below. (Times may vary during special events).
Starts Friday, October 8, 2021 at 9:30 PM.
Other dates include:
Friday, October 8th, 15th, 22nd & 29th: 9:30 pm – 10:30 pm Friday, November 5th: 9:30 pm – 10:30 pm Friday, December 3rd: 9:45 pm – 10:45 pm Friday, December 10th:10 pm – 11 pm Friday, January 7th, 14th & 28th: 9:30 pm – 10:30 pm Friday, January 21st: 8:45 pm – 9:45 pm Friday, February 4th, 11th, 18th & 25th: 9:30 pm – 10:30 pm
Friday, March 4th, 11th & 18th: 9:30 pm – 10:30 pm
$100 for the full season (~$5 per ice time)
$8.00 drop-in fee per ice time
Full gear required
Tantramar Veterans' Memorial Civic Centre
As of September 22, 2021, all participants must be fully vaccinated to enter the arena. Double Vaccination Records will be required.
Questions? Contact 364-4930 or m.pryde@sackville.com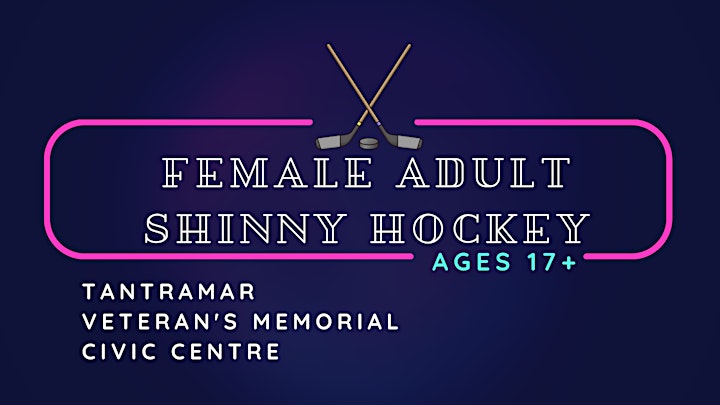 Organizer of 2021-22 Adult Female Shinny Hockey