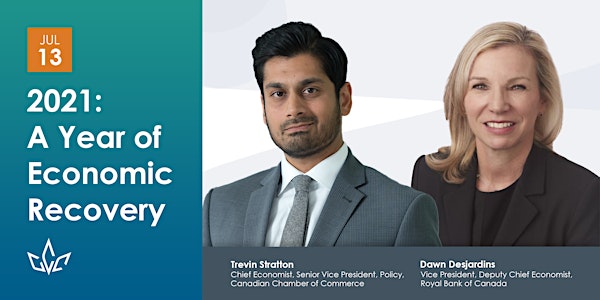 2021: A Year of Economic Recovery, with RBC
We're hosting a conversation you do NOT want to miss with Dawn Desjardins, Vice President and Deputy Chief Economist at RBC!
About this event

Growing vaccination rates have allowed countries to reopen. Consumer and business confidence has improved, teeing up economic growth to accelerate in the second half of the year.
Moderated by our own Chief Economist and Senior Vice President of Policy, Trevin Stratton, we will discuss:
Inflation: picked up in the spring and the key question for the Bank of Canada is whether this will prove temporary or have more staying power.
Labour market conditions: are much improved but challenges remain for those hardest hit by the pandemic.
U.S. economy is on a strong recovery path: what will this mean for Canadian exports and business investments?
What's the outlook for interest rates and the Canadian dollar over the next 18 months?
Please note that this event will be recorded/filmed/photographed and that images maybe be used in our corporate and marketing materials, on our website and in social media.
Contact us: info@chamber.ca OR 613.238.4000