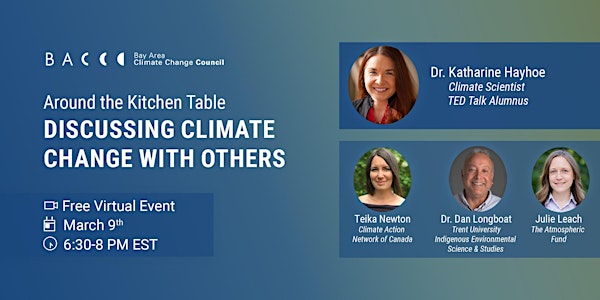 2021 Bay Area Climate Forum
The Bay Area Climate Forum is the #1 annual event focused on climate action in the Hamilton-Burlington Bay Area.
About this event
Hear updates on progress toward our region's climate goals.
Learn from local experts on the common pitfalls of climate change messaging and how to get around them.
This free virtual event will be held on Zoom. Live Closed Captioning and ASL Interpretation will be provided.
Special Guests
Welcomes by the Hon. Jeff Yurek, Minister of the Environment, Conservation and Parks, Mayor Meed Ward, and Mayor Eisenberger.
Dr. Katharine Hayhoe (Texas Tech) - Keynote
Katharine is an atmospheric scientist and award-winning communicator whose research focuses on understanding what climate change means for people and the places where we live. Katharine hosts the PBS digital series Global Weirding, and she has been named one of TIME's 100 Most Influential People. Her TED talk on climate change has earned close to 4 million views. Katharine will be speaking about overcoming the barriers to public acceptance of climate impacts and solutions.
Panelists:
Dr. Dan Longboat (Trent University)
Dan is a Turtle Clan member of the Mohawk Nation and a citizen of the Rotinonshón:ni (Haudenosaunee - People of the Longhouse), originally from Ohsweken - the Six Nations community on the Grand River. Dan is an Associate Professor in the Chanie Wenjack School for Indigenous Studies at Trent University, founding Director of the Indigenous Environmental Science/Studies program (IESS) and acting Director of the newly formed Indigenous Environmental Institute (IEI). Dan creates links between Traditional Indigenous teachings and science and promotes using a "Good Mind" as part of our responsibilities in taking the collective actions needed to restore the Earth for the next seven generations.
Julie Leach (The Atmospheric Fund)
Julie manages The Atmospheric Fund's communications strategy. By sharing TAF's learnings with colleagues and collaborators across government, media, and diverse industries, she hopes to make an impact creating a zero-carbon, more just society. Her areas of expertise include community-based renewable energy, fundraising, and writing. Previously Julie engaged a thousand members to share her love of solar power at SolarShare Co-operative. She has worked and volunteered around the world in education and renewable energy.
Teika Newton (Climate Action Network of Canada)
Teika Newton is the Membership and Domestic Policy Manager for Climate Action Network Canada. In this role, Teika combines analytical and strategic thinking about climate policy development with her love for meeting people, learning their stories and building relationships in support of lasting, meaningful climate action. Teika lives in Kenora, ON in the heart of Treaty 3 territory on Lake of the Woods. Prior to focusing on climate advocacy, she spent a decade working on community development projects to enhance social, environmental and economic sustainability in the Treaty 3 region.
Brought to you by:
Bay Area Climate Change Council (Host)
BACCC is a collective of organisations advancing climate action in Burlington and Hamilton, Ontario. We believe the Bay Area can be a thriving zero carbon community by 2050. BACCC is supported by the Cities of Hamilton and Burlington and the Centre for Climate Change Management at Mohawk College.
Thank you to our Sponsors:
Major Sponsors: