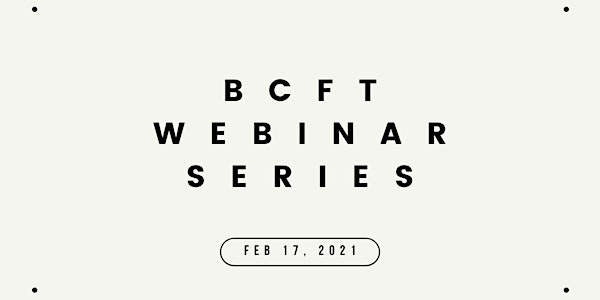 2021 BCFT Suppliers Night Seminar Presentations - 1/2
Suppliers Night Seminar Presentations, 2021.02.17
About this event
BCFT is pleased to announce our 2021 Suppliers Night Seminar Presentations. Due to the ongoing public health challenges presented by COVID-19, BCFT has regretfully elected to cancel our 2021 Suppliers Night tradeshow. We understand this news may come as a disappointment to many of you and would like to reaffirm that BCFT prioritizes ensuring the health and safety of everyone participating at our events. In place of our annual tradeshow, BCFT is pleased to announce that we will continue to host our popular supplier led educational seminars on Wednesday February 17 & Wednesday Feb. 24, 2021. Presentations will be hosted virtually over zoom and will run between 2:00 pm to 3:00 pm, and 3:00 pm to 4:00 pm PST.
Please note, this registration page is for the event on February 17, 2021. Details of the event are as follows:
Seminar A
Time 2:00pm – 3:00pm
Topic: Food Preservation in a Clean Label Era
Speaker: Chauncey Dixon, Vice President
Company: Galactic Inc.
Summary: There are various challenges faced when searching for the right preservative in natural applications. This presentation will highlight current market trends and discuss clean label ingredients and their utility in food safety and shelf-life extension. Gain insight into the research Galactic Innovation Campus is conducting focused on naturally fermented solutions in food. Attendees will leave with a better understanding of what consumers look for when it comes to clean label preservatives.
Seminar B
Time 3:00pm – 4:00pm
Topic: Food Fortification For Today, Tomorrow and Beyond
Speaker: Reena Mistry, Customer Development Manager - Sweet
Company: Caldic
Summary: COVID-19 has made consumers painfully aware of how vulnerable they are to illness and is pushing them to re-evaluate their diets & lifestyles.  Rediscovering their health means they will be placing a much bigger emphasis on immunity for the long term. Immunity support not only comes from natural foods, enrichment and fortification of food products are playing a much larger role in consumers' lives than ever before.  This is where we are today, but where will we be in 2030?   How do we achieve on-going health and wellness through fortification?  Caldic will walk you through consumer trends today and what they may look like 10 years from now.  A technical approach to fortification follows including regulatory requirements.  Join us for an interesting look into the future of health and wellness.
Please download/install Zoom Mobile Apps for iPhone or Android or Zoom Client for PC desktop before the meeting. (https://zoom.us/support/download)
Although registration is free, please register in advance due to limited seats. Instruction to join the meeting will be emailed to you once registered.